By Kate Simmons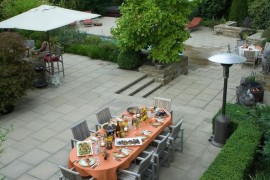 Pavers are often affordable, they're low-maintenance, and they come in a variety of shapes, sizes and materials. No wonder so many design lovers and DIYers turn to pavers when it comes to landscaping and outdoor design! Today we feature a range of paver patios for your inspiration. Whether you choose pavers made of brick, concrete or natural stone, the patio possibilities are endless. Read on for details and design ideas…
Sleek and Modern
Many of today's most popular paver patios showcase a modern aesthetic that's clean-lined and low-key. Often pavers made from concrete adorn these contemporary outdoor spaces. Check out the patio in the yard below, and note the other modern touches that complement it, including the water feature! [photo from Huettl Landscape Architecture]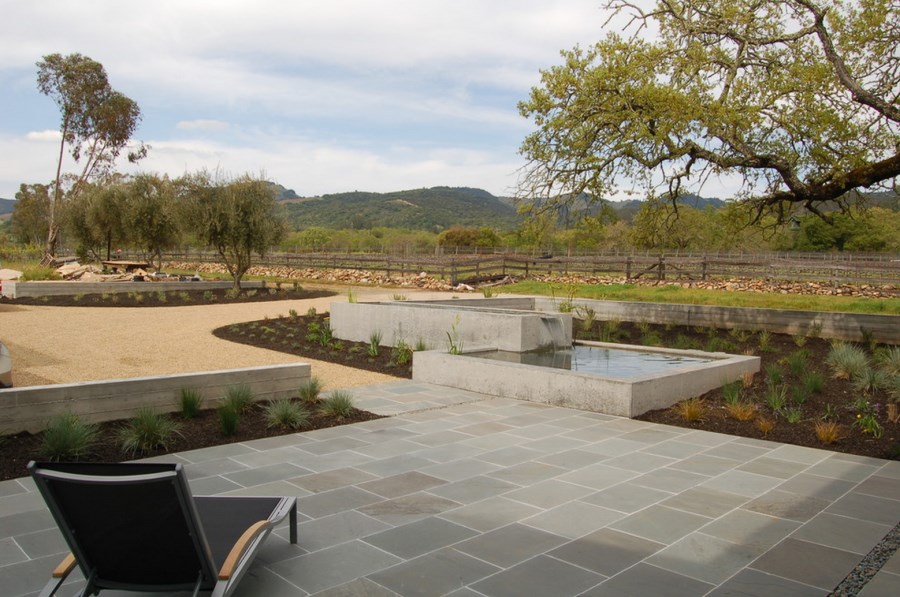 Modern paver patio with a view
Having trouble deciding on the right type of paver for your sleek modern space? In the next image we see a large patio featuring 18″ X 24″ cast concrete tiles. Cast concrete pavers are created by pouring concrete into a mold. You can often purchase these pavers individually or by the palette. Would you consider cast concrete for your patio? [photo from Environmental Design Services]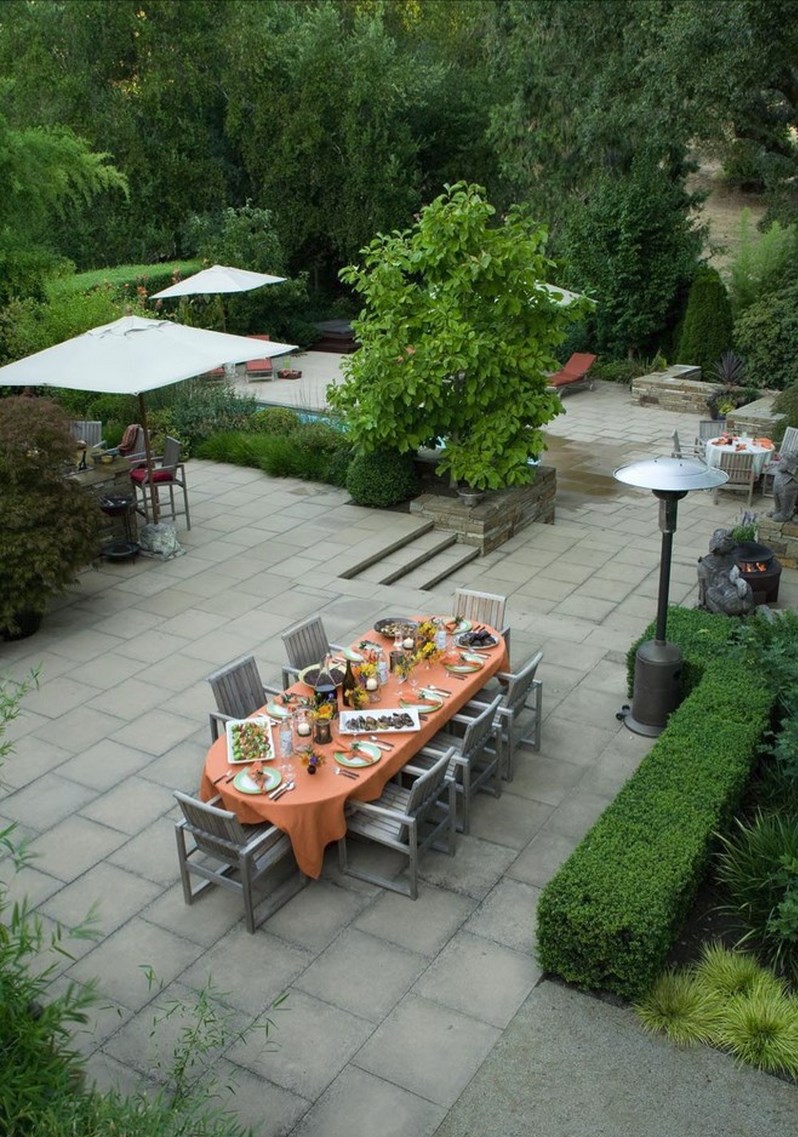 Dining area on a paver patio
How gorgeous is this modern patio space featuring pre-cast concrete with a sand blast finish?! These pavers are manufactured by Stepstone, and we love the way they're combined with gravel, succulents and other interesting plants to create a beautiful outdoor space. [from The Garden Route Company]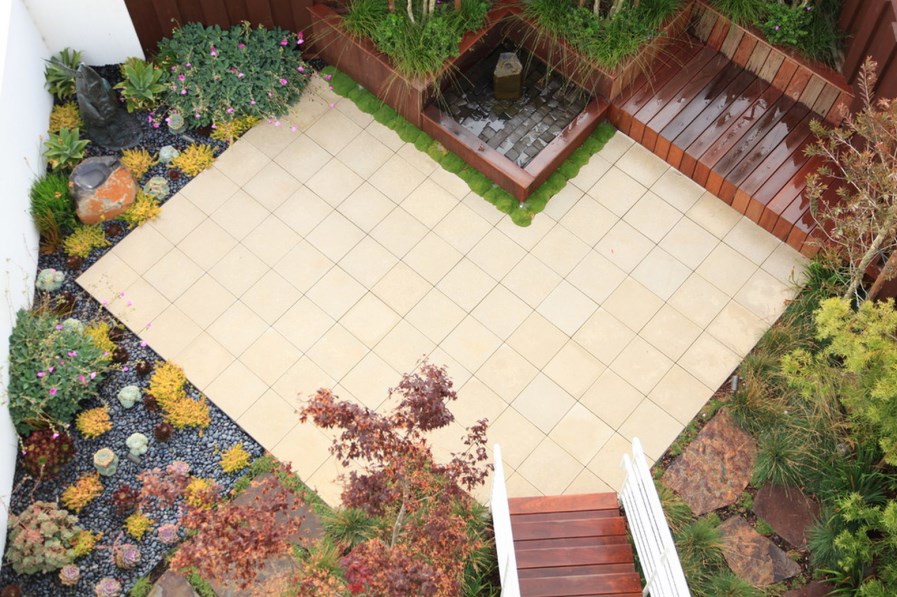 Beautiful patio created with pre-cast concrete pavers
Ready to get a little bit fancy? Consider separating your pavers with materials such as gravel! Sometimes the most eye-catching paver patios allow a little bit of space in between each piece. Below we see a modern patio created with edging, gravel and large pavers. The result is striking in shades of grey. [via Brick House]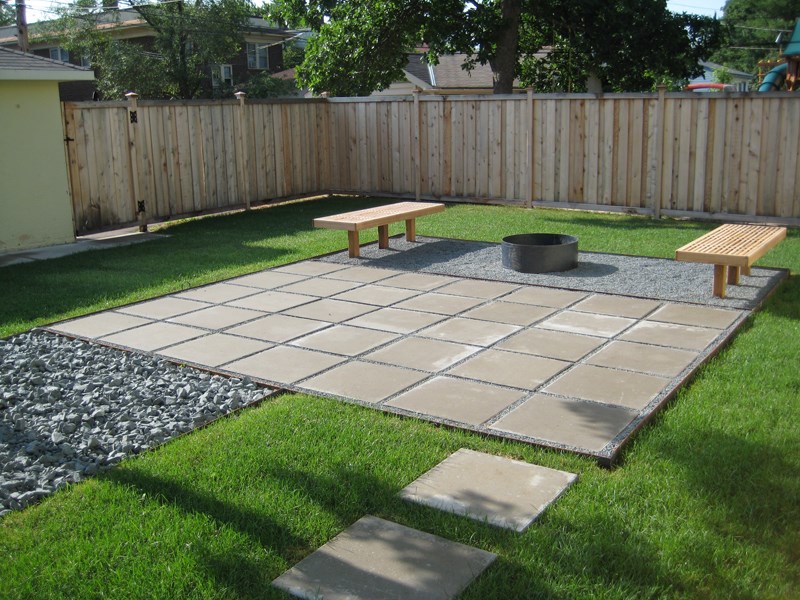 Contemporary paver patio in a clean-lined yard
You can always hire a landscape designer for the job, and he or she will help you make logistical decisions, such as how far apart to place the pavers when a material such as gravel is involved. A landscape designer or contractor can also help with issues such as compacting the gravel. [photo by Lara Swimmer, from Coates Design Architects]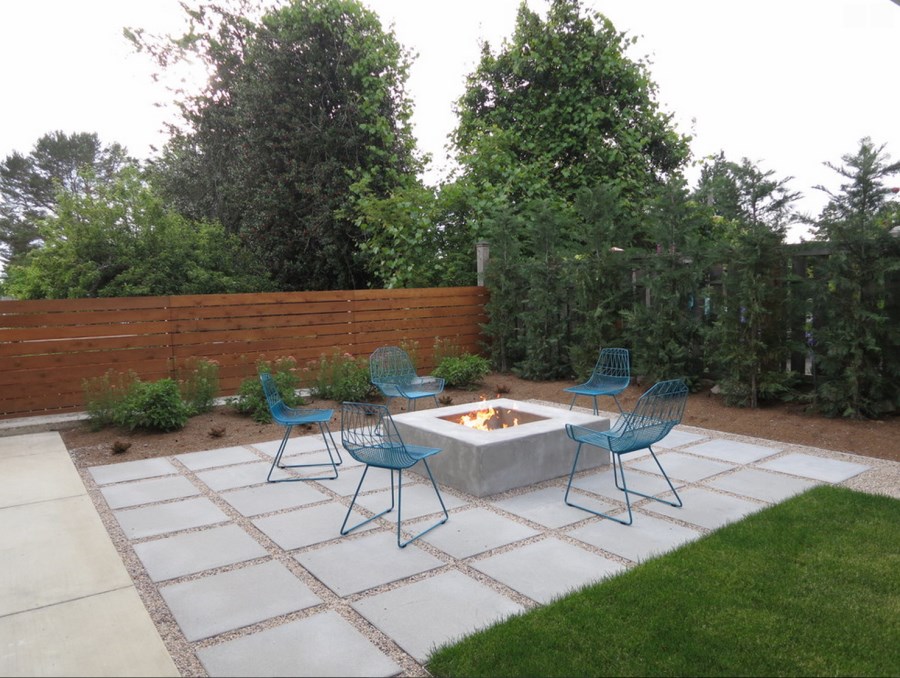 Modern paver patio with gravel
We now move a step away from patio design and explore the option of pavers as a lawn alternative, especially when a ground cover such as thyme is thrown into the mix, as shown below. [photo from Red Cover via Lonny]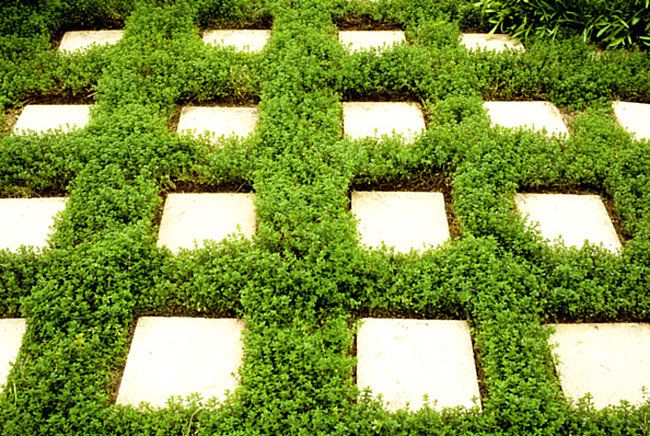 Square pavers and thyme create a modern green look
Brick Pavers
Brick pavers add a classic look to the patio, and some are even crafted from concrete and aggregate rather than clay. Bricks can add a traditional look to the yard, yet they can also have modern appeal when arranged in a clean-lined setting. For more information on DIY brick paver patios, check out Buildipedia's helpful post on How to Install a Dry-Laid Paver Patio:

Patio built from brick pavers
Did you know that our very own Thalita Murray installed a beautiful brick paver patio in her backyard? She takes us through the whole process on her blog The Learner Observer, including the creation of that charming circular design, as well as the importance of sweeping sand into the cracks as a finishing touch: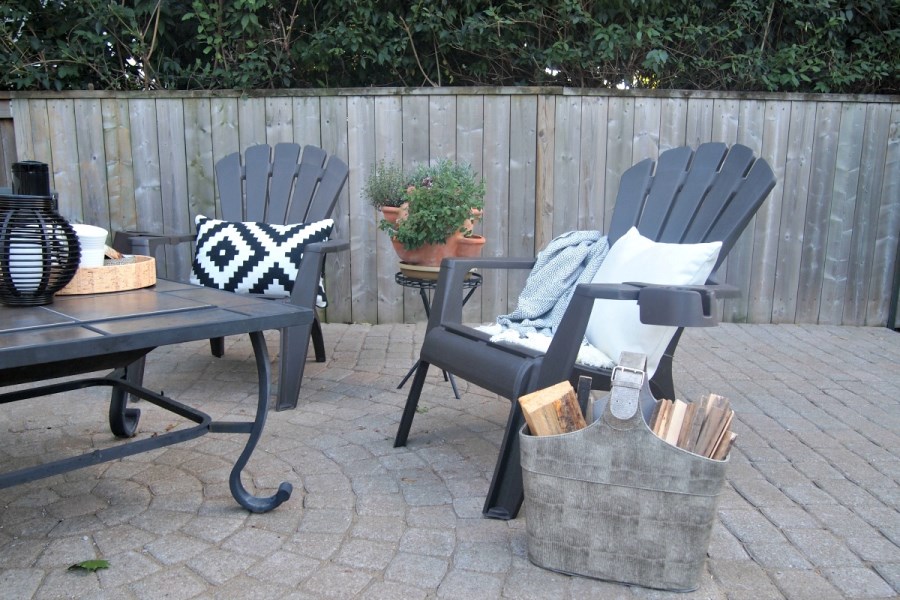 Patio makeover from The Learner Observer
Painted Pavers
We end today's post with a look at painted pavers that grace the patio. If you're an adventurous DIYer, this just might be the path for you, especially if your yard already features a patio made from simple pavers and you're looking to jazz it up. Below we see a patio from Vintage Inspired Passionista, created by color staining the pavers with paint samples from the home improvement store:

Stained concrete paver patio from Vintage Inspired Passionista
For more of a painted look (rather than a stained one), try using a material such as Valspar latex porch and floor paint after priming your patio. The painted tiles below are from the patio of A Beautiful Mess blogger Elsie Larson, and the strong color was created with primer, three coats of paint and a sealer. The look is very chic, or as Elsie notes, Palm Springs meets Kate Spade!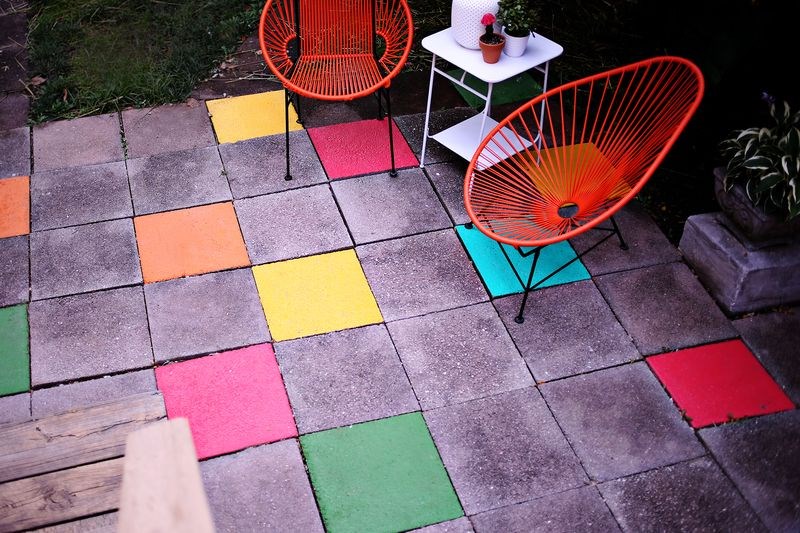 Painted patio pavers from A Beautiful Mess
Would you consider a paver patio for your yard? For more details on the types of pavers available, DIY tips and paver maintenance, check out this helpful Home Depot article. Hope you're enjoying a fun summer with lots of time outdoors!
You're reading 10 Paver Patios That Add Dimension and Flair to the Yard, originally posted on Decoist. If you enjoyed this post, be sure to follow Decoist on Twitter, Facebook and Pinterest.
Source:: http://www.decoist.com/2015-07-03/paver-patios-landscaping/