By Kate Simmons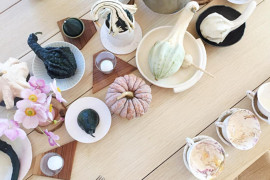 If you caught our recent post on Unique Halloween Ideas for Design Lovers, you know that we at Decoist are all about creative holiday style! With Halloween quickly approaching, today's post is dedicated to last-minute ideas that maximize simplicity and style. Highlighting our favorite projects from top design blogs, we hope to inspire you with some beautifully styled photos, easy DIY projects and innovative creativity. Ready for some spook-tacular Halloween ideas?!…
Easy Halloween Decor
Halloween decor doesn't have to be over-the-top to capture your attention. This Halloween noir spread from CB2 proves that clean lines, a bit of shimmer, and dark accents create the perfect backdrop for deliciously creepy food in the colors of the season!
This modern centerpiece from the Instagram account of Thuss & Farrell was designed for a party with friends. The use of geo accents and beautiful gourds creates a standout display with contemporary flair: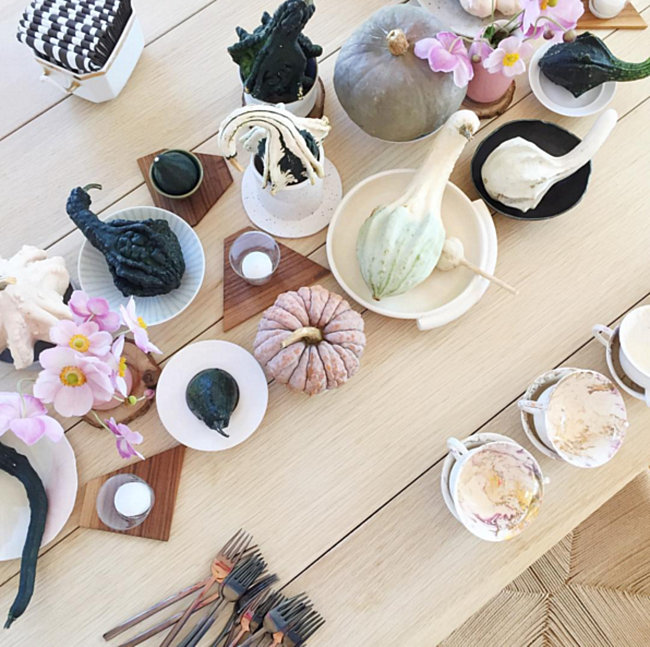 If you love to play with words, these DIY Pun-kins from Studio DIY will help you celebrate puns against an irresistible pastel canvas. Craft paint and tattoo paper are your friends for this clever project: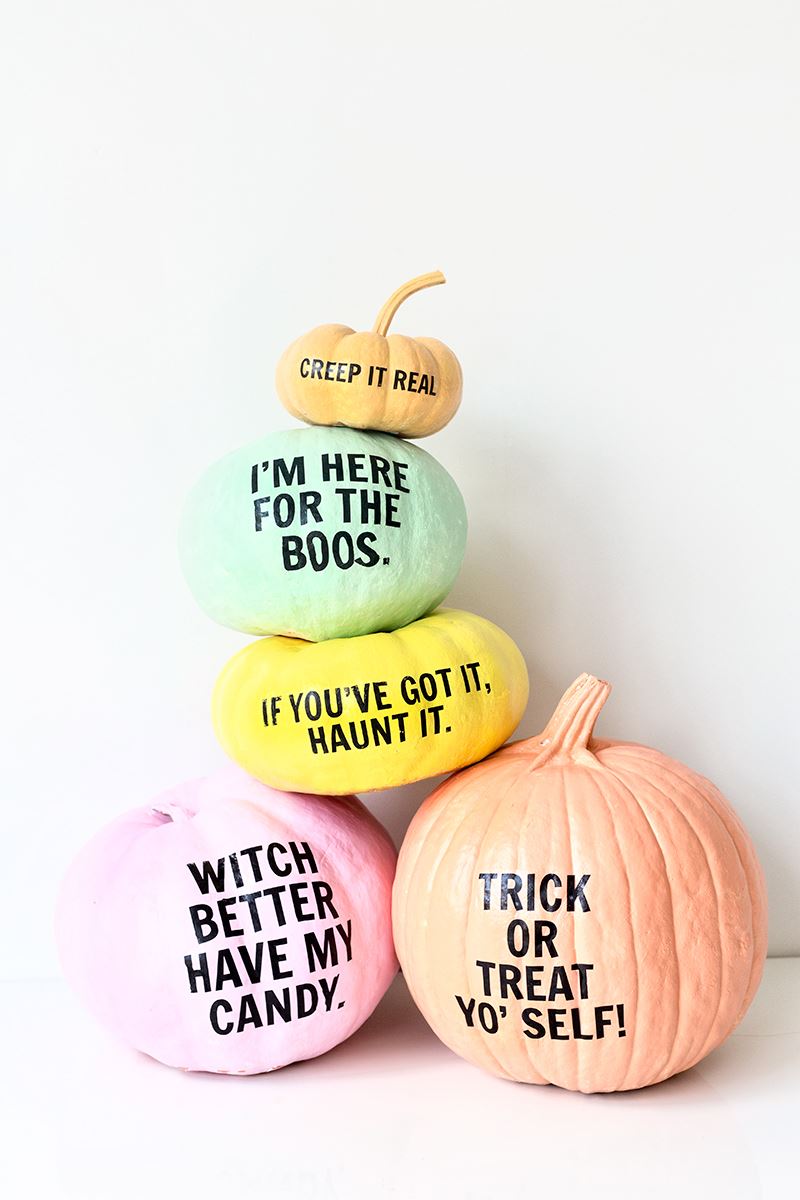 For a super-easy DIY idea, try these Balloon-Dipped Pumpkins from Paper & Stitch. They're as easy as cutting the stem off the balloon and slipping the remaining piece over the pumpkin. Create different looks by covering various portions of the pumpkins, from the entire piece of produce to half the height for a dipped look!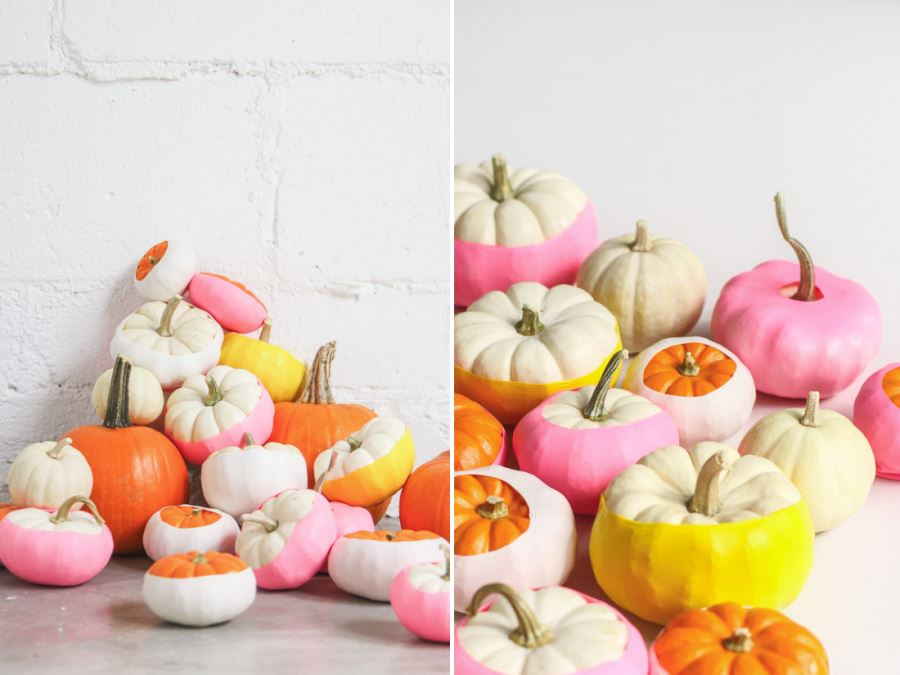 Even if your birthday isn't on Halloween, these Birthday Cake Pumpkins from A Subtle Revelry create a colorful look that's anything but scary. Which is why we love their unexpected style! The eye-catching sprinkles are crafted with vinyl adhesive.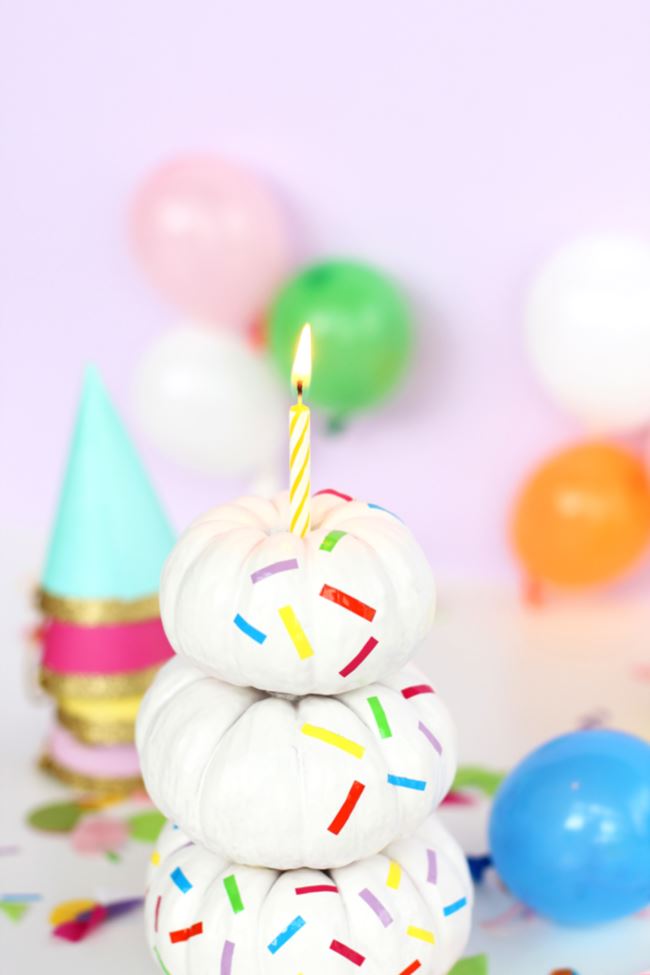 For a similar look with metallic pizzazz, create a couple of DIY Gold Confetti Pumpkins using gold washi tape. Leave for more space between each strip of tape as you move up from the bottom of the pumpkin. Check out the full tutorial at Homey Oh My!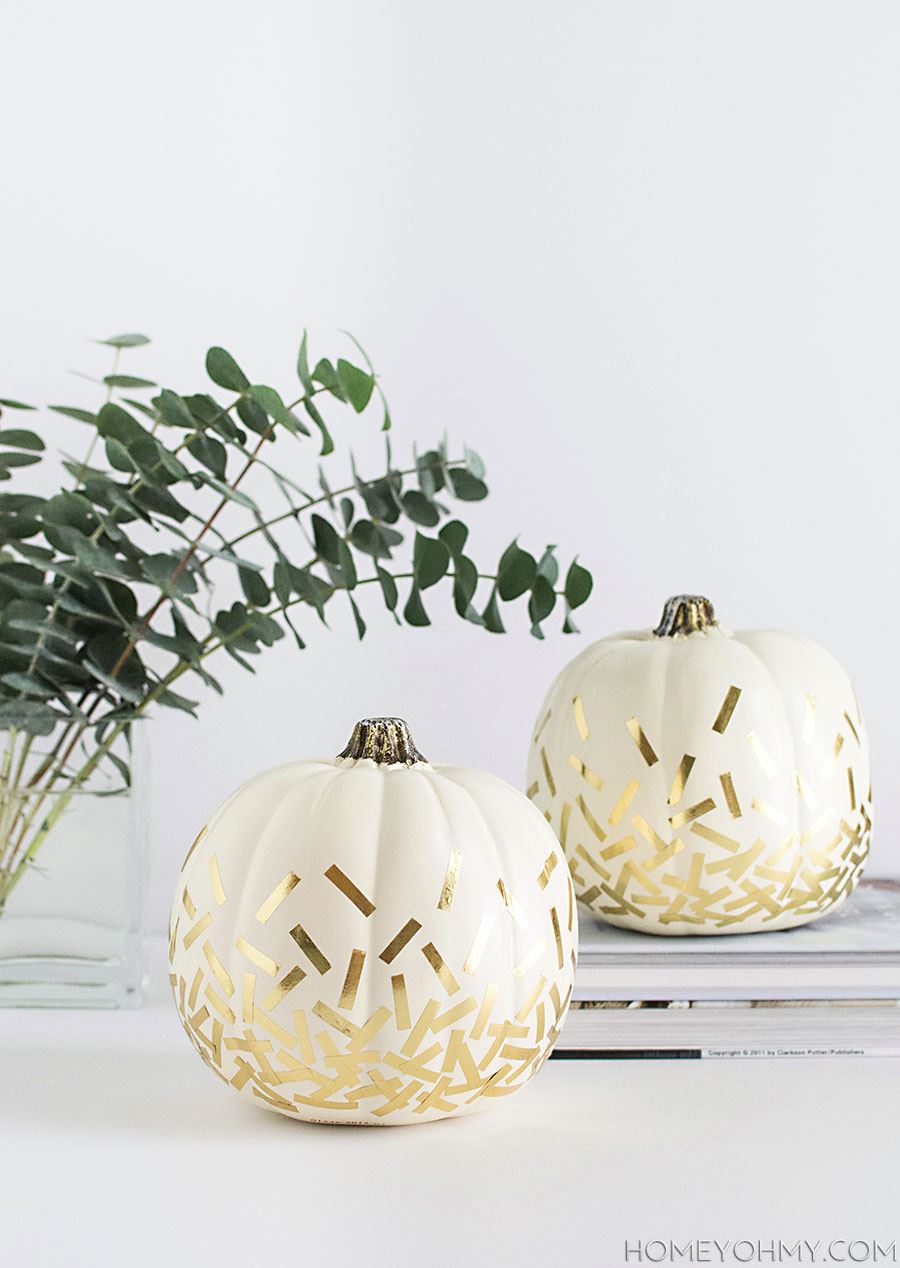 From pumpkins to lights, we now feature these kid-friendly DIY Ghost Lights from Say Yes. Ping pong balls covered with sheet fabric get the job done!
And the kiddos will love A Subtle Revelry's Jack-O-Lantern Balloons, complete with black contact paper cutouts to create the faces. While the design will work with any balloons, we're fans of the mylar selections pictured below: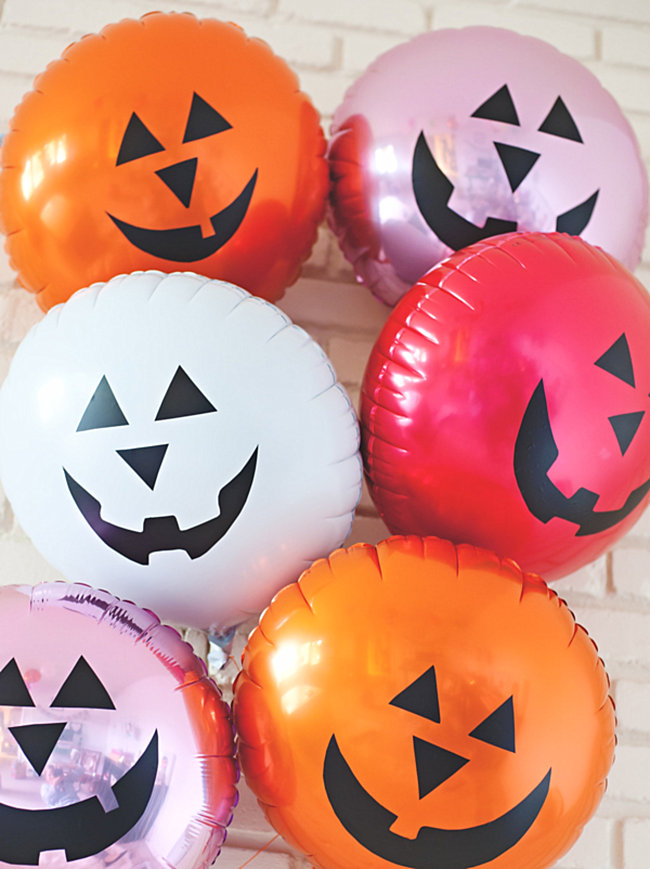 Halloween Goodies and Treats
Why does Halloween make us want to nosh on our favorite junk food? Make sure you add some substance to the candy collection! Pizza is always a popular choice, and this Pastel Pizza Party from Random Acts of Pastel celebrates the current pastel trend (which just might be a welcome departure from the dominant black and orange color combo that typically fills this spooky holiday).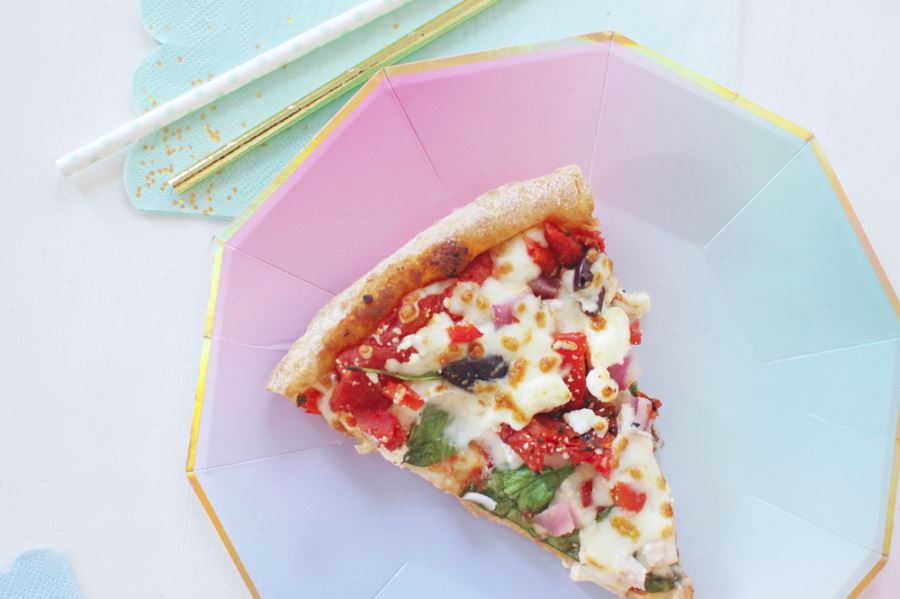 Add some fluorescent fun to store-bought cookies by covering them with neon frosting! Mirror80 shares a few easy cookie decorating techniques with the help of neon food coloring and plenty of sprinkles!
Speaking of dressing up store-bought cookies, these Spooky Sprinkled Oreos from Lauren Conrad are a tasty vision in orange and purple: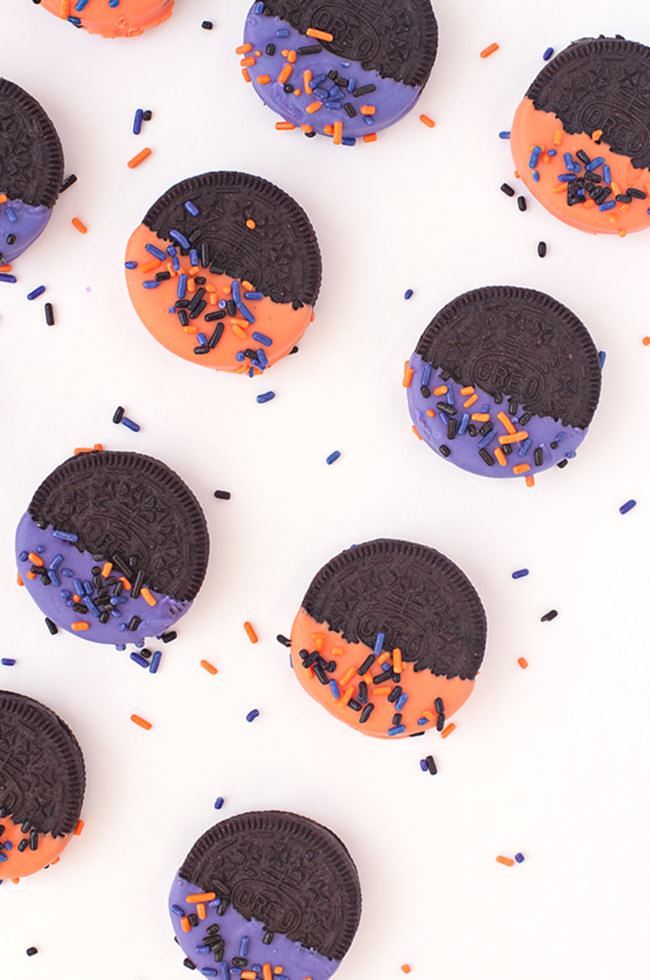 Did you know that you can decorate macarons with food coloring markers?! These Pumpkin Macarons from Camille Styles are almost too pretty to eat. But don't let that stop you from digging in after your guests admire them on your Halloween buffet!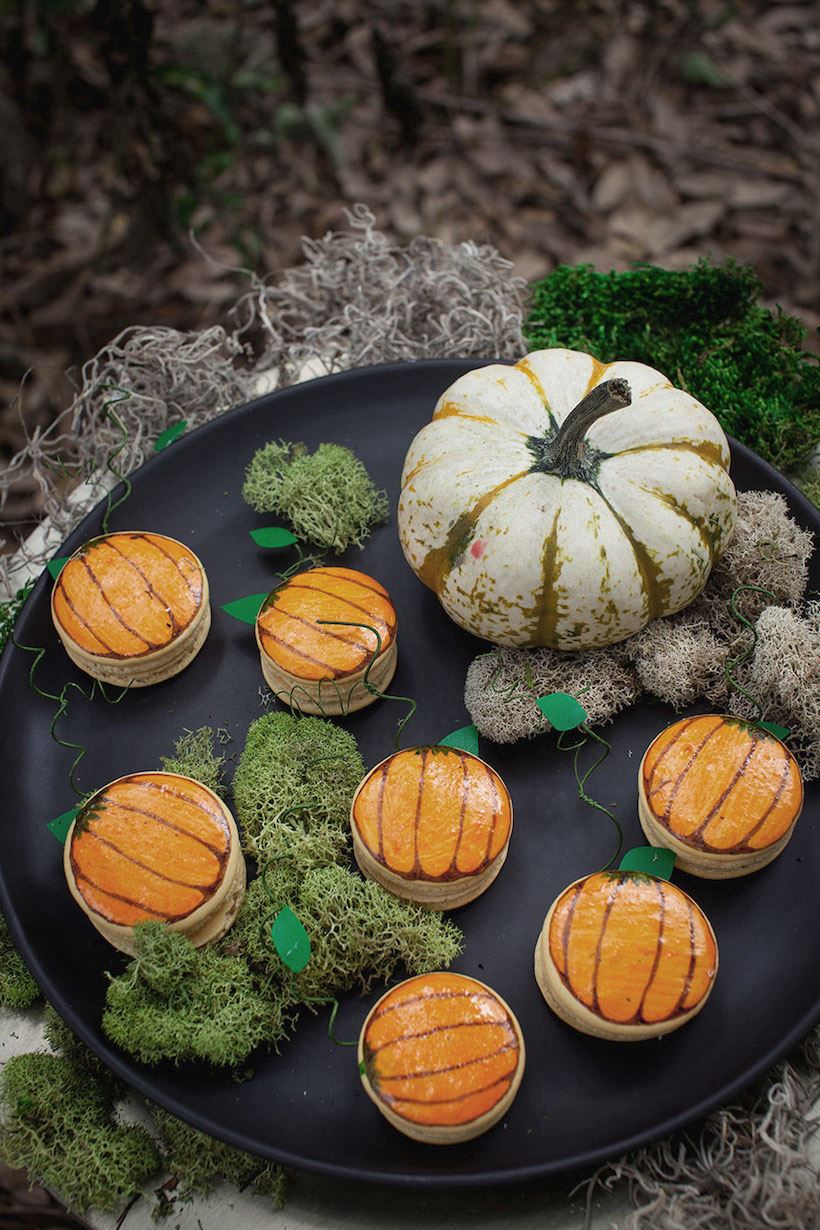 Are you noticing the no-bake theme with today's featured treats? Design lovers can still get plenty of joy from the treat decorating process. No baking required! And these Easy No-Bake Truffles from A Beautiful Mess are the perfect way to deck out a dessert in sprinkles and google eyes: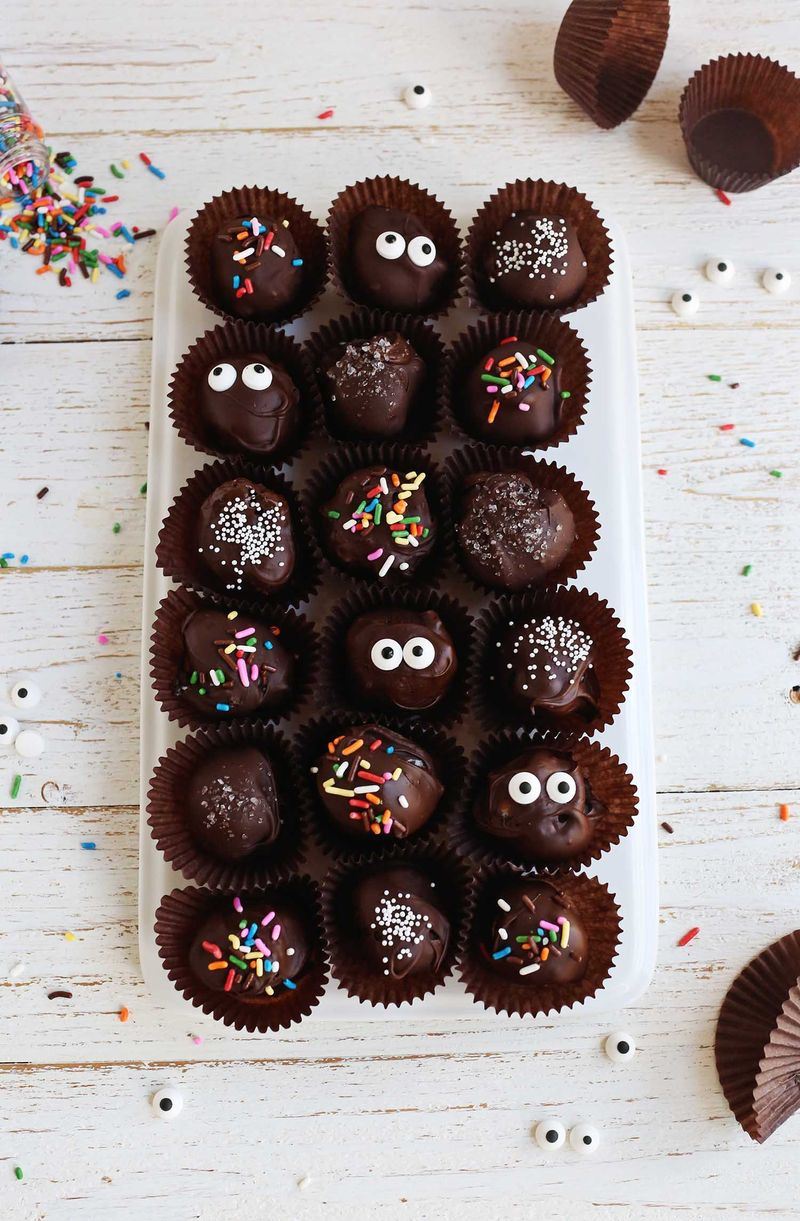 Whatever you consider to be a decadent dessert, 'tis the season to dress it up with a few extra embellishments. This Devil's Delight Milkshake from Studio DIY celebrates the delicious combination of chocolate, peanut butter and pretzels. If you don't have time to make the ice cream that you'll use in this shake, try enhancing your favorite store-bought ice cream with a few scrumptious ingredients.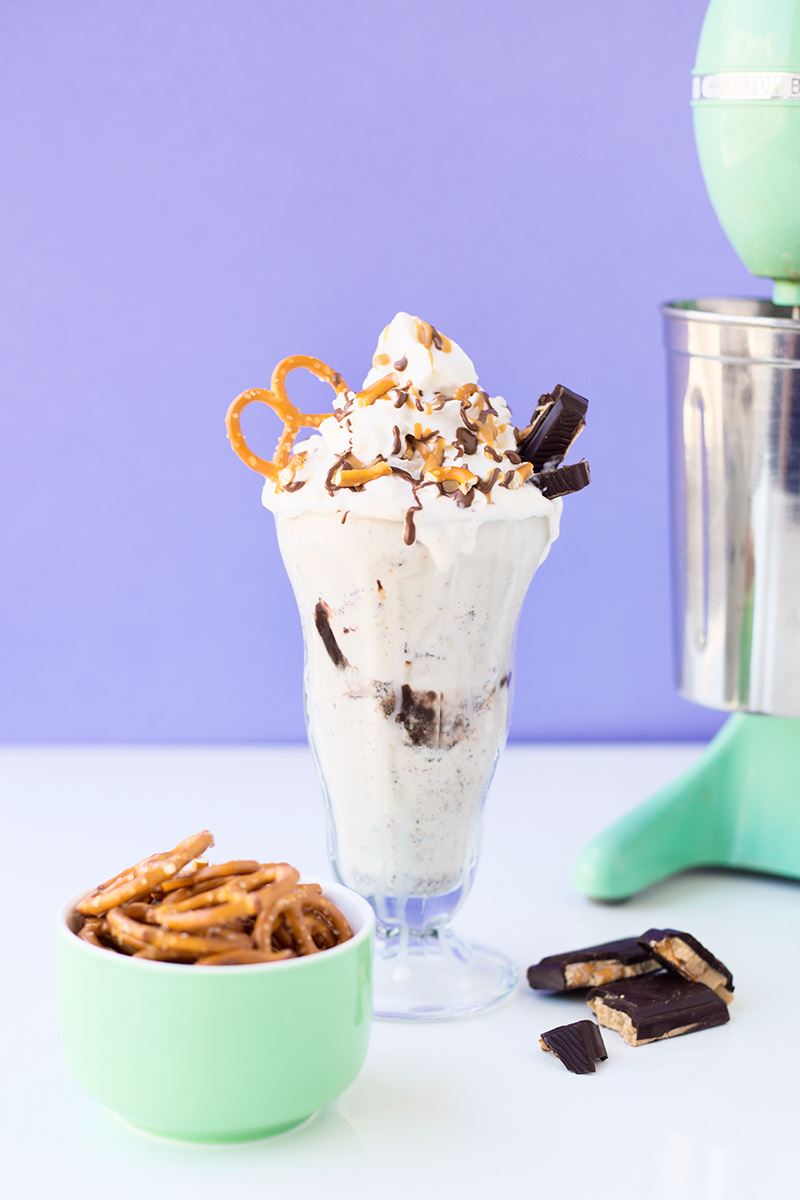 And speaking of enhancing your favorite treats, Sugar & Cloth's Classic Zombie Cocktail showcases the power of beautiful garnishes and a festive straw. If you're up for crafting a flavorful cocktail, be sure to follow the link for the full recipe. [photo by Jared Smith]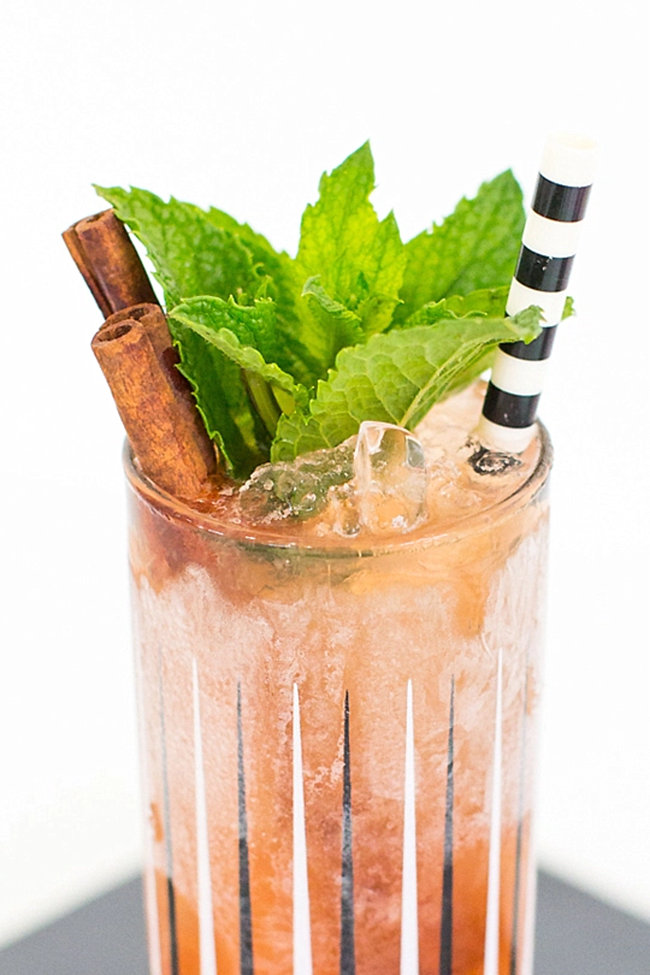 And for an easy peasy Halloween cocktail featuring champane, pomegranate juice and a splash of orange, check out this Pomegranate Brew from Mirror80. Again, the garnish makes all the difference! And sugar sprinkles around the rim never hurt either…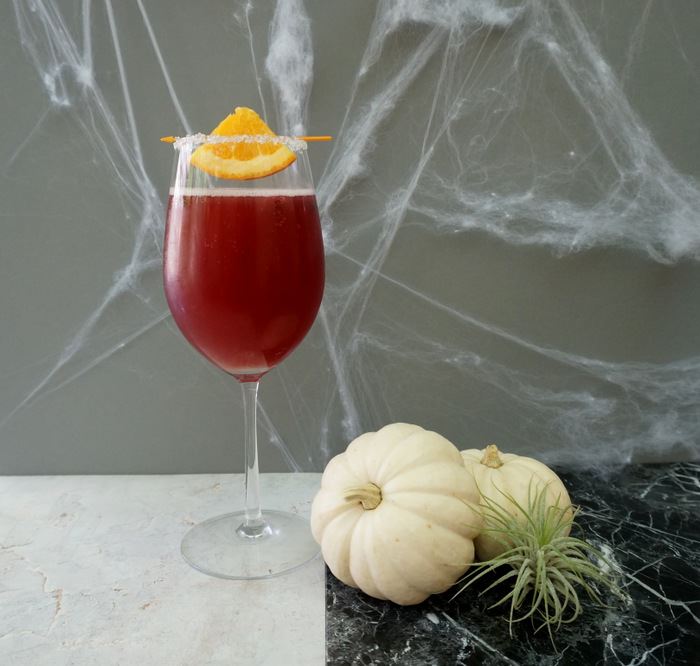 Design-Fabulous Treats
Since half the fun of Halloween involves gifting others with treats (the other half of course involves consuming treats), make sure you wrap them in style! Thanks to a slew of free printables at this time of the year, covering your goodies in design-forward wrappers is a snap. These Halloween Gift Printables from A Beautiful Mess include wrappers for wine bottles, candy bars and coffee cups: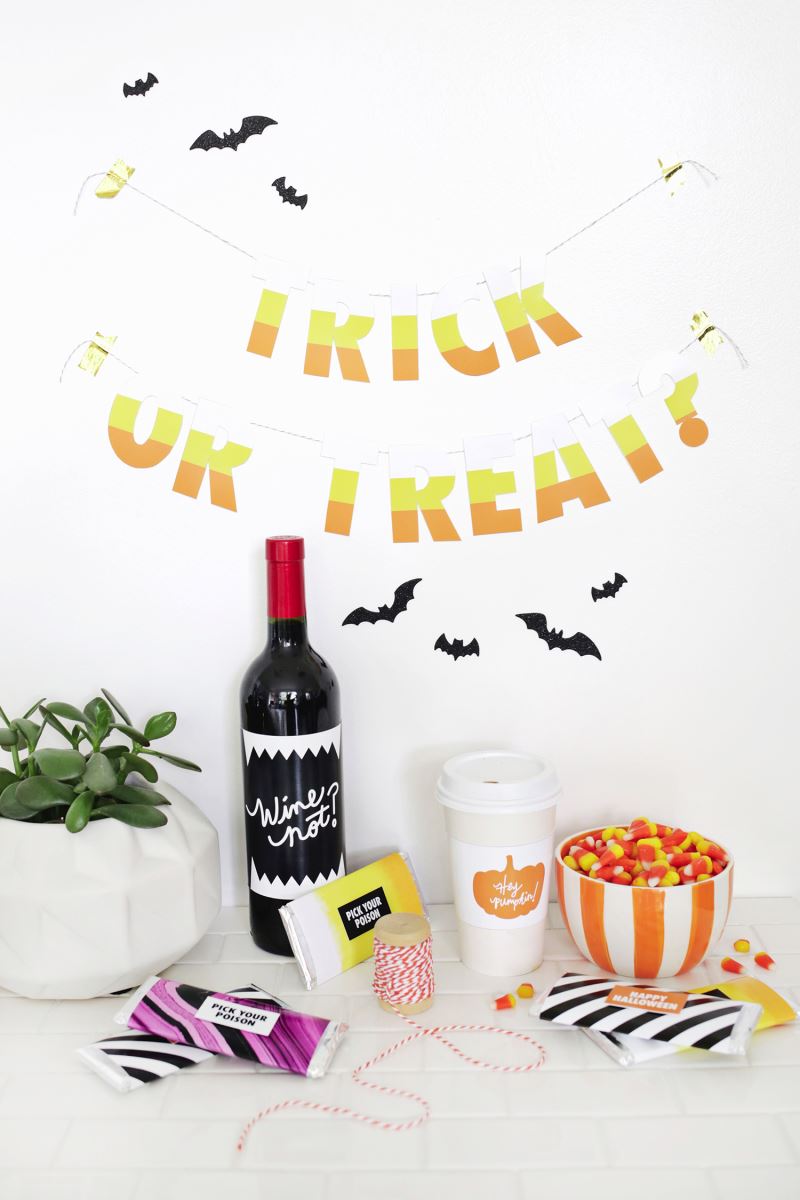 How cute are these Spooky & Sweet Halloween Printables from Proper?! And there are even more in the post. A colorful label goes a long way (and so does a customized macaron):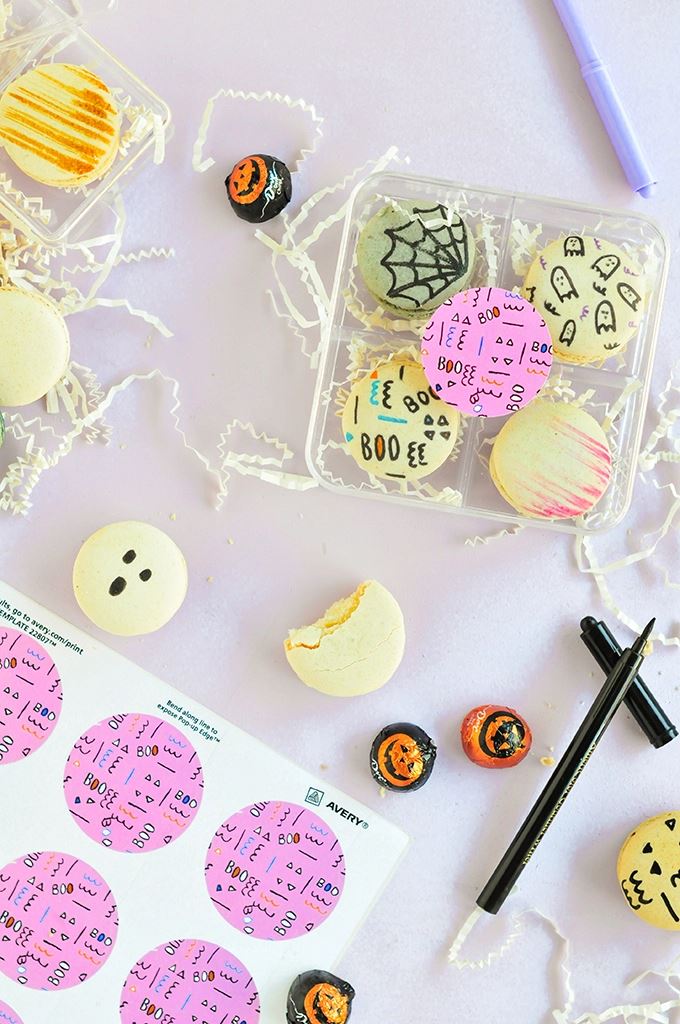 A classic never goes out of style. Decorate black treat bags with a few google eyes for a classy, playful goodie bag statement. And check out the entire Google Eyes Halloween Party concept at Oh Happy Day: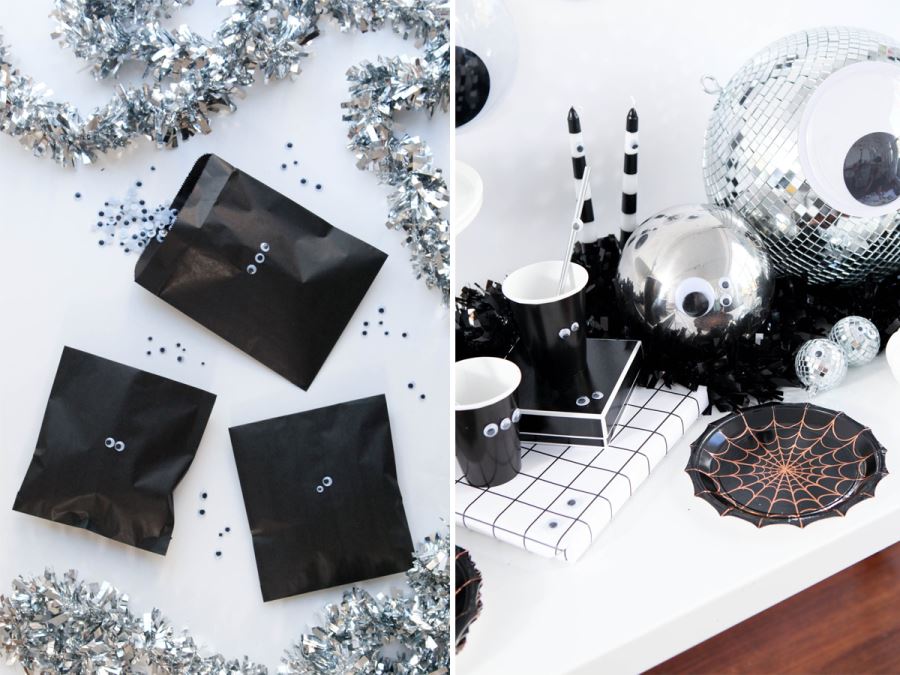 Kids will enjoy unwrapping their goodies if they're surrounded by a ball of crepe paper. That's how you craft these DIY Pumpkin Halloween Surprise Balls from A Bubbly Life! Use double-sided tape to add the jack-o-lantern face: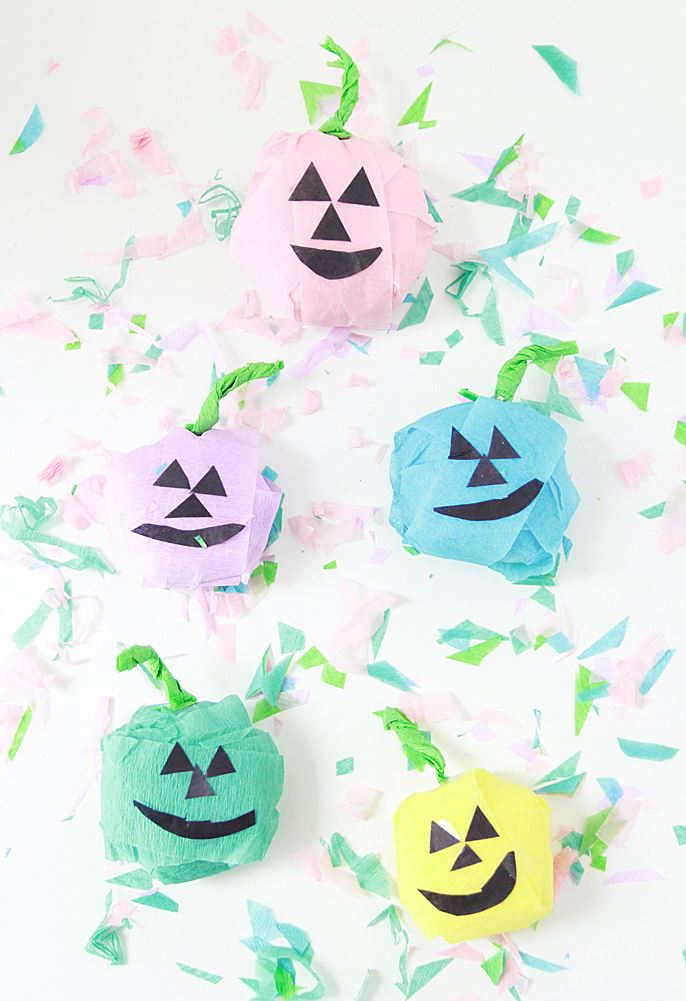 We at Decoist wish you a Happy Halloween! Enjoy the holiday in style!
You're reading 20 Last-Minute Halloween Ideas with Modern Flair, originally posted on Decoist. If you enjoyed this post, be sure to follow Decoist on Twitter, Facebook and Pinterest.
Source:: http://www.decoist.com/last-minute-halloween-decorating/