By Kate Simmons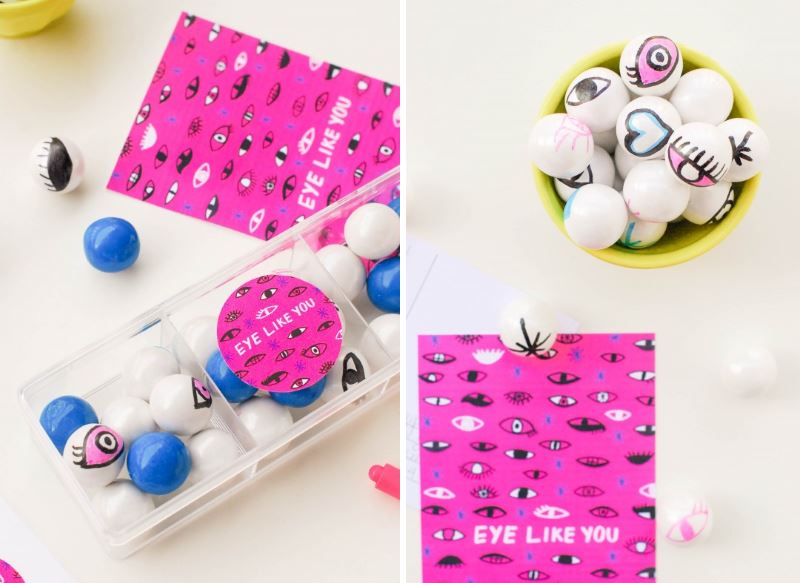 Valentine's Day is a special time of the year, as it gives us a reason to reflect on the power of love. Today's post is a celebration of all types of love: love for friends, love for family, and yes, romantic love. Whether you're a part of a couple or you're happily single, there are many ways to celebrate February 14th, and I've always used this holiday as an excuse to be creative. Today we're getting inspiration from our fellow design bloggers to see how a few special gestures and projects can make heart day an unforgettable one! Check out the Valentine's Day ideas below…
Unique Valentines
I love seeing the latest clever valentine creations from my favorite design bloggers. These printable eyeball valentines with DIY eye gumballs from Proper are beyond unique! With the help of edible pens, you can decorate a collection of gumballs, package them in clear containers, then embellish it all with a printable sticker. In fact, check out the full post for a slew of free printables to make your Valentine's Day extra special.
Eye gumball valentines from Proper
'Tis the season for Valentine's Day printables! After all, there's nothing like a free download. Below we see colorful note card printables from Paper & Stitch, which will take your Valentine's Day snail mail endeavors to the next level. As with the printables above, these were created in partnership with Avery.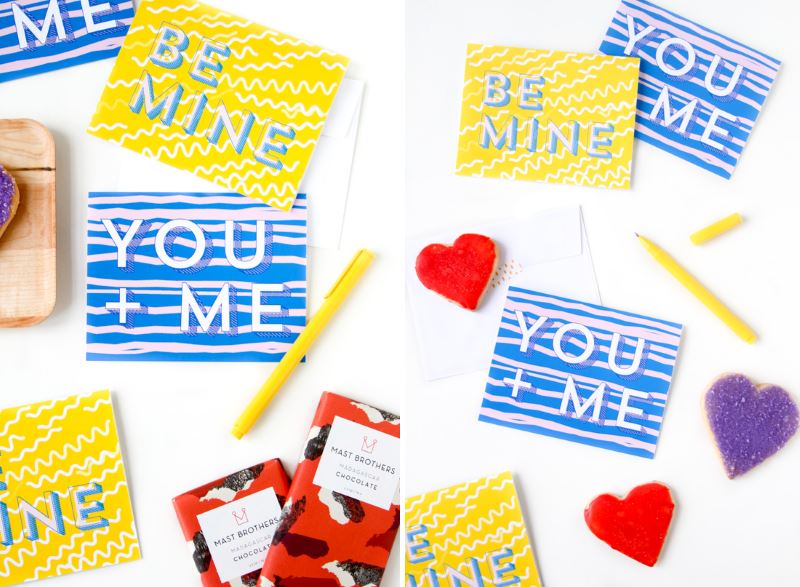 Printable valentines from Paper & Stitch
If you're making your own valentines this year, check out this 8-bit stud valentine I created for my retro blog Mirror80. All you need is paper and a sheet of stud stickers for a super-easy way to add shine to your "heart day" crafting!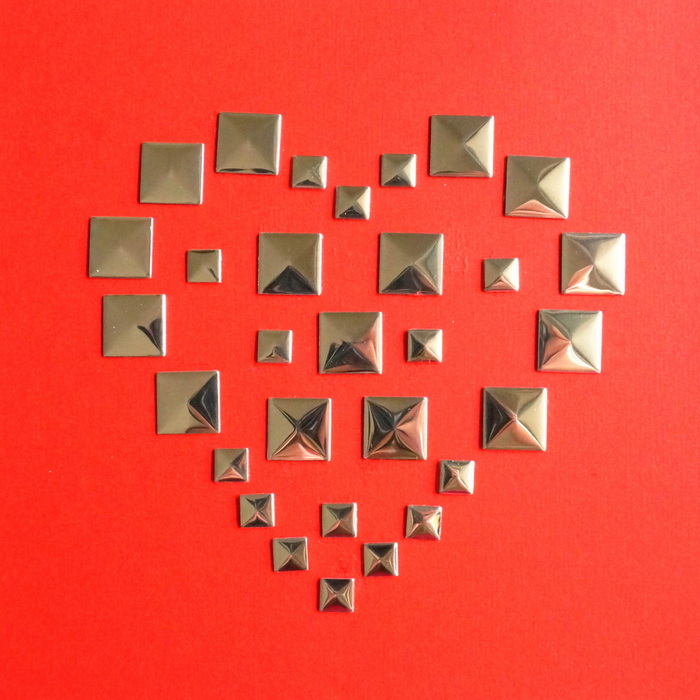 An 8-bit stud valentine from Mirror80
Did you catch Thalita's DIY heart string art project, published right here on Decoist? Create a sturdy valentine you can display all year long. You'll need nails, embroidery thread, a piece of pine, and a few other basic supplies. For a full tutorial and lots more pics, check out the full post.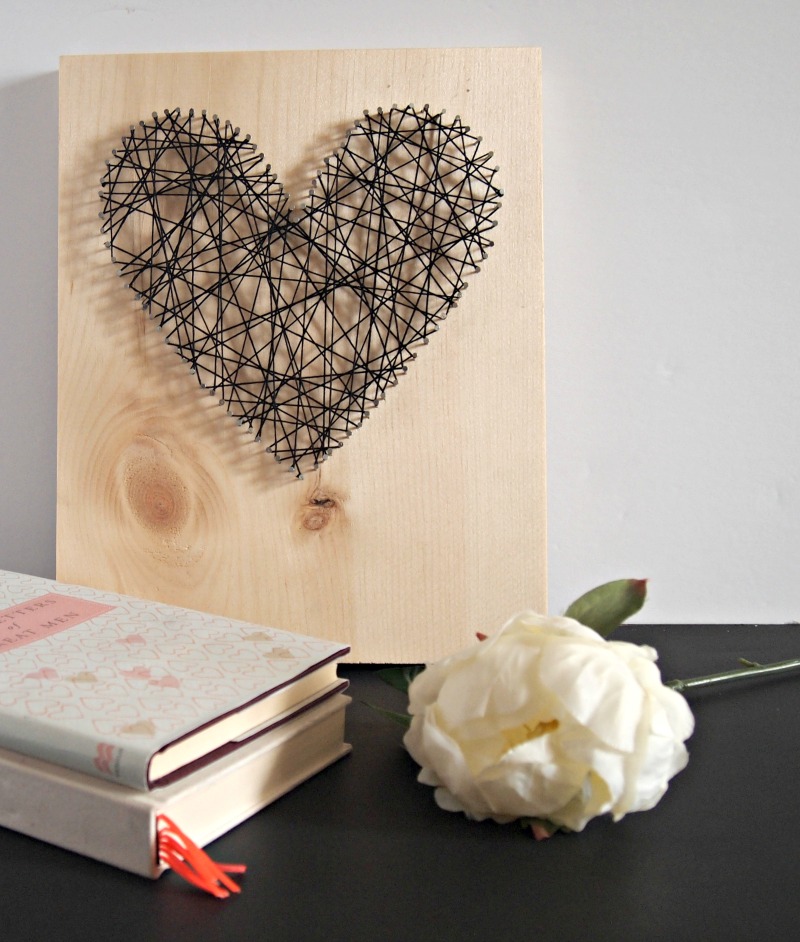 Heart art on a bedside table
Last February I created three last-minute DIY valentines for Decoist, including this champagne flute filled with metallic shred! Super easy and fun, especially when you top it off with a gummy heart on the rim. For all the project details, plus two more fun valentine creations, check out the full post.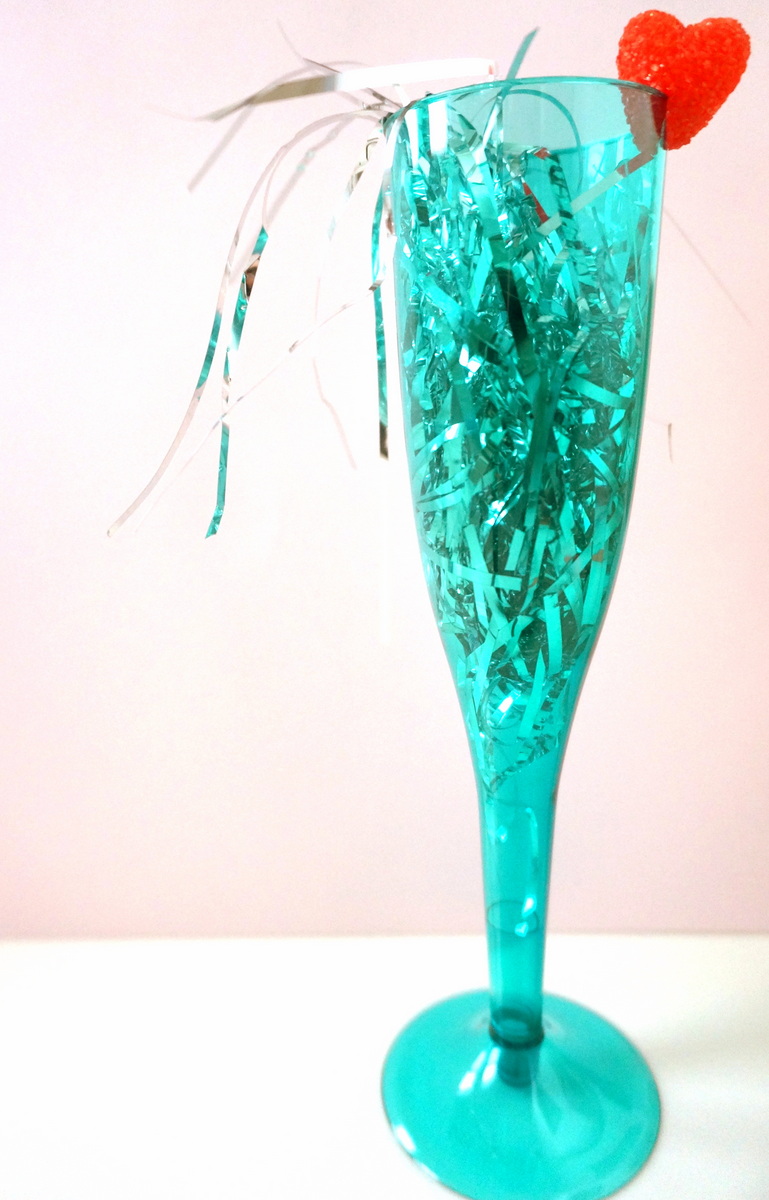 DIY champagne flute valentine
If you're wrapping a gift for your Valentine, don't hesitate to embellish it with XOXO printables from Oh Happy Day. Not only will you find gift tag printables in the post, you will discover printables for cupcake toppers, a banner and straw decorations!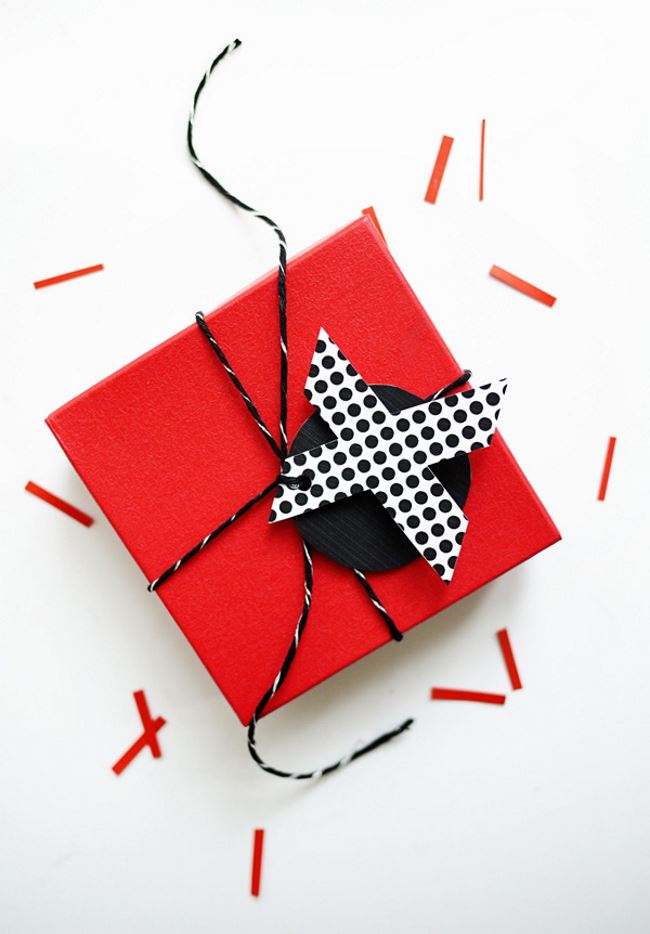 XOXO printables from Oh Happy Day
And if you're looking for printable wrapping paper, check out these hand-drawn selections from Say Yes. Not only do they inspire us to personalize our own blank wrapping paper, you can print out these very designs for an easy way to embellish your Valentine's Day gifts: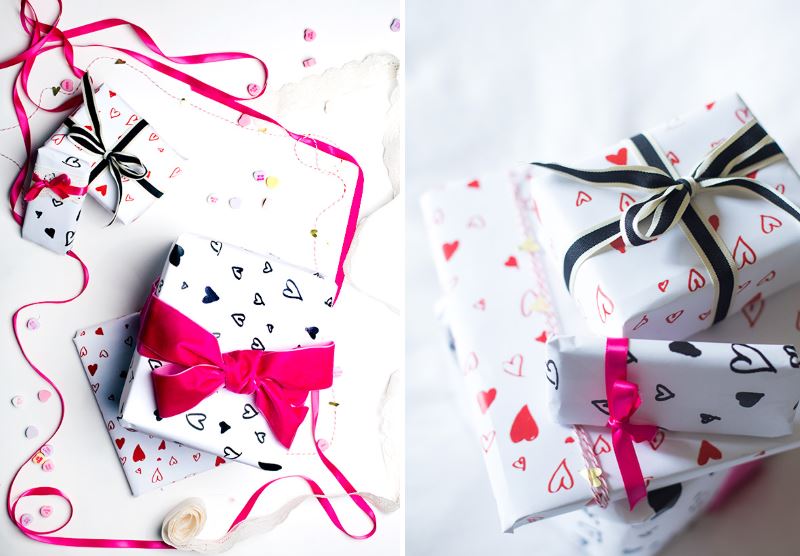 Hand drawn Valentine's Day wrapping paper from Say Yes
These glitter pills from A Bubbly Life are a great way to add sparkle to your Valentine's Day treat bags! Of course, they're for decoration rather than consumption, so keep them away from little hands. A creative touch, don't you think?!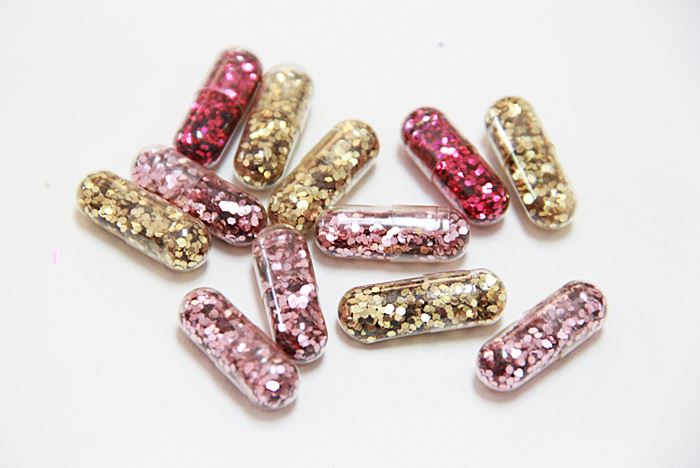 Glitter pills from A Bubbly Life
Special Outings and Gatherings
Goodies and treats are fabulous, but the real fun of Valentine's Day is spending time with the people you care about. How do today's top design bloggers enjoy heart day? Katie of Skunkboy recently took her daughter on a special date to Elle's Patisserie as part of a long afternoon walk/outing. It would be difficult not to feel festive in a lovely setting like this: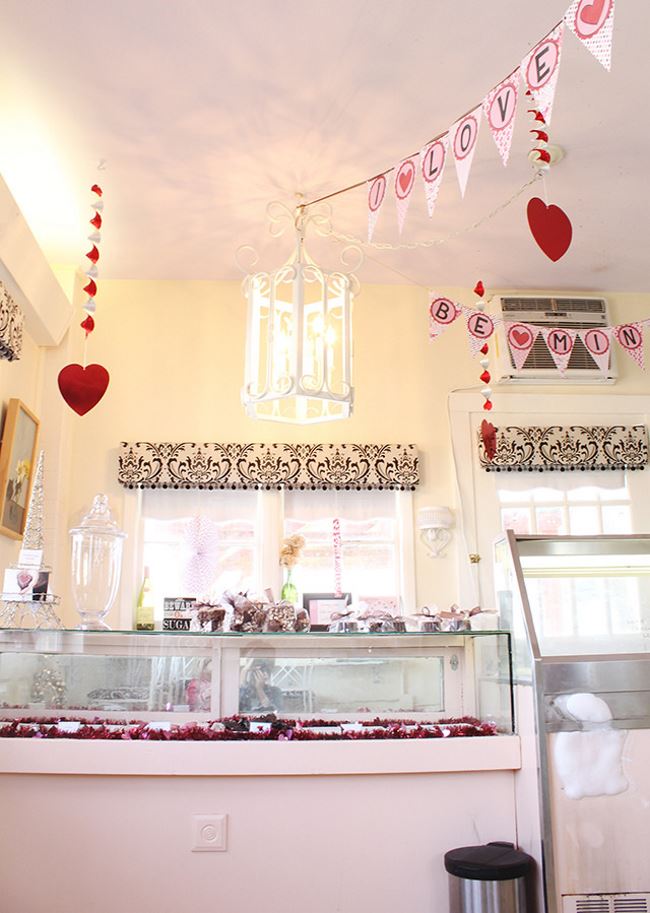 A Skunkboy outing to Elle's Patisserie
Laura of The Band Wife created a special Valentine's Day date so she and her hubby could enjoy some wine and sweets from the comfort of home. Love that gold metallic fringe curtain!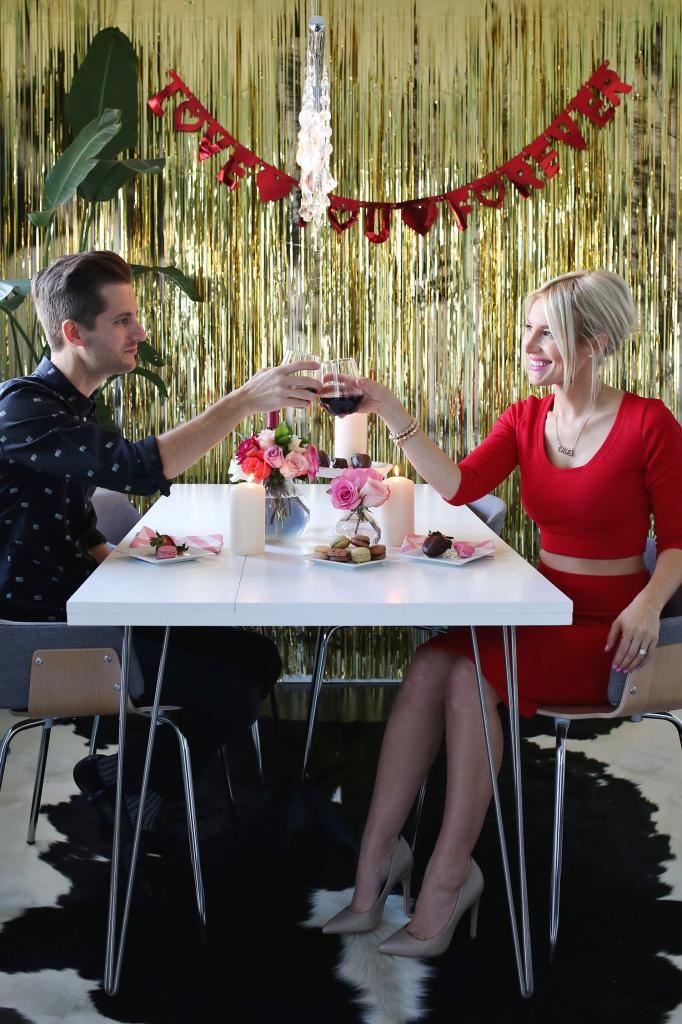 Valentine's Day date night from The Band Wife
Brittni from Paper & Stitch created this Galentine's Day party photo shoot, reminding us all of the importance of girl time. In the post, you'll find decoration ideas, an amazing recipe for sangria, a DIY floral drink stirrer idea and more. So pretty!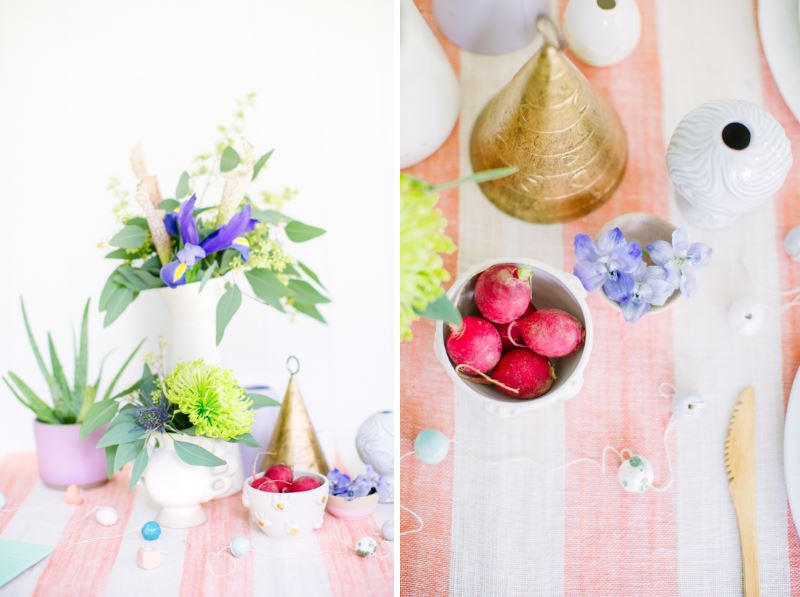 Galentine's Day party by Paper & Stitch
Camille of Camille Styles hosted a lingerie pop-up party featuring intimate apparel by Flor Nuit. This gal pal fete features decadent food and lovely decor. Once again, we see what a treat time with friends can be during the season of love.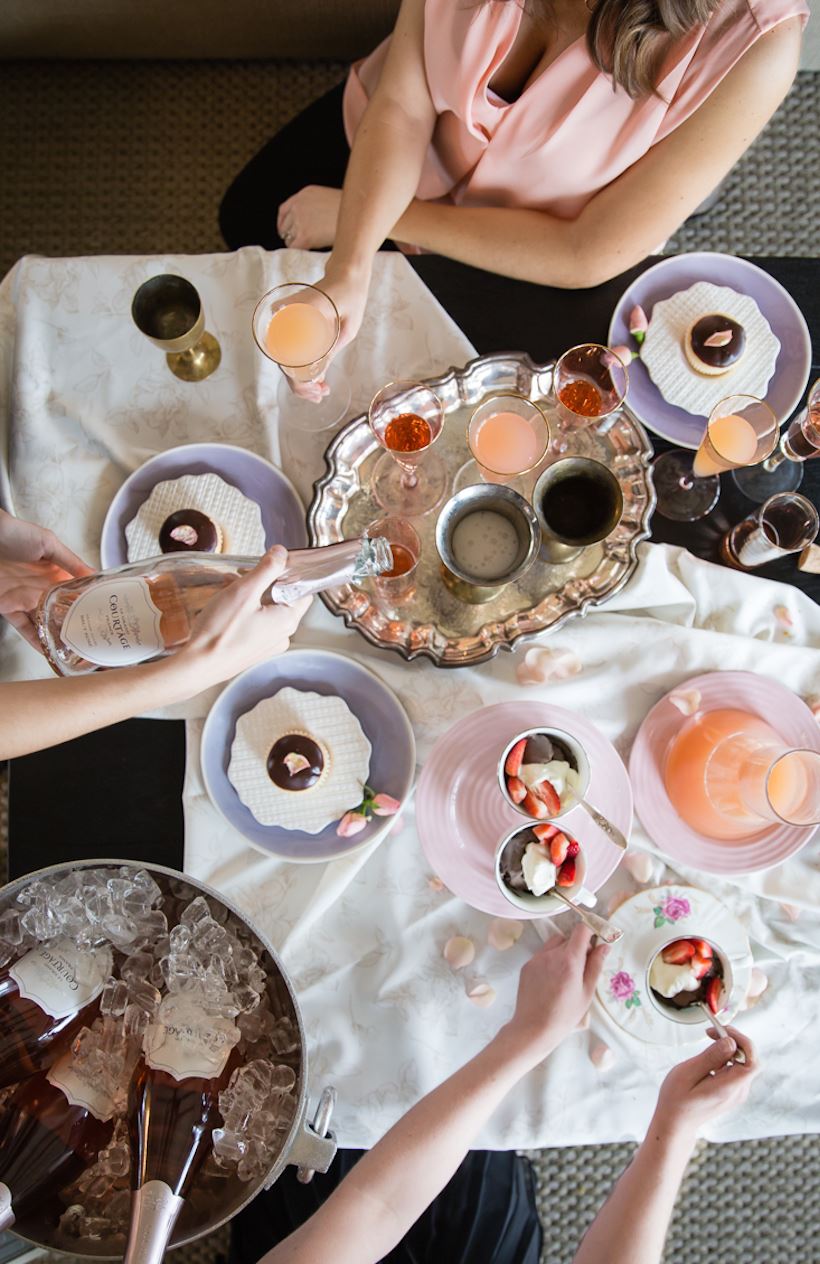 Lingerie pop-up party by Camille Styles
Delicious Food and Drinks
We now turn our attention to some tasty food and drink recipes, because it never hurts to indulge on Valentine's Day. And design lovers are often foodies, so the least we can do is showcase the latest in delicious recipes from our favorite design blogs! This red wine pasta from A Beautiful Mess illustrates the beauty of cooking noodles in Zinfandel and embellishing them with sauteed onion, garlic and red pepper. Don't forget the feta and Kalamata olives! Check out the full recipe here.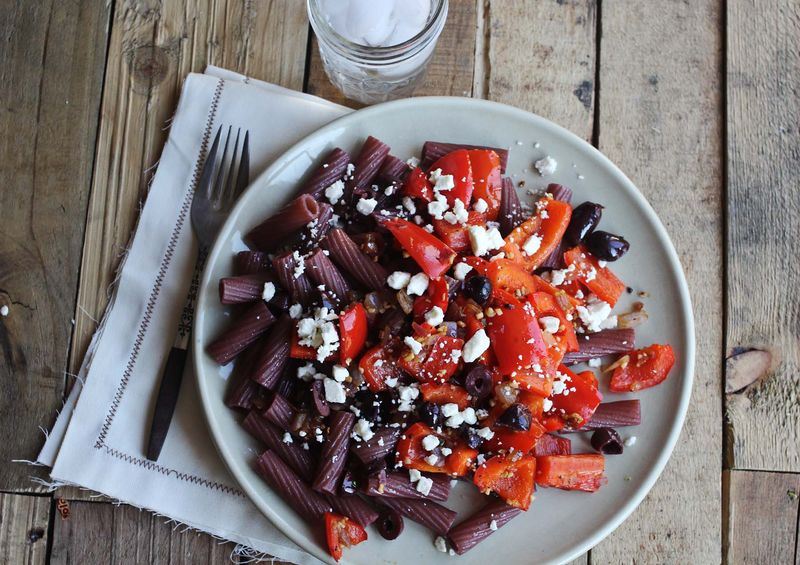 Red wine pasta from A Beautiful Mess
This heart-shaped pepperoni pizza from Melodrama is hard to resist and almost too pretty to eat. Almost… Did you see the heart-shaped pepperoni?!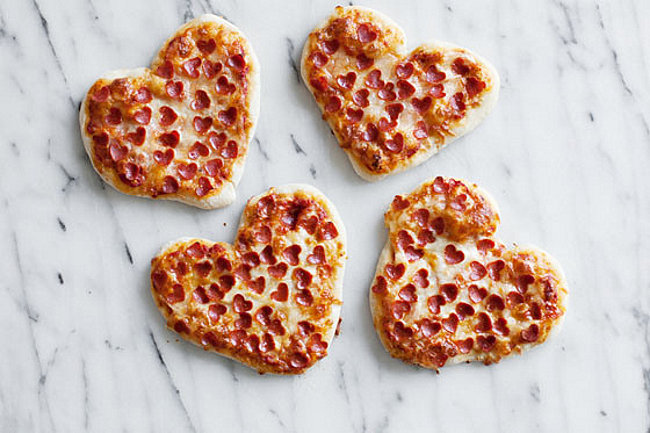 Valentine's Day pizza from Melodrama
Did you catch the chocolate dessert feast I created for Decoist last month, inspired by the film Chocolat? From chocolate-dipped candied blood oranges to dark chocolate cookies, this is one feast that celebrates decadence in all its glory! Check out the full post here: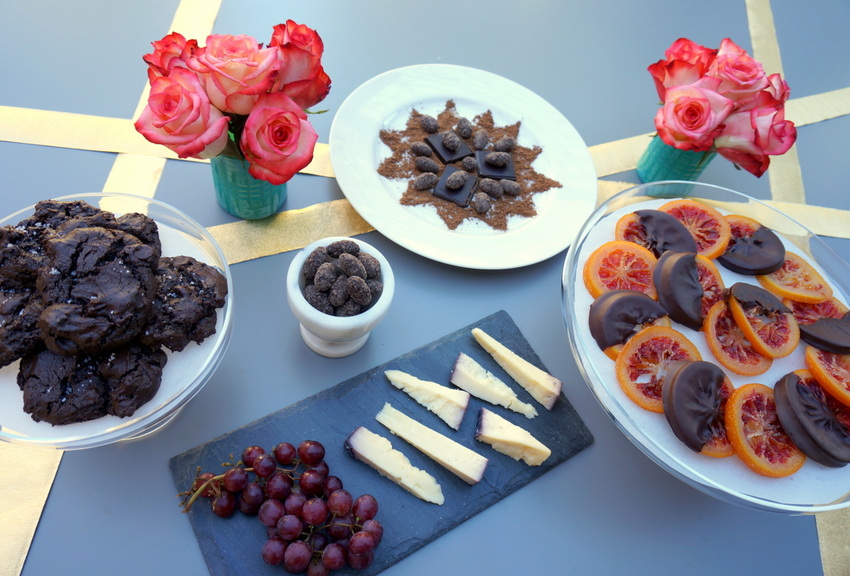 Chocolate Valentine's Day desserts
The image below introduces two more delicious ideas for Valentine's Day. Not to mention, both pics prove that edible confetti makes everything more fun! You can't go wrong with Compartes chocolate bars and Valentine's Day Funfetti Biscotti, featured at Oh Joy!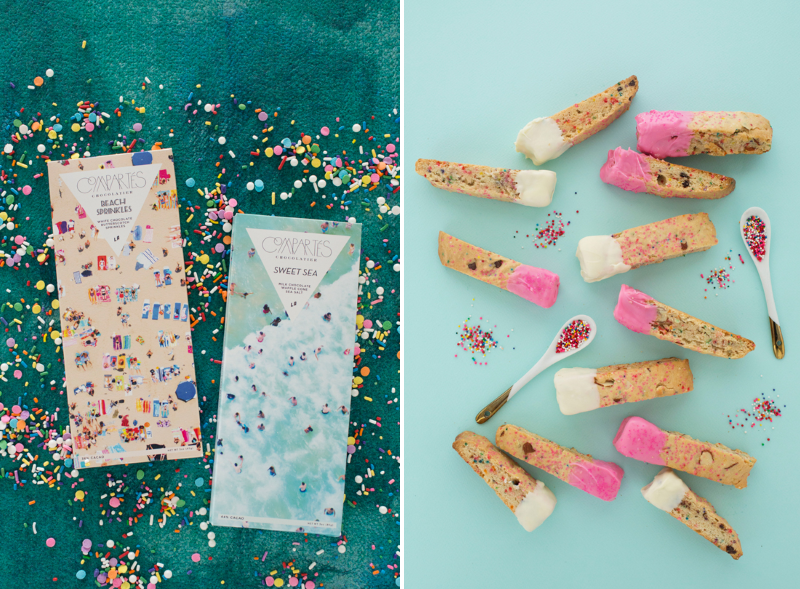 Tasty snacks featured at Oh Joy!
Sprinkles enter the drink realm, thanks to this pink chocolate concoction from Judith in Wonderland. I can't help but wonder what other drinks could be embellished with some little sprinkles around the rim!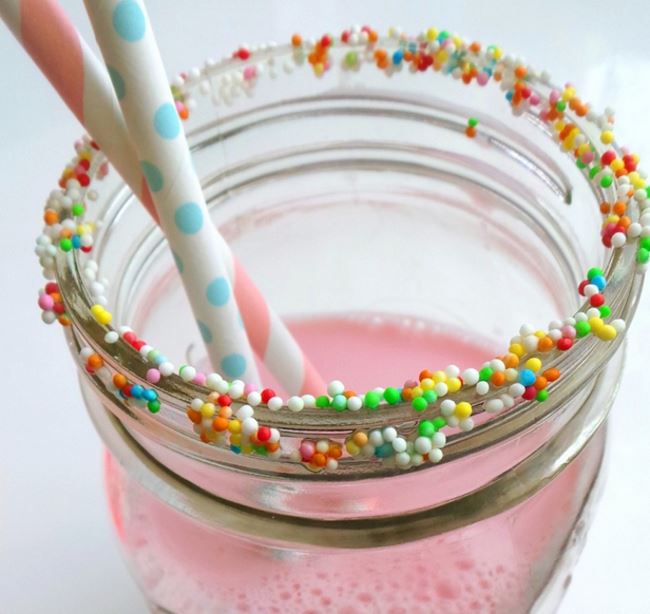 Pink chocolate drink from Judith in Wonderland
How scrumptious do these blood orange margaritas look?! Not to mention, the deep tones and lush lighting featured in the photography truly capture the rich feel of Valentine's Day, don't you think? For the recipe, head on over to Design Love Fest.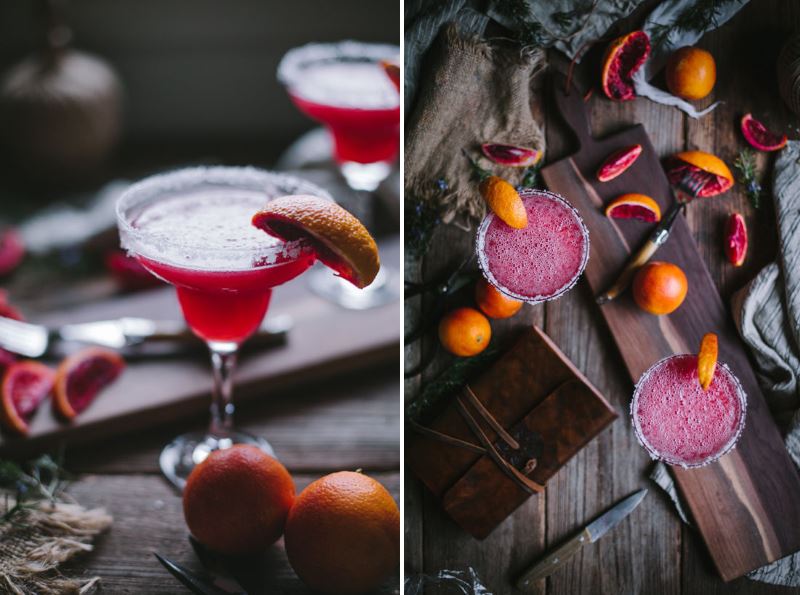 Blood orange margaritas from Design Love Fest
This raspberry rose cocktail featured at Camille Styles is perfect for those who love a good gin drink with a rosy glow. Check out the full recipe here.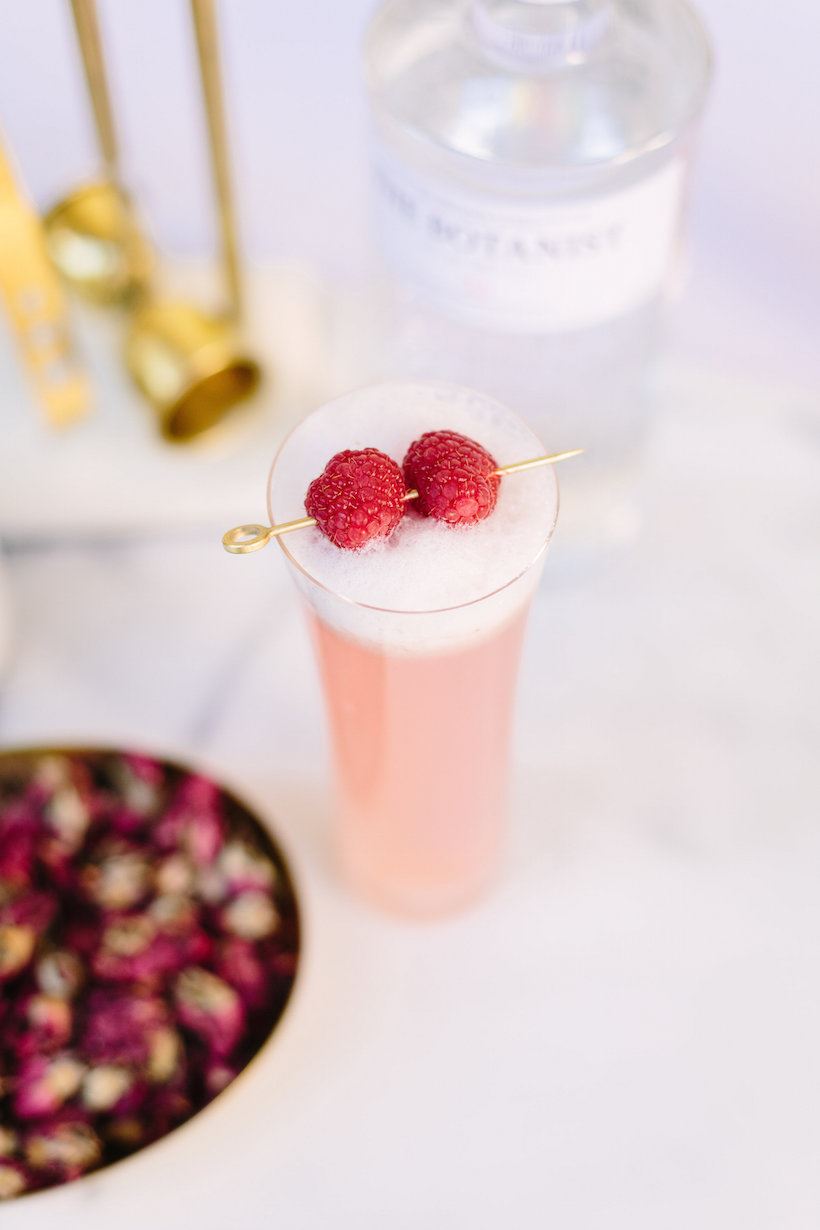 Raspberry rose cocktail featured at Camille Styles
Speaking of all things rosy, Melodrama has created a delicious recipe for the Veronica Rose, featuring Aperol, rose syrup, bitters and sparkling wine. Rose petal garnishes add the perfect touch for Valentine's Day!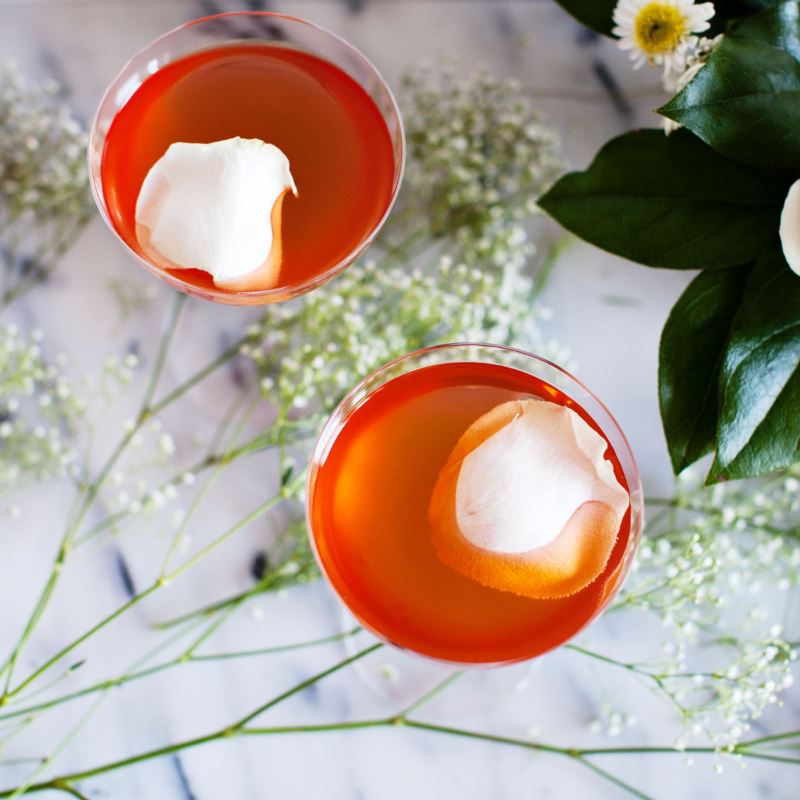 Veronica Rose cocktail from Melodrama
Are you thinking what I'm thinking?! Time to make my shopping list for the week ahead and fill it with delicious ingredients and a few handy craft supplies. With this many amazing ideas at the ready, I'm determined to make the most of Valentine's week. Whether you're celebrating romantic love, friendship, family ties, or all three, I wish you and yours an unforgettable Valentine's Day!
You're reading Celebrate Love with These 20 Creative Valentine's Day Ideas, originally posted on Decoist. If you enjoyed this post, be sure to follow Decoist on Twitter, Facebook and Pinterest.
Source:: http://www.decoist.com/2015-02-06/valentines-day-decorating-ideas/