By Kate Simmons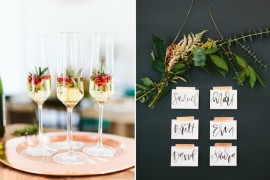 Can you believe Thanksgiving is next week?! Whether you're hosting the meal at your home or you're contributing a dish to a potluck feast, we've got you covered. Today we're sharing 20 simple Thanksgiving food and decor ideas that will make a big impact without adding stress to your life. Gathering holiday ideas is a fun way to be proactive while celebrating the festivity of the season. From easy DIY projects to low-maintenance food items, the creative concepts below won't break the bank or consume all of your energy…
Fun Thanksgiving Food
Thanksgiving is all about the food, but we're actually starting with beverages! Instead of stocking a full bar, try whipping up a big pot of mulled wine using ingredients such as cinnamon sticks and star anise. The result is a spicy concoction that's perfect for fall. Details at The Sweetest Occasion: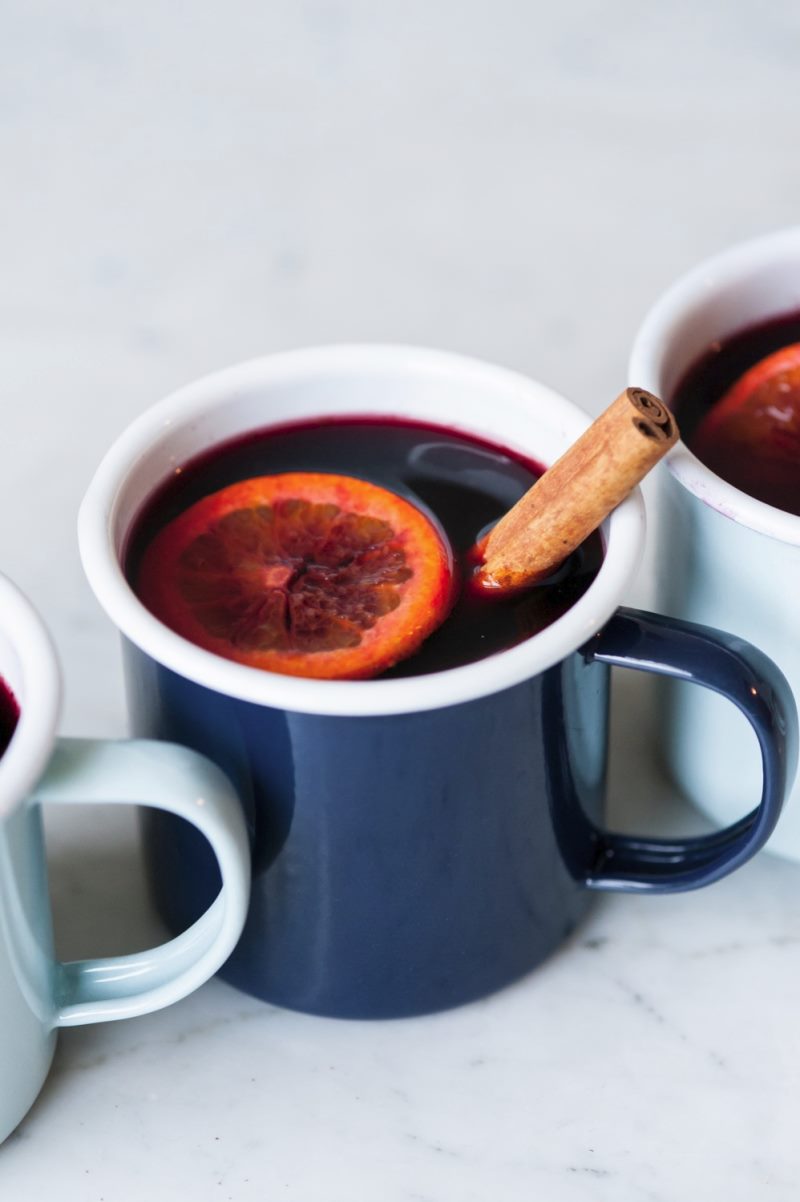 Mulled wine from The Sweetest Occasion
Head on over to 100 Layer Cake for some helpful tips for hosting Friendsgiving (Thanksgiving with friends)! We're loving the idea of place cards, as well as having a signature cocktail. Champagne with fruit and herb garnishes is an easy concoction that does the trick!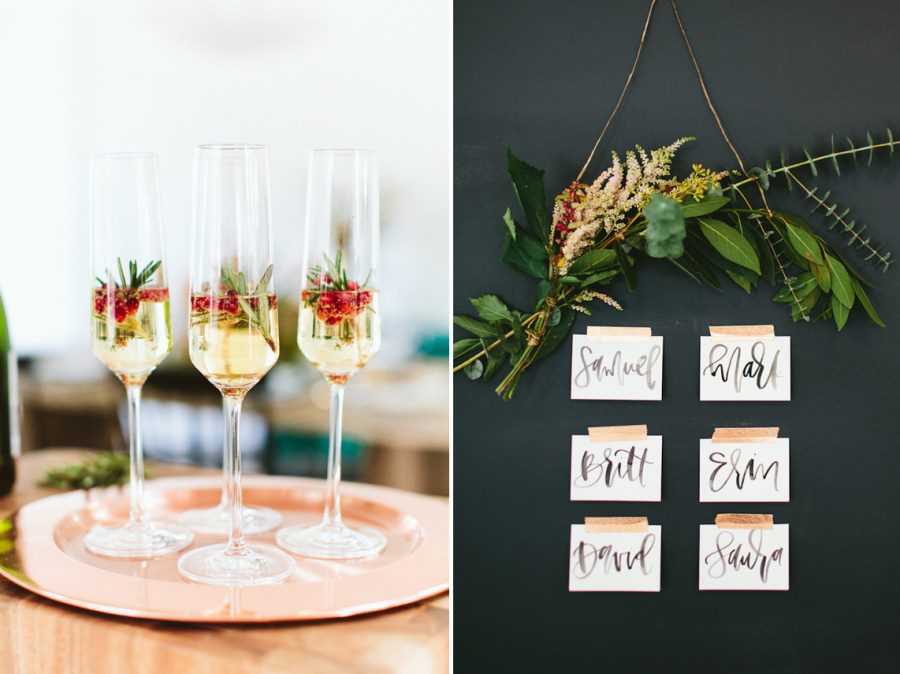 Special Friendsgiving touches from 100 Layer Cake
Instead of slaving away on a complicated Thanksgiving appetizer, make it easy with a cheese plates. What better way to celebrate nature's bounty than by enjoying food from a heaping tray of decadent goods that pair beautifully with a glass of wine! This cheese plate tutorial from Oh Happy Day breaks it down for you: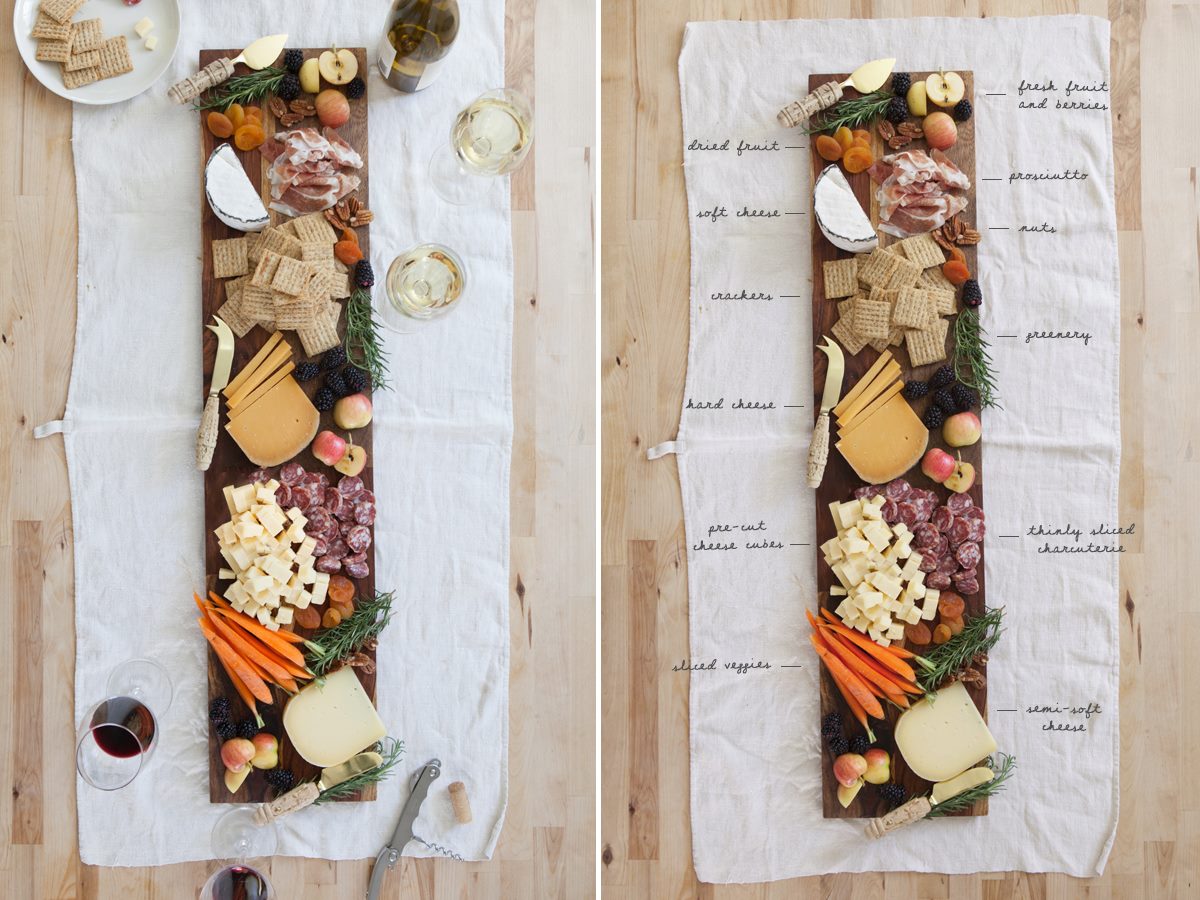 Scrumptious cheese plate idea from Oh Happy Day!
Moving on to side dishes, this recipe for Roasted Acorn Squash with Cilantro Chutney lets the Indian-inspired flavors do the talking. Plus, the natural shape of the acorn squash makes the dish a beautiful addition to the Thanksgiving table. Get the full recipe at Camille Styles.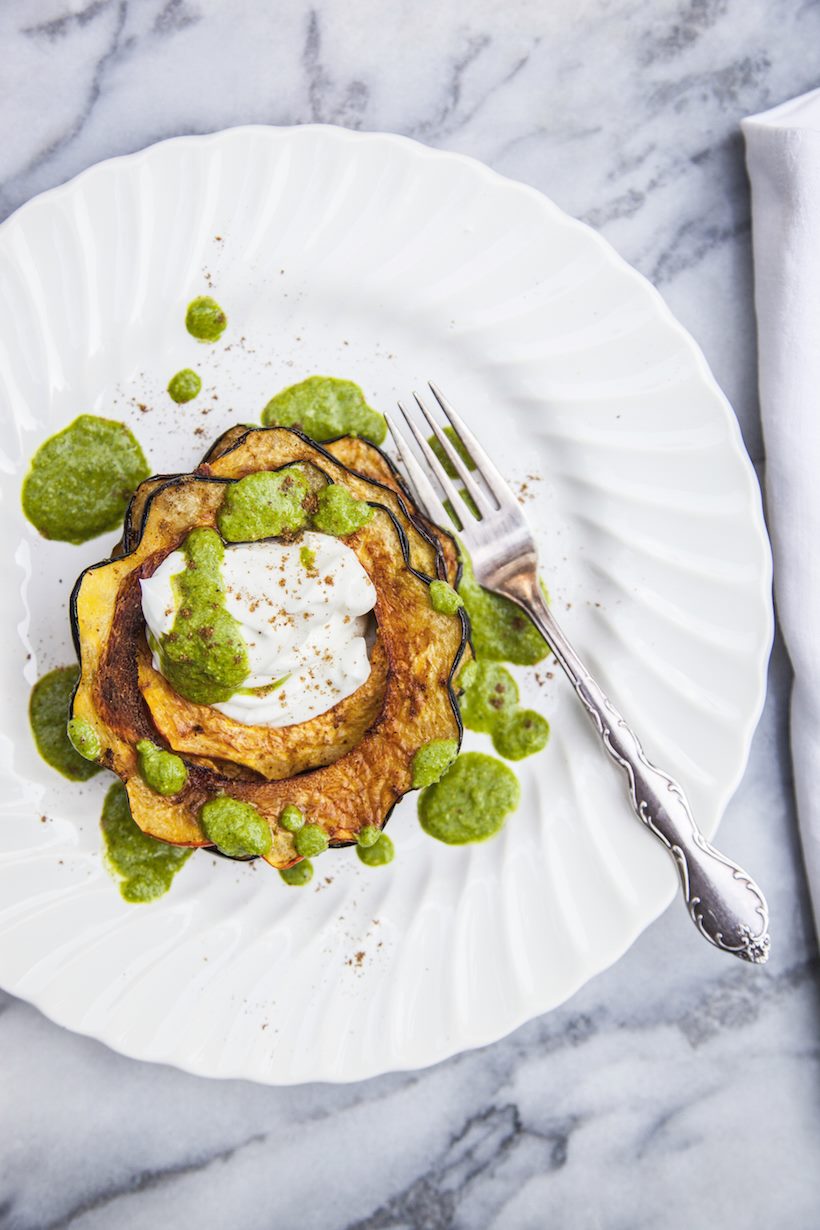 Roasted acorn squash from Camille Styles
Not up for turkey this year? Go with something nontraditional and just as satisfying, such as this Homemade Hearty Chili from Proper. Skip the ground beef for a great vegetarian main course option. And don't you love the way it's styled in the photo?!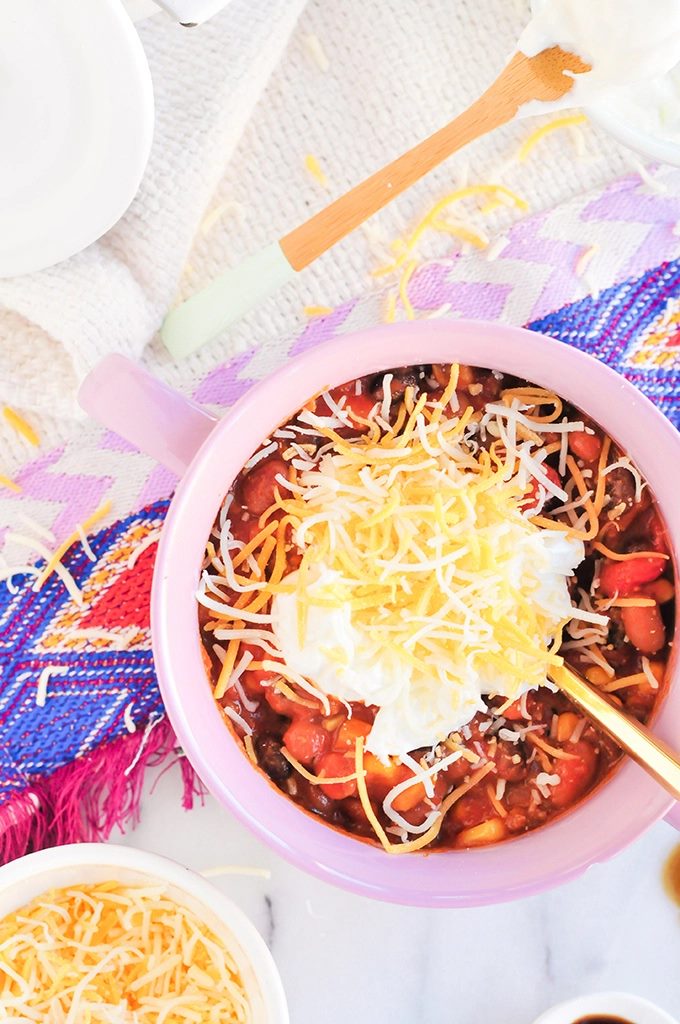 Hearty chili recipe from Proper
If you're in charge of the meal this Thanksgiving and you really want to prepare a turkey, check out these foolproof turkey and gravy tips from Emma of A Beautiful Mess. We're not going to tell you that preparing a turkey is easy, but Emma's pointers really take the edge off the process and make it fun!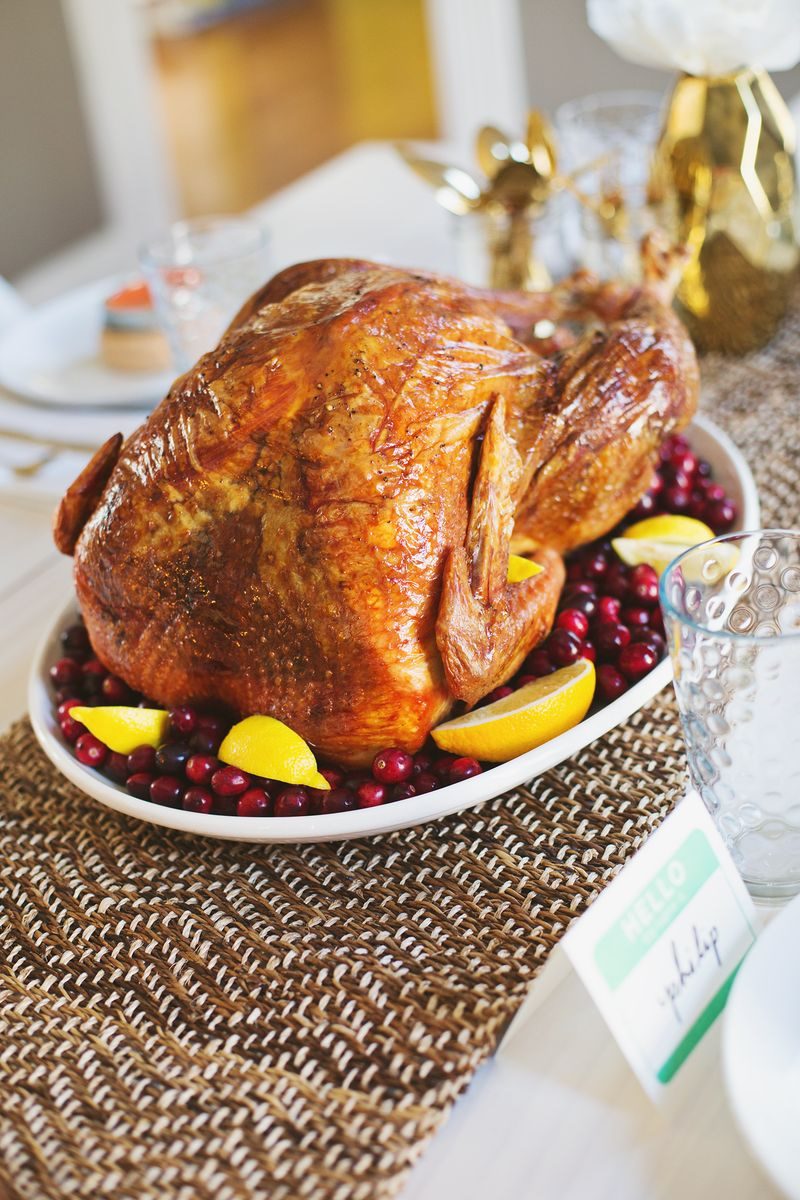 Thanksgiving turkey tips from A Beautiful Mess
Finish the meal off right with this Pumpkin Gingersnap Pie from Camille Styles. With a gingersnap crust and an easy-to-prepare filling, the dessert is an addictive addition to the Thanksgiving table: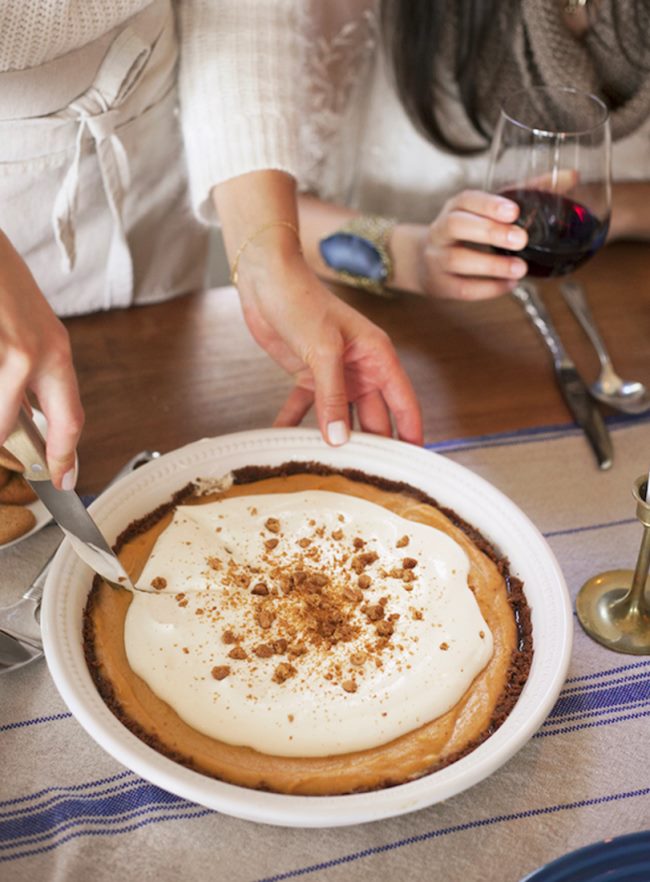 Pumpkin gingersnap pie from Camille Styles
Not feeling like cooking dessert? Try ordering a pie, like this Pumpkin Ice Cream Pie from Cold Stone Creamery. Laurel from A Bubbly Life styled a beautiful table featuring the frozen treat, and below we see the clever use of pink to add an unexpected rosy tone to the fall table: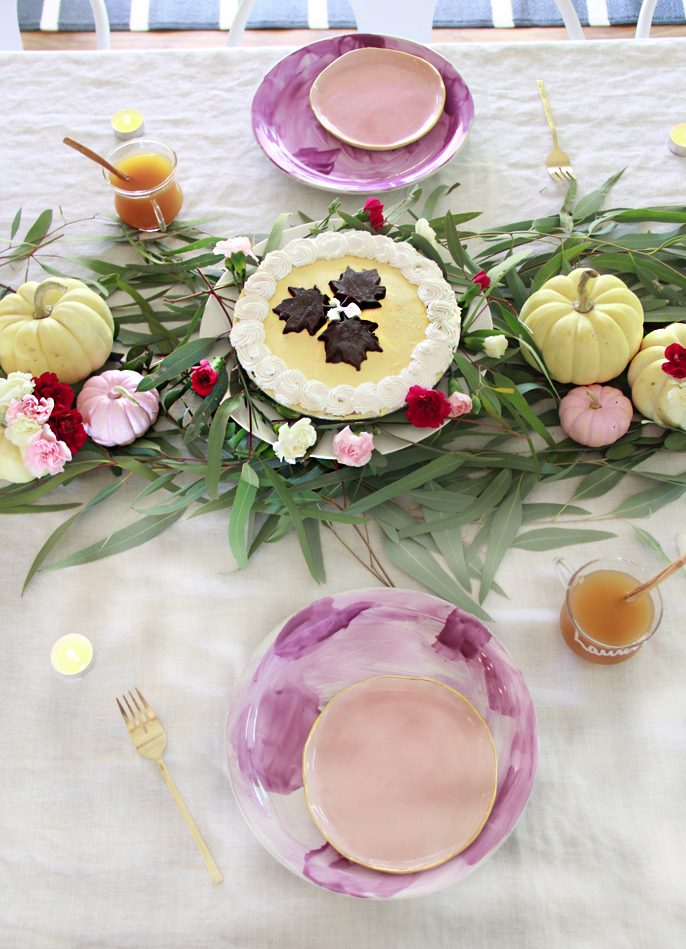 Ice cream pie from Cold Stone Creamery
Send your guests home in style with these Leftover Pie Labels from Studio DIY. In fact, if you're attending a potluck and are feeling funny about just bringing a pie, include these babies and your contribution will be the hit of the feast! A free printable template makes this project a snap.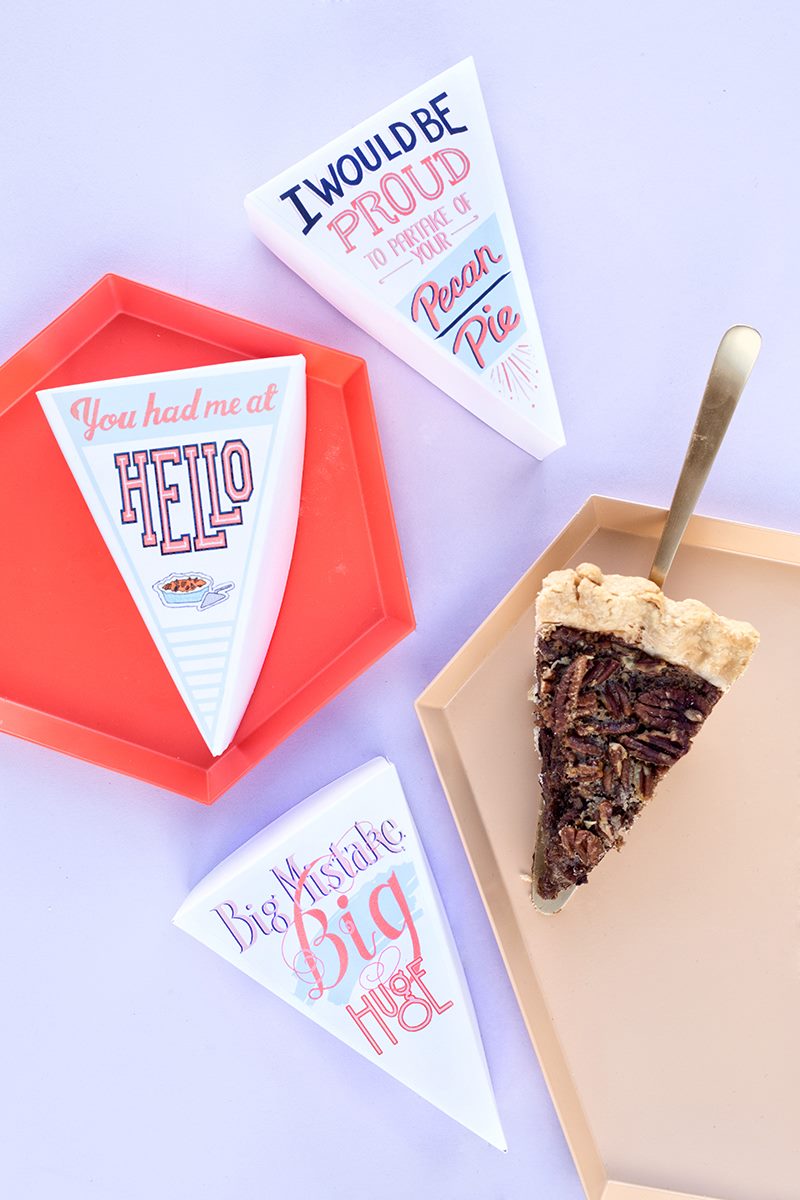 Leftover pie labels from Studio DIY
For the last idea in this section, we're not highlighting a food item. But it's guaranteed to make your home smell fabulous! If you're making Thanksgiving super easy with store-bought items, create that home cooked smell with a stove simmer that will infuse your abode with the aromas of fall. A Beautiful Mess offers three heavenly simmer ideas, including the pine cone, apple and cinnamon mix below (which will make it smell like you've just baked an apple pie)!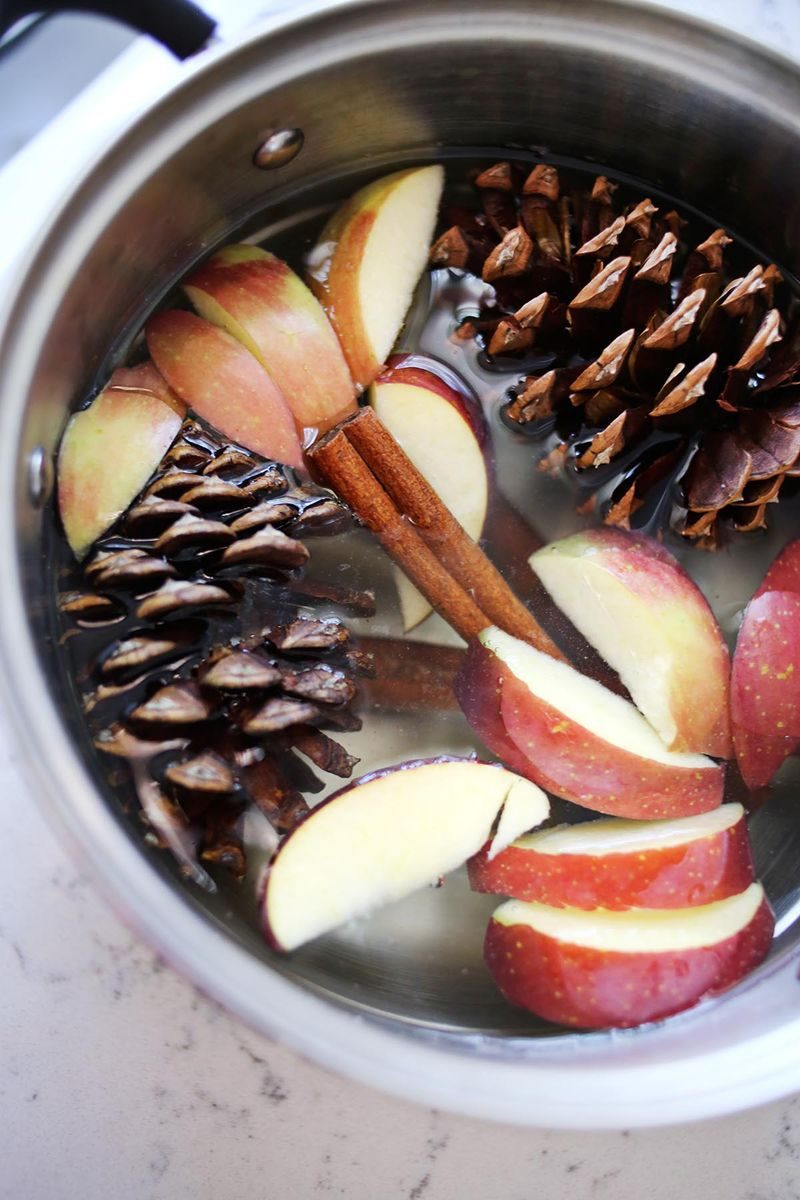 Stovetop simmer from A Beautiful Mess
Delicious Decor
We now move from the food to the decor! Looking for an easy, affordable Thanksgiving tabletop idea? Check out our very own Decoist Thanksgiving table concept, complete with a DIY geo table runner created from scrapbook paper: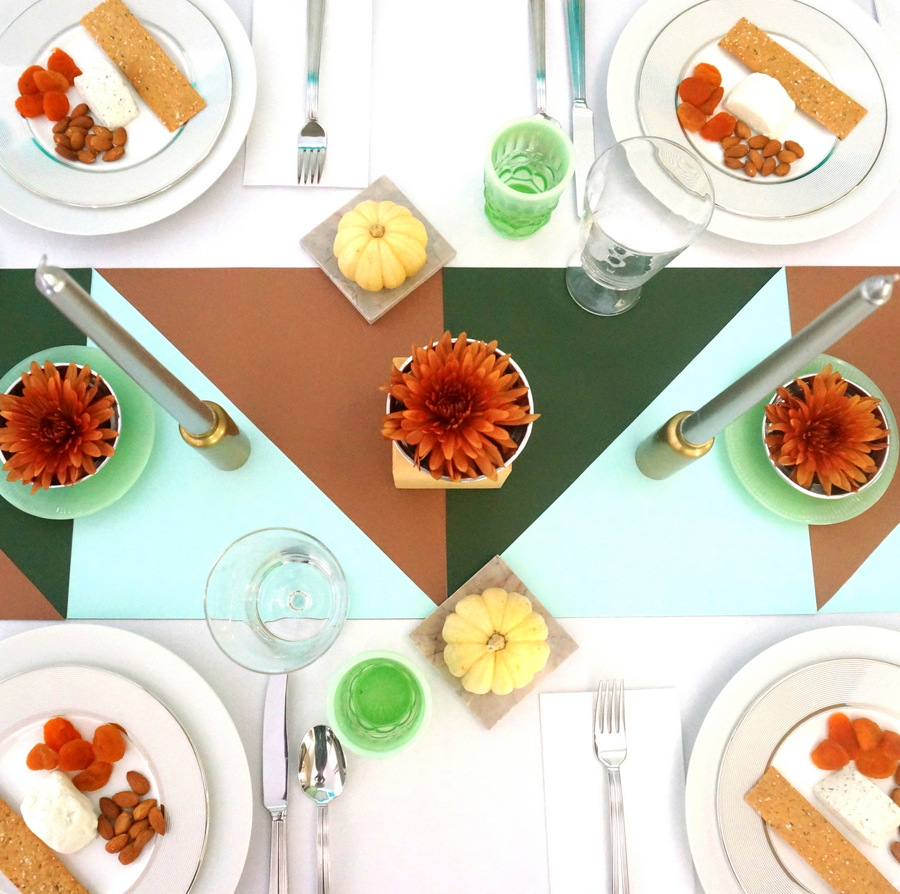 Thanksgiving table idea from Decoist
The DIY Wheat Wreaths in this spread from Oh Happy Day are easy to create, and they offer a rustic, classic touch that packs a powerful punch: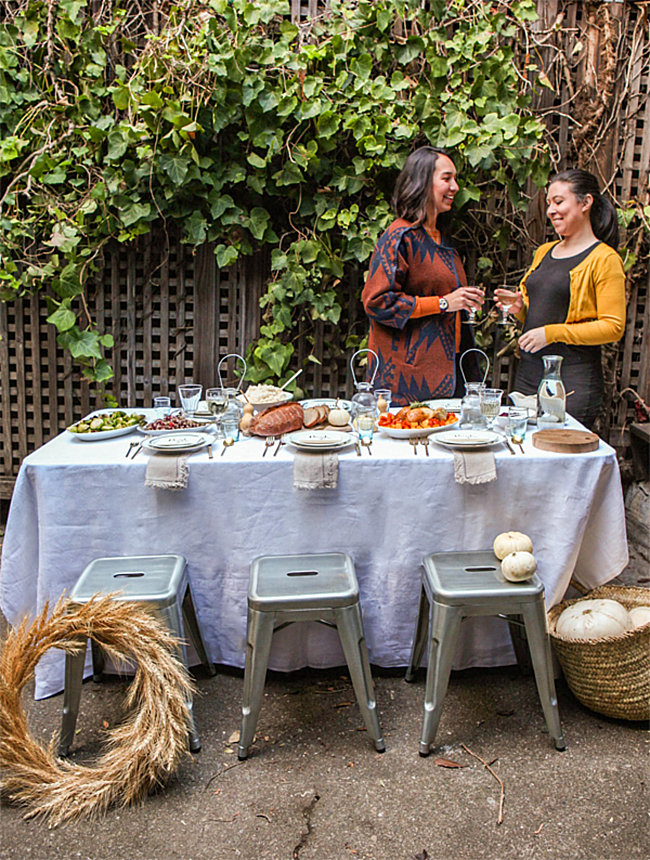 Friendsgiving wheat wreath from Oh Happy Day
This Painted Pine Cone Table Runner from A Subtle Revelry is a simple way to add a magical touch to your Thanksgiving table. Plus, you can leave these pine cones up for Christmas!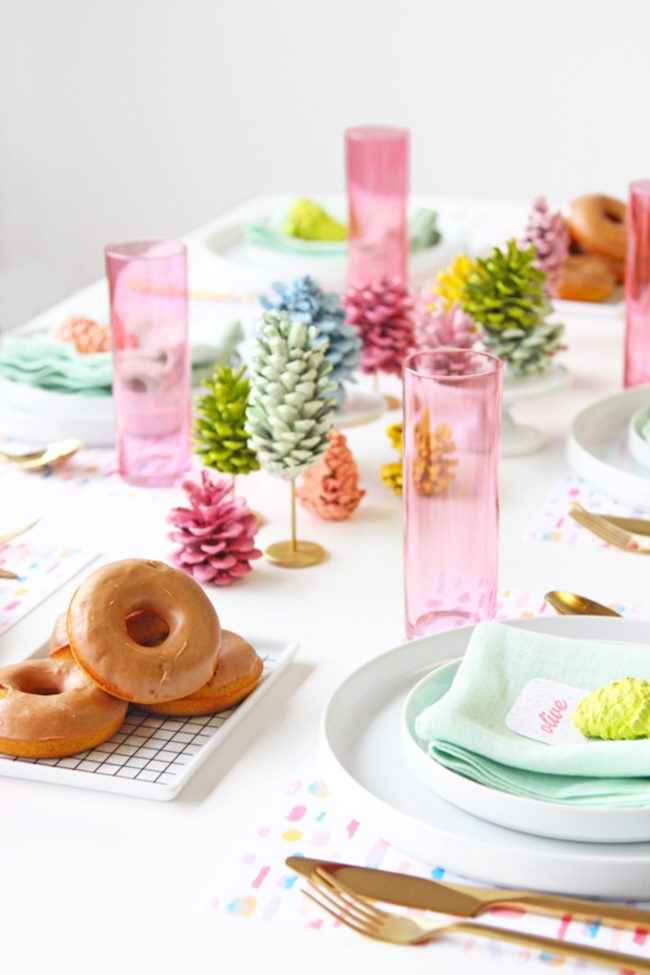 Pine cone table runner from A Subtle Revelery
It's hard to go wrong with neutrals! Homey Oh My! created a neutral fall table that sets a modern tone for the feast while letting the food take center stage: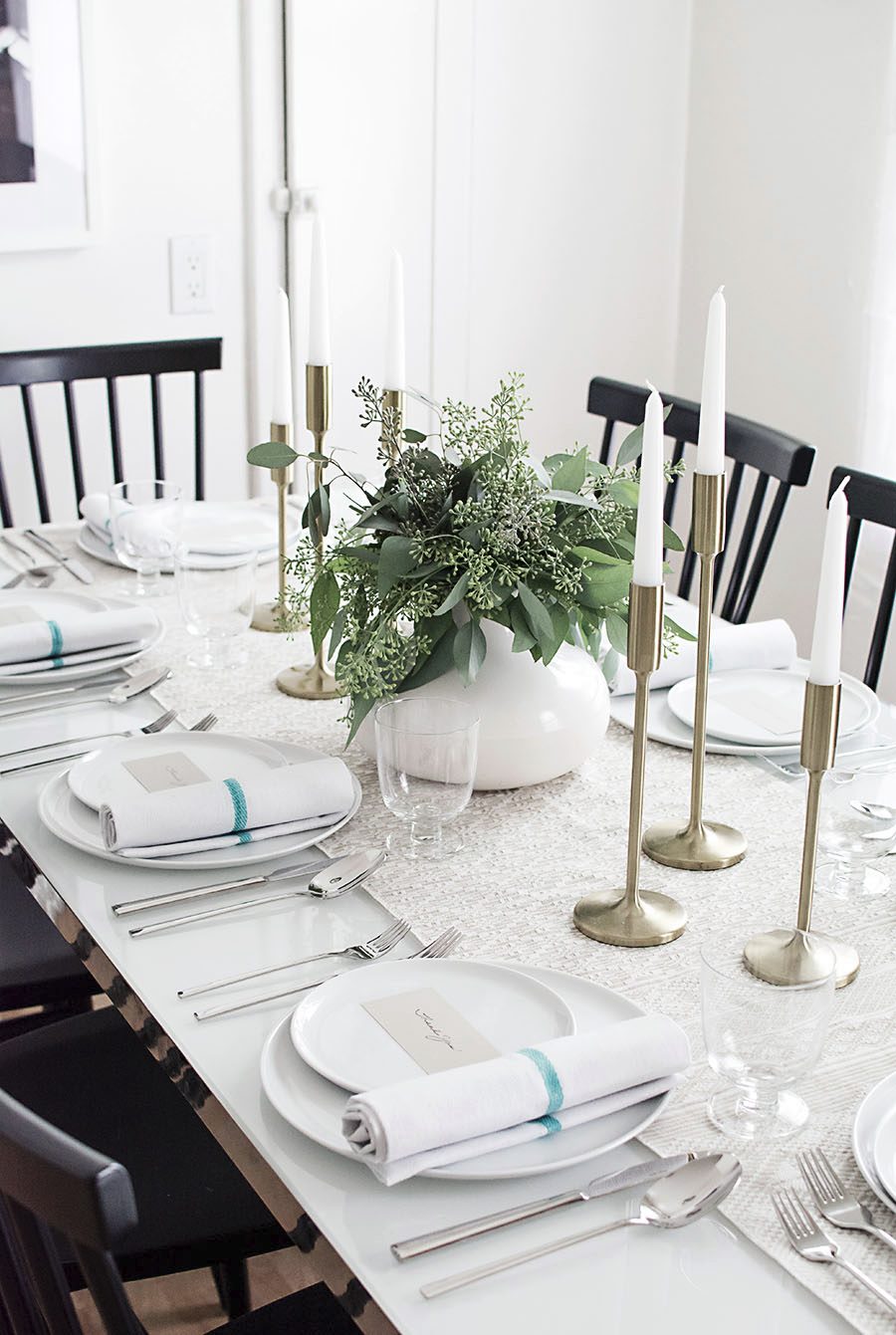 Neutral fall table from Homey Oh My!
For a complementary look (also from Homey Oh My!), check out this Simple Thanksgiving Garland, complete with seeded eucalyptus and a message that celebrates the act of giving thanks!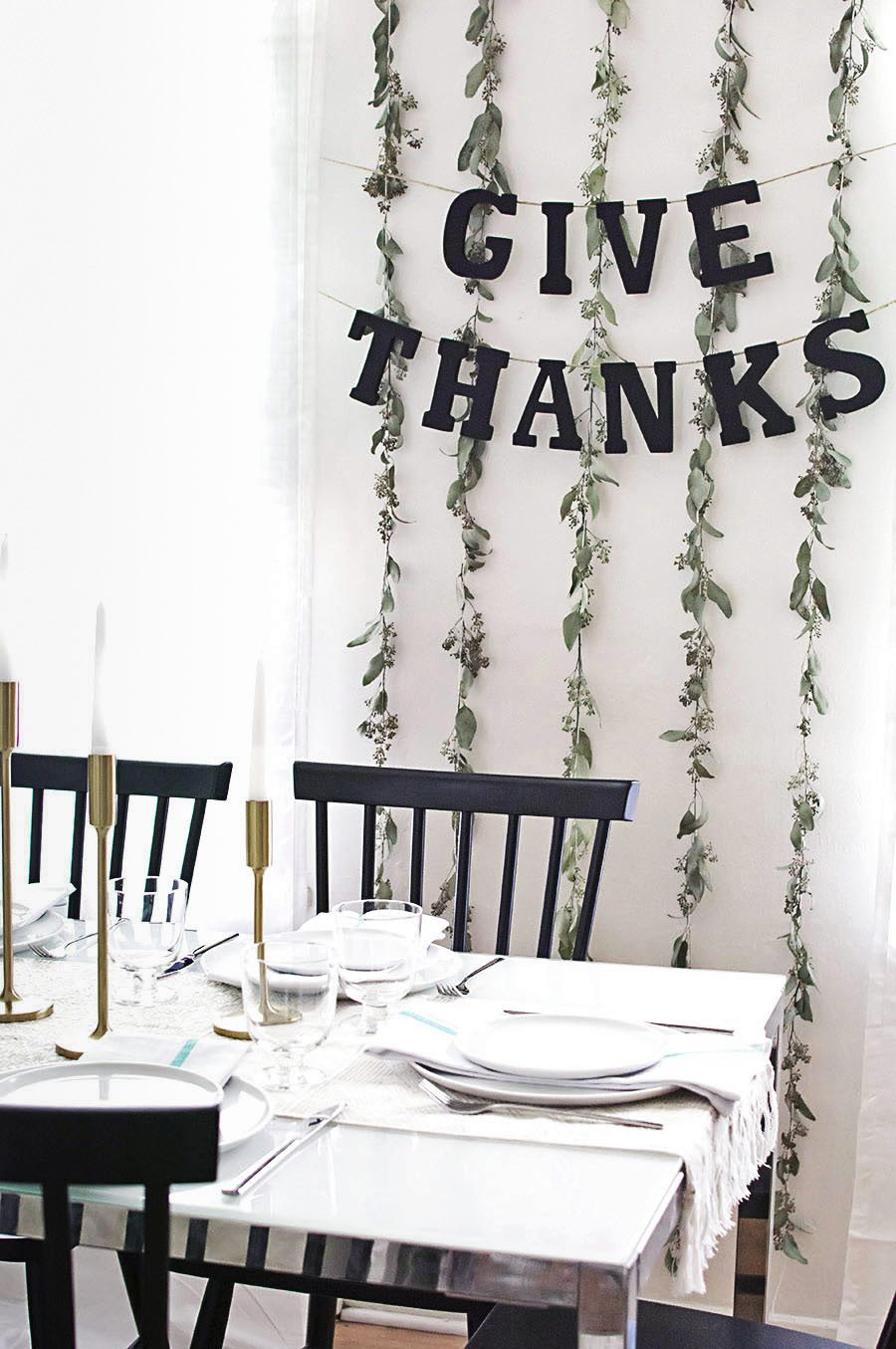 Thankgiving garland from Homey Oh My!
Are you hosting a Friendsgiving this year? Perhaps you're away from home this Thanksgiving or you simply want to gather your closest friends for a meal of thanks before Turkey Day. Now is the perfect opportunity to put a fun, relaxed spin on holiday decor with paper goods and balloon alphas. The Friendsgiving celebration below from A Beautiful Mess features supplies from the Oh Happy Day Party Shop: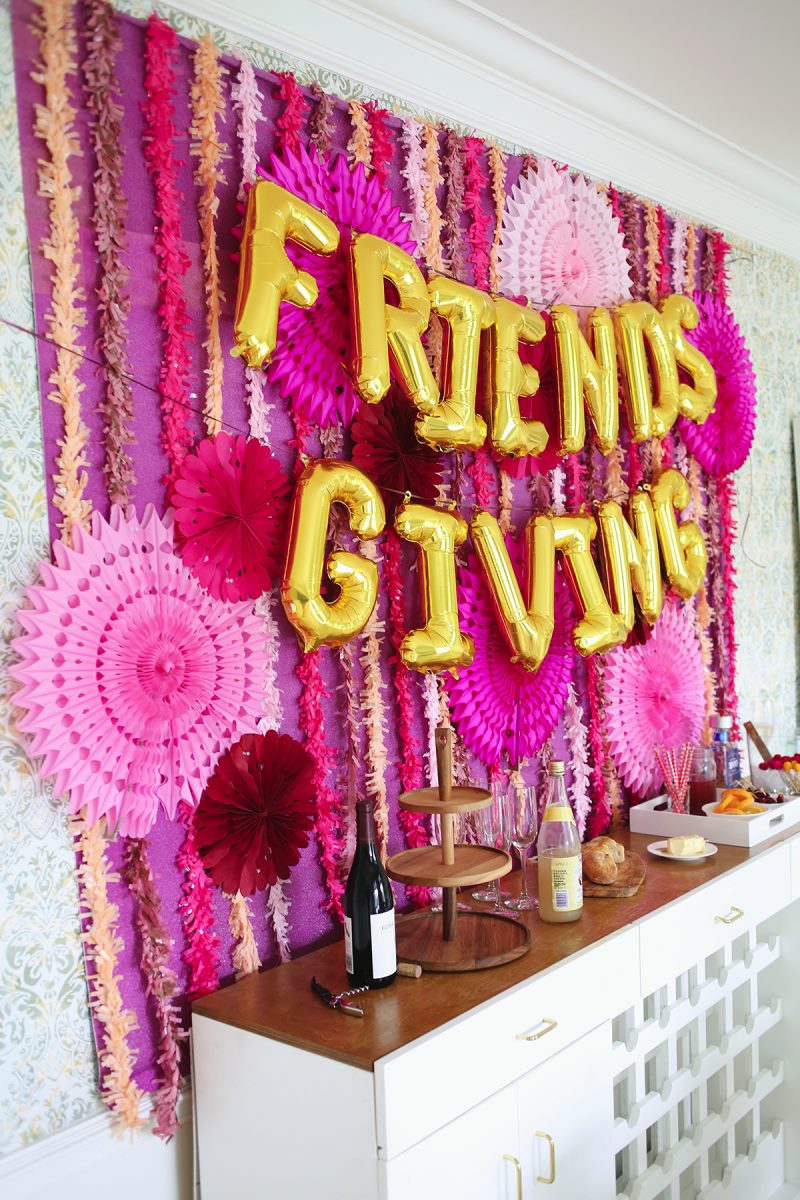 Friendsgiving party supplies in shades of pink
On that colorful note, check out this fabulous vibrant paper chandelier from Paper & Stitch, created from Astrobrights paper!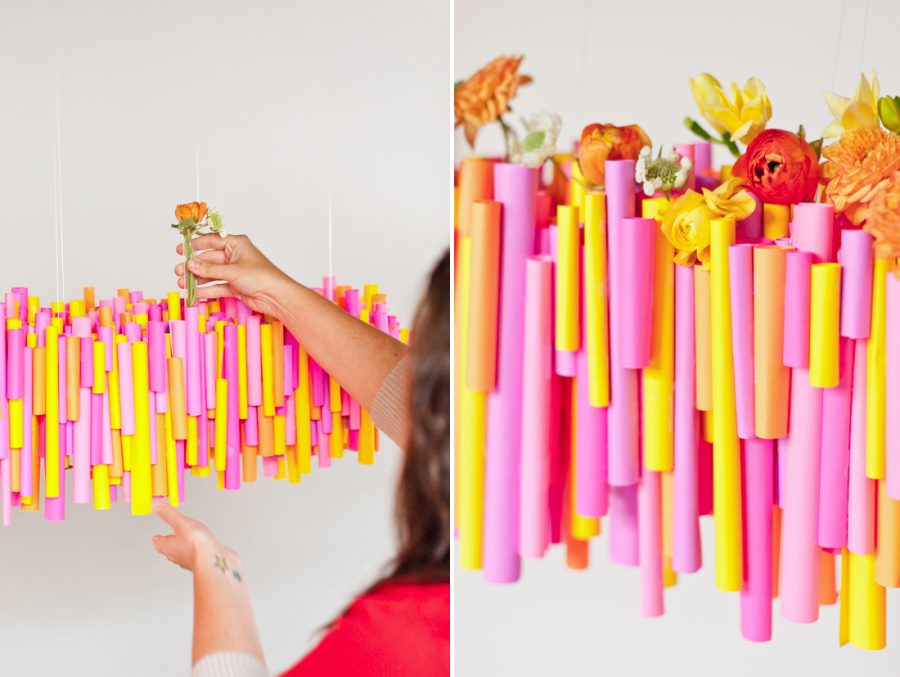 Colorful chandelier from Paper & Stitch
The paper was also used to create placemats and a table runner, as shown below. You can't get more affordable than paper! 'Tis the season to be vibrant…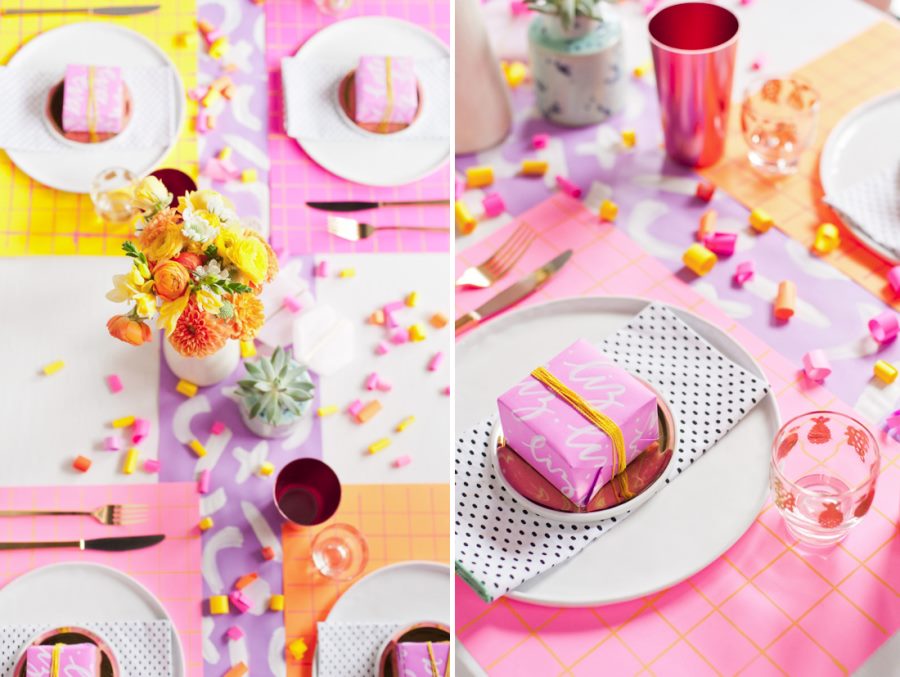 DIY placemats and table runner from Paper & Stitch
Display your food in style with these DIY Footed Serving Bowls from Sugar & Cloth. They're fast and budget-friendly, especially since you can create them with the help of flat-bottom bowls and wooden plaques. [photo by Jared Smith]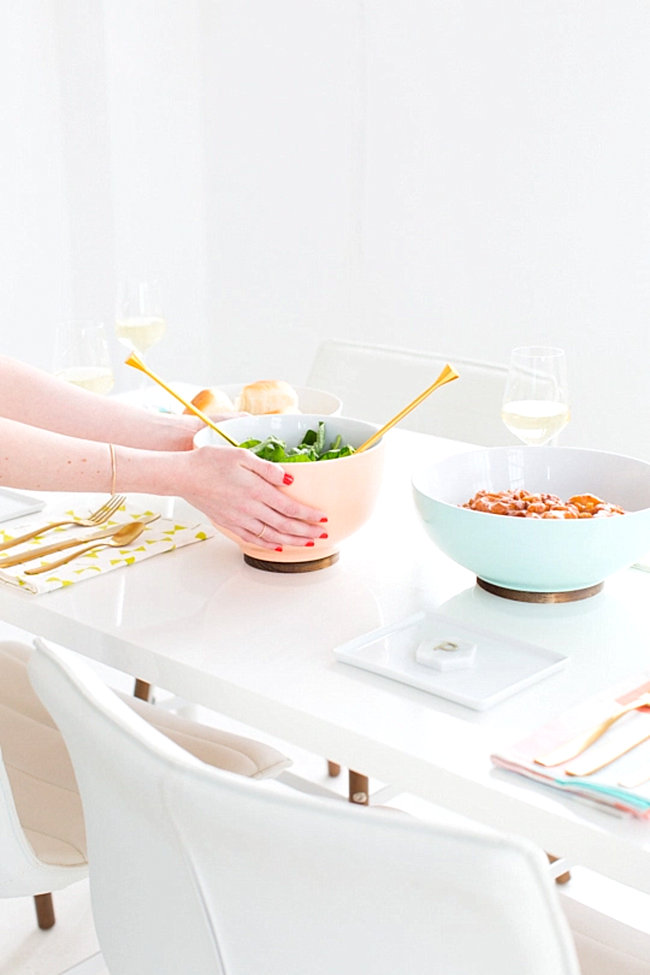 DIY footed serving bowls from Sugar & Cloth
The kids will love A Subtle Revelry's Turkey Balloons. They add the perfect festive touch to your Thanksgiving decor, you can send them home as party favors, and you can easily craft them with the help of a free printout!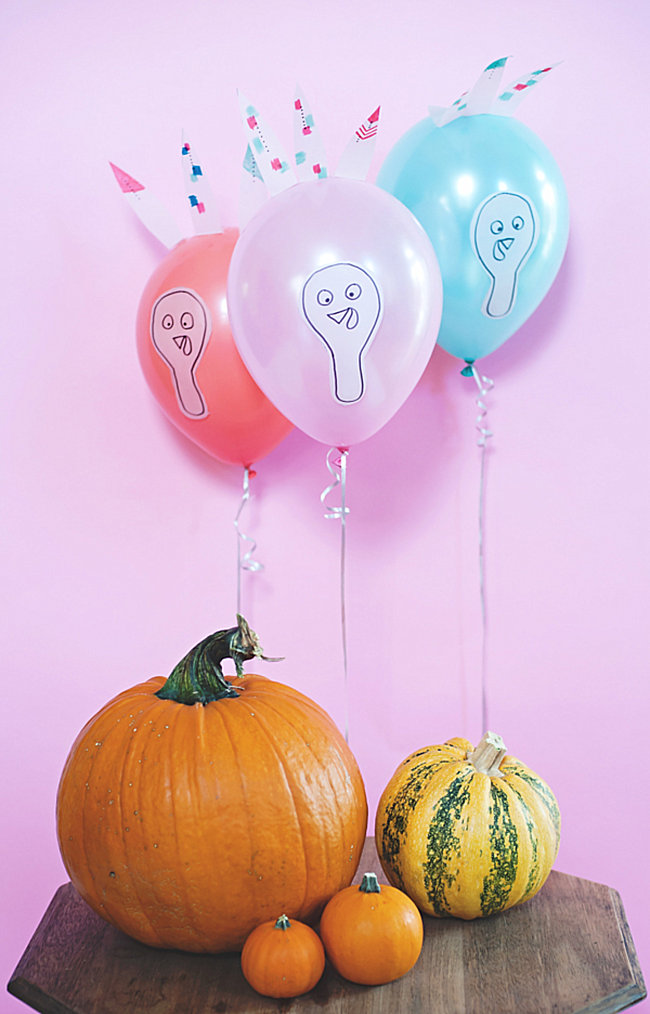 Turkey balloons for a festive Thanksgiving
Did today's post give you any new ideas for next week's Thanksgiving feast? Don't be afraid to get creative, and remember: you don't have to spend a lot of time and money to create a unique tabletop for the feast!
You're reading Easy Thanksgiving Food and Decor Ideas for a Stress-Free Holiday, originally posted on Decoist. If you enjoyed this post, be sure to follow Decoist on Twitter, Facebook and Pinterest.
Source:: http://www.decoist.com/easy-thanksgiving-food-decorating/