By Kate Simmons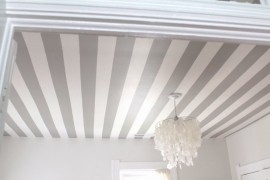 Is it me, or does it already feel like the holidays are in full swing? I keep having conversations with people that end in phrases like, "Once we get to mid-October, it's a blur until after the winter holidays." I start to laugh at the absurdity of this comment, and then I realize that September and early October have already flown by and it's time to start seriously thinking about fall holidays like Halloween and Thanksgiving. To me, the years that are the most meaningful are the ones that involve setting aside some time to really enjoy each holiday.
By making a checklist of the things I have to do, the things I want to do, and ways that I can reflect on the true meaning of these special times of the year, I can savor bits and pieces of the holiday blur. Do you make a fall holiday checklist? Today I'm sharing a few simple ways to make the most of fall, from reveling in fun projects to setting aside time with the people you care about. And of course, this is a checklist for design lovers (that's you, Decoist Readers)! Enjoy…
Getting Your Home Ready for Fall
Fall can be a time of welcoming guests, whether it's out-of-town visitors who are staying for the weekend or in-town guests who will be enjoying a seasonal dinner at your home. Are there design projects you want to finish before the fall holidays arrive? [from Emily Henderson]
With the weather cooling down, fall is the perfect time to tackle DIY projects, from painting to rearranging furniture. Below we see a painted striped ceiling from the new home of Skunkboy blogger Katie Shelton: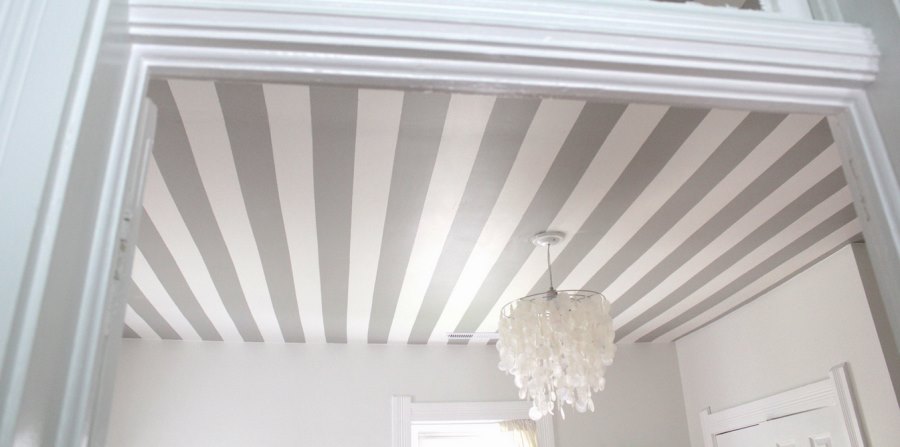 Getting your home ready for fall can also involve adding some seasonal decorations. Isn't this Color Dyed Wheat Wreath from A Subtle Revelry a vibrant take on the traditional fall wreath?!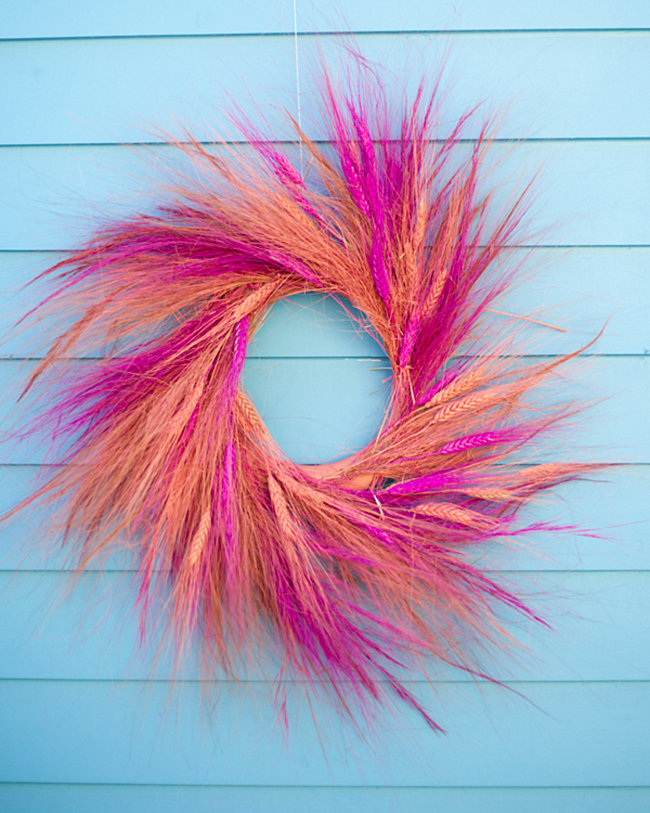 Don't hesitate to put your own spin on fall decor. This DIY Paper Leaf Wreath from Proper brings pastel style home, and the paper alternative to faux leaves is truly unique:
Now is also the time to add festive touches such as garlands. The dining room is the perfect place for fun embellishments like this DIY Brass and Suede Geometric Garland from Lovely Indeed: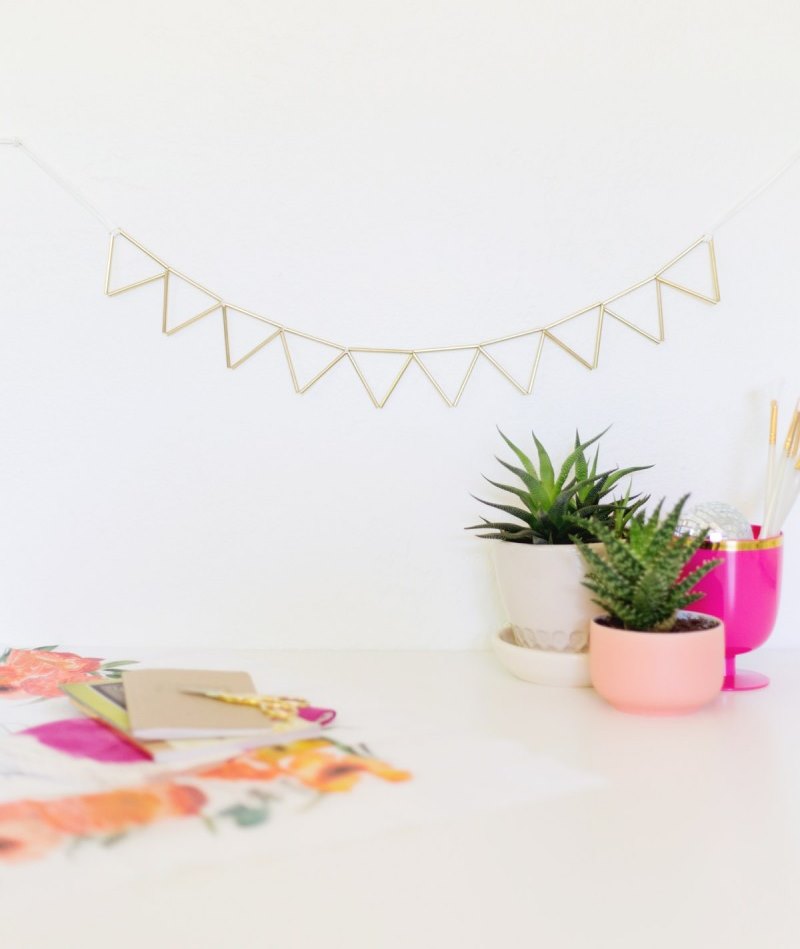 Preparing to Entertain
If you plan on hosting a meal or a big holiday gathering, plan a fall tablescape that reflects your style with ease. Once you find a look you like, you can duplicate it as needed. This spread from Homey Oh My! makes use of budget-friendly supplies such as seeded eucalyptus from Trader Joe's: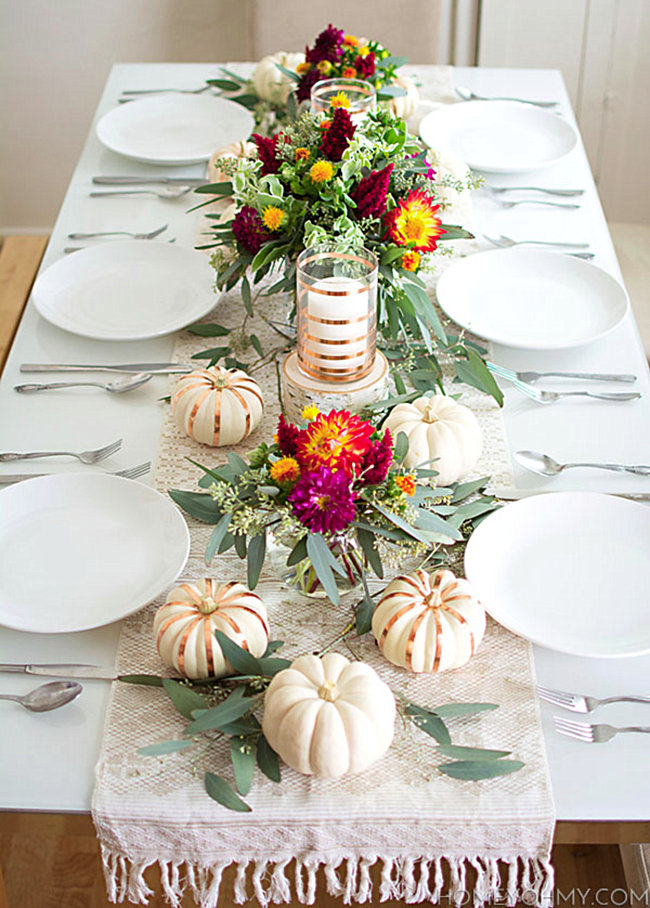 Don't forget the option of hanging something festive over your fall table. This DIY Glitter Feathers Branch Chandelier from A Bubbly Life adds whimsy and drama to the elegant fall tablescape below: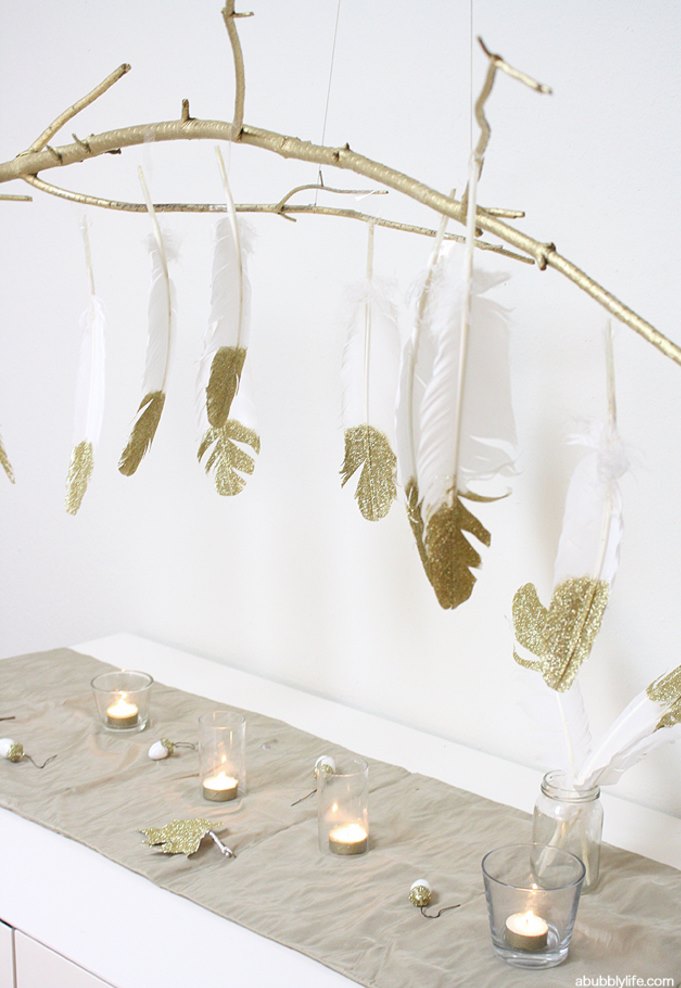 Sometimes all it takes is one special piece to set a festive holiday mood. Nothing says fall or "Halloween season" quite like this Pumpkin Party Lantern from A Subtle Revelry, created with the help of a drill, thick metal wiring and a flameless candle: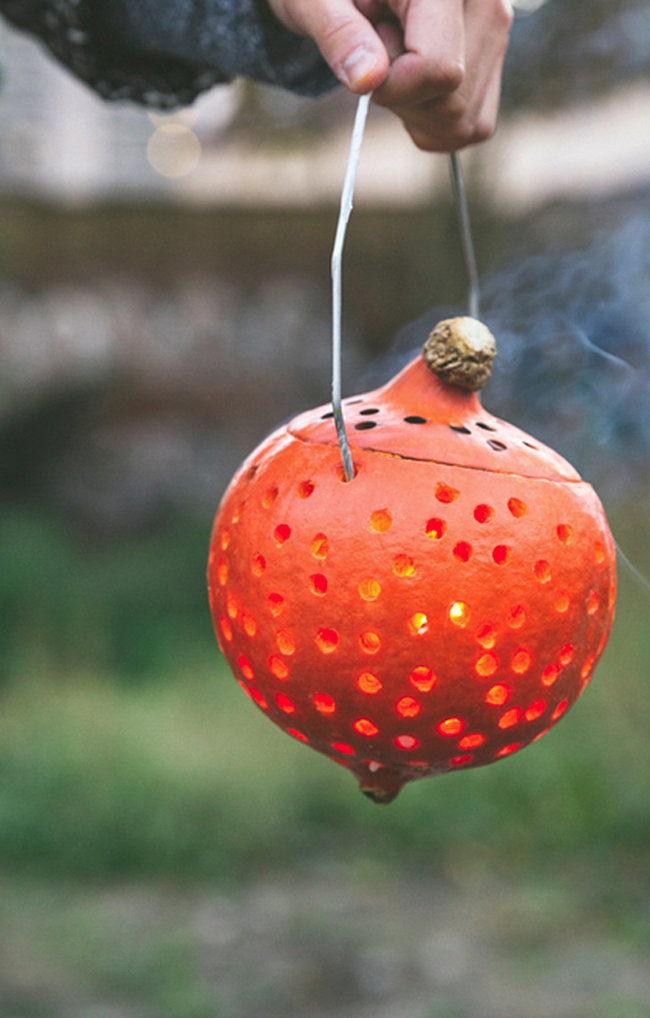 With plenty social events on the horizon, now is the time to style your bar cart. How clever is this DIY Bar Cart Runner from Sugar & Cloth?! Designed by Erin of Francois et Moi, this DIY project makes creative use of a decorative metal radiator sheet.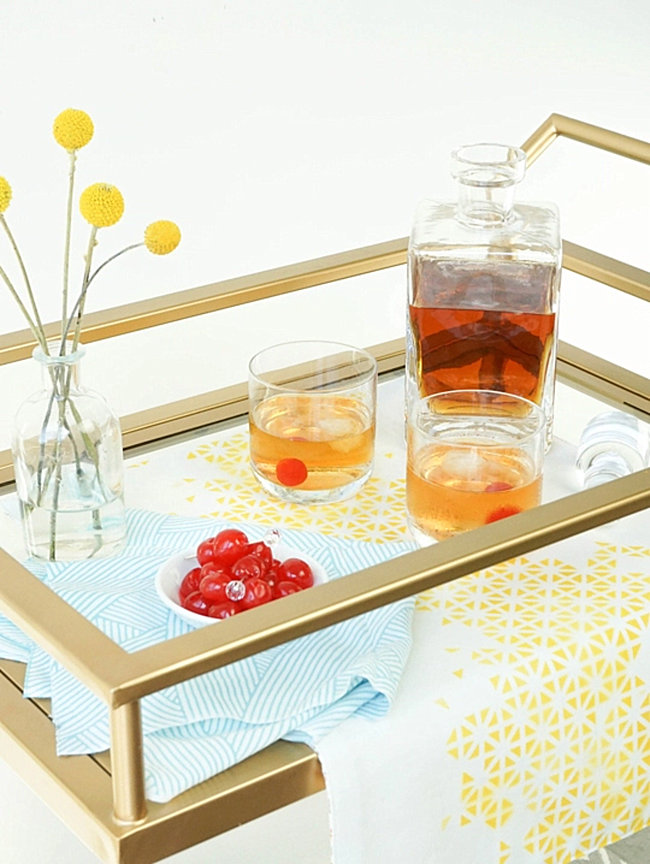 Time to stock up on beverage supplies! If you're feeling extra crafty, try placing liquor in glass decanters, and label them in style with the help of this Stamped Liquor Labels tutorial from A Beautiful Mess.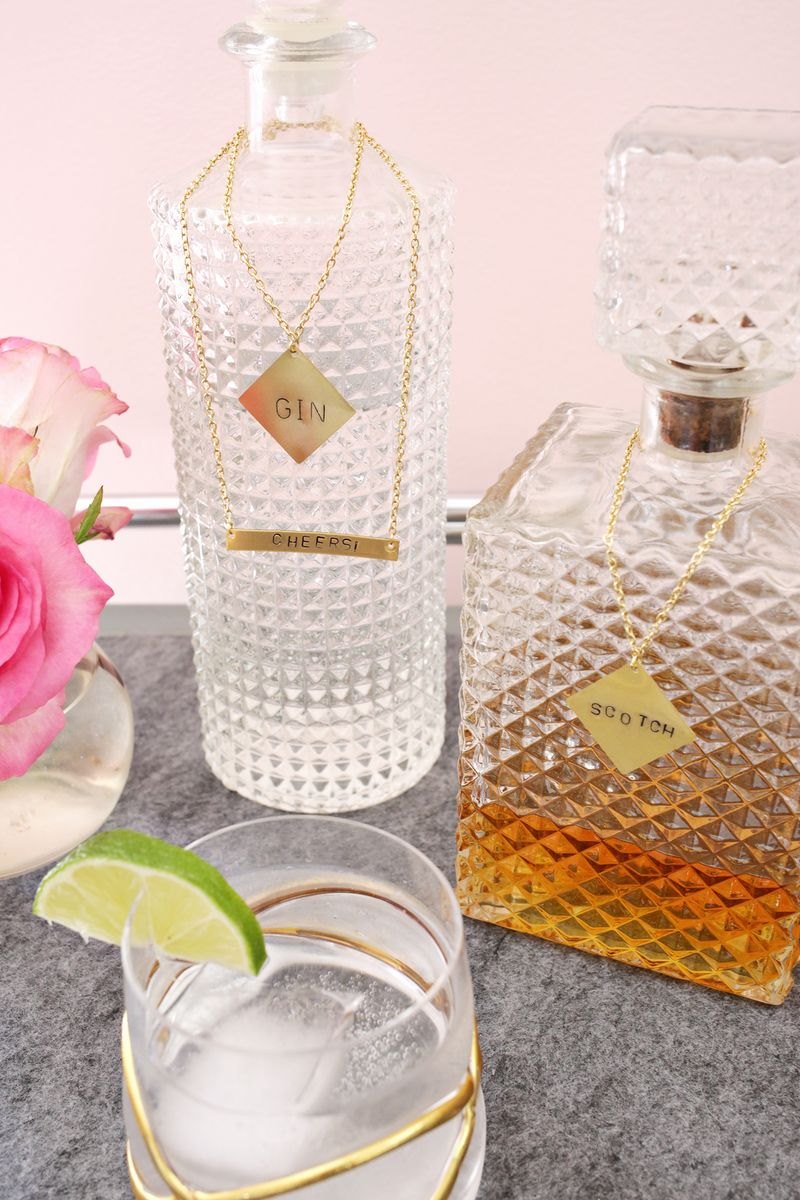 Just because you're hosting an event doesn't mean things have to get complicated. Knowing how to easily create a decadent spread is half the battle. Sometimes a stunning combination of food items is all it takes! Learn more about "The Art of Charcuterie" from A House in the Hills. Get ready to celebrate the power of ingredients such as cheese, olives, hummus and fruit: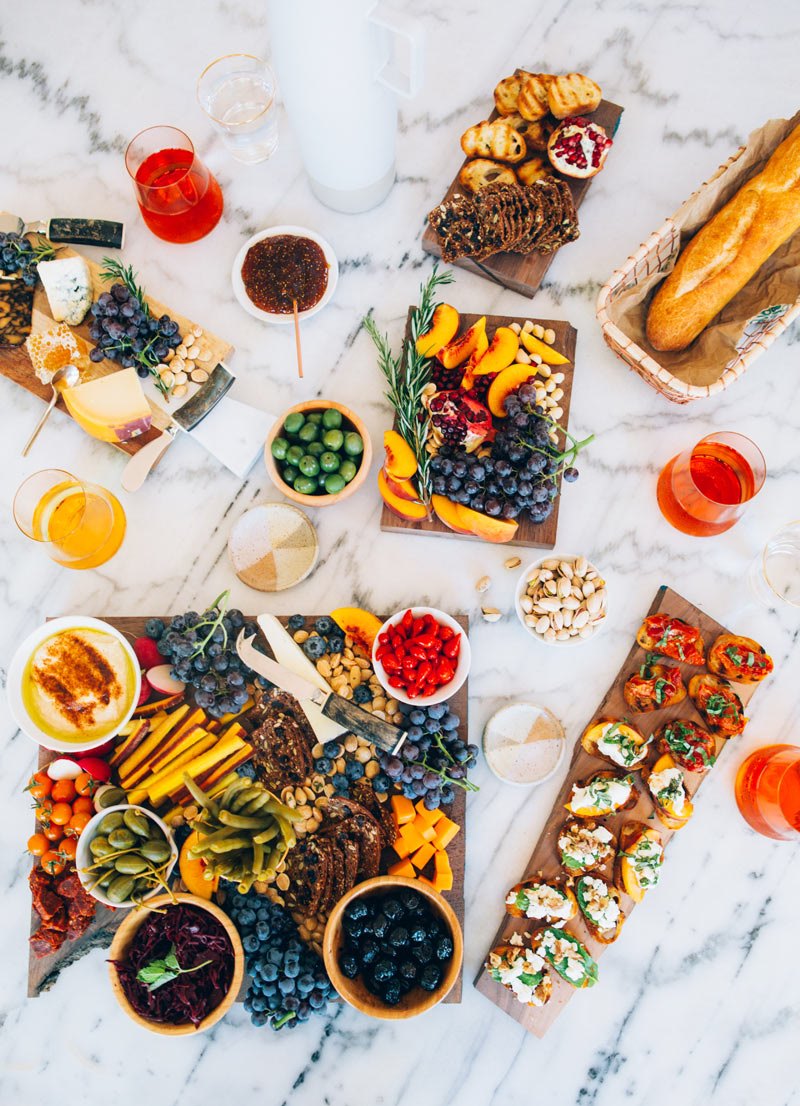 Have one signature go-to dish that's a true crowd-pleaser! Serve it at your home when you entertain, and bring it to holiday potluck events. These Green Bean Fries with Paprika and Parmesan from Camille Styles couldn't be easier to prepare, and this recipe is the ultimate in foodie snacking!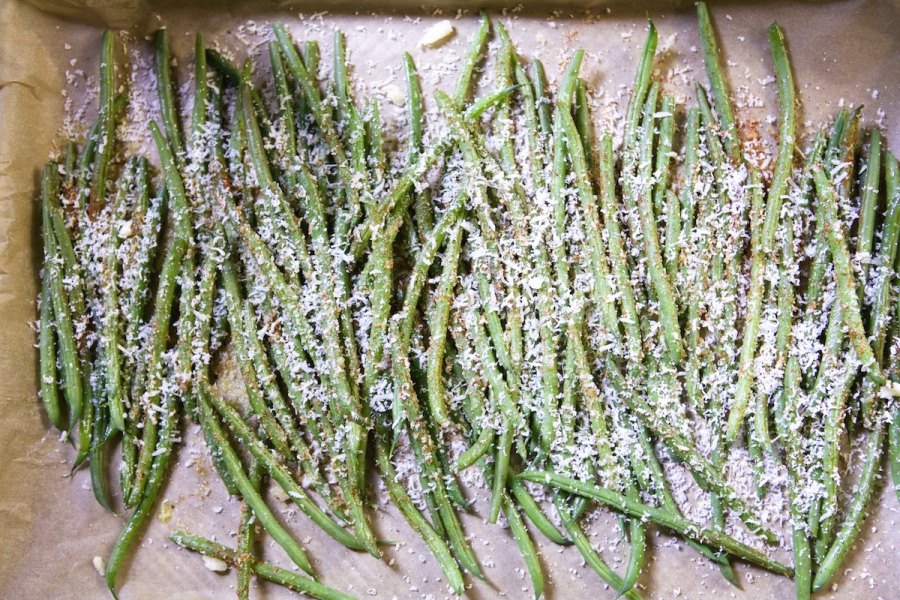 I always have one or two dishes I want to try out for the first time each fall and winter. Something special that I don't make everyday! Do you enjoy trying new recipes for the new season? I seriously have my eye on this Italian Rainbow Cookie Cake from Studio DIY. Could it be my special fall dessert?!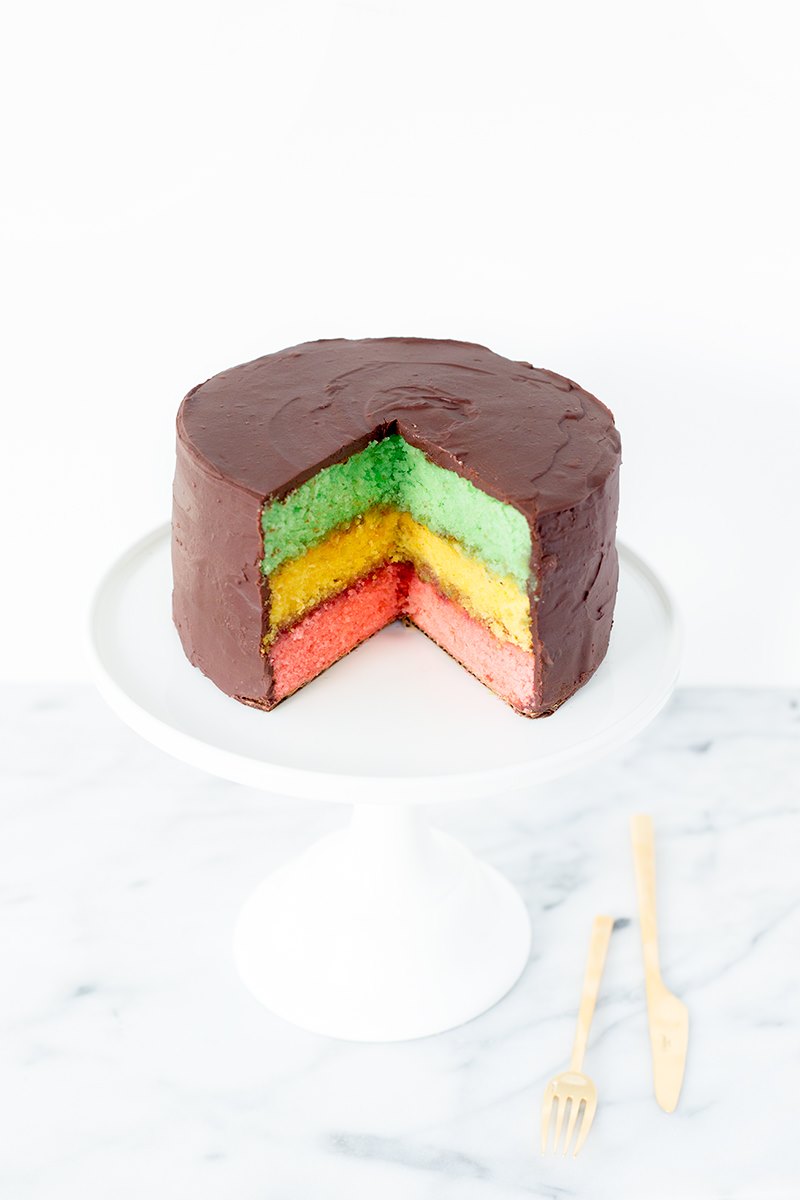 Looking Within
Because life gets hectic in the midst of the holiday rush, it can be easy to lose sight of what's important. Before the fall holidays arrive, I take a moment to reflect on what's important to me in the new season. For example, I like to make time to reconnect with friends each fall and winter. Do you have any special holiday traditions, such as hosting a Friendsgiving (as shown below by this lovely Friendsgiving table from A Beautiful Mess)?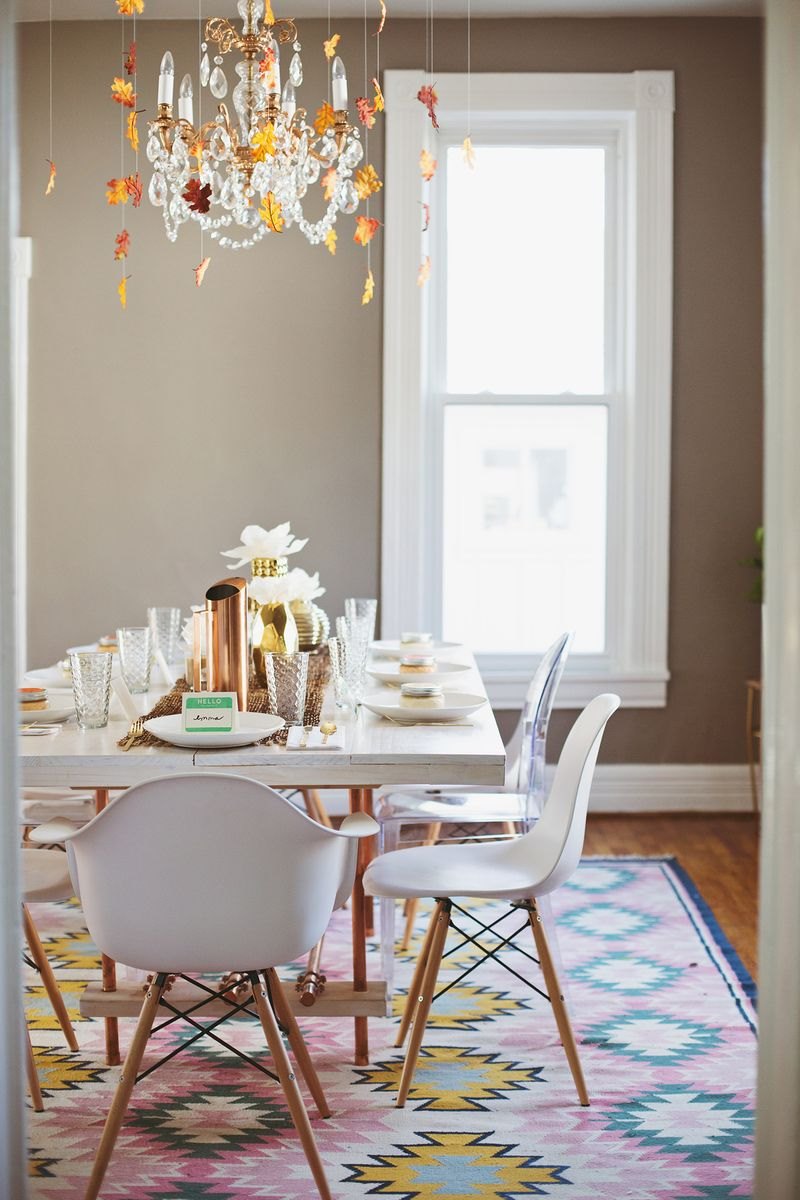 Giving to others is a wonderful way to get outside of the holiday hoopla and remember what truly matters. Below we see a FEED supper hosted by Oh Joy! (follow the link for more details). Do you volunteer during the fall holidays or donate your time or resources to organizations you care about?
Looking within can also be about participating in activities that inspire you. The fall is an amazing time for art fairs, creative gatherings and festivals. Below we see a preview of the Design Love Festival. Learn more about this creative event at Design Love Fest.
Looking Ahead to the Season of Giving
Once Thanksgiving arrives, you know that Christmas is just around the corner. Start thinking about ways you can celebrate the upcoming season of giving. Crafting hostess gifts to thank those who open their homes to us on holidays is a great way to show creativity and kindness. Below we see homemade soap from Eye Swoon, embellished with dried herbs, flowers and spices: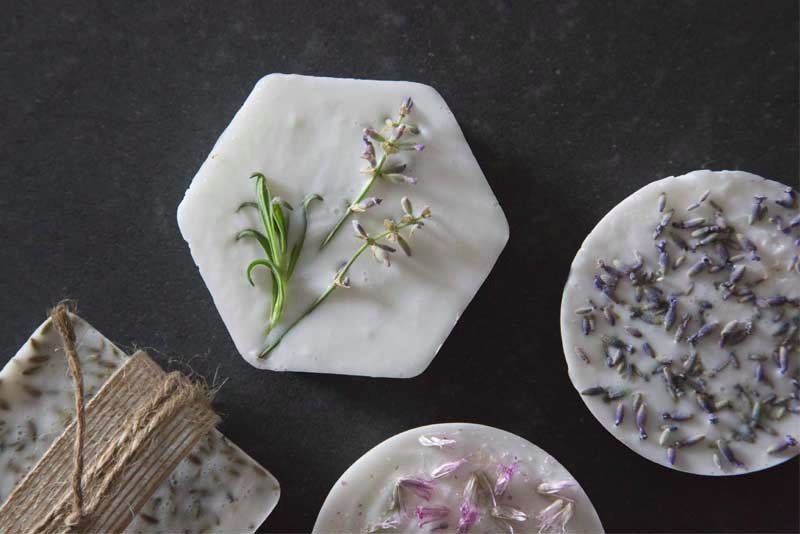 Since Christmas truly will be here before we know it, take some time this fall to think about your holiday decor. Don't let it consume you while you're enjoying the fall holidays, but you can begin picking up pieces here and there to enhance the color scheme and style of your holiday decor. [from The Band Wife]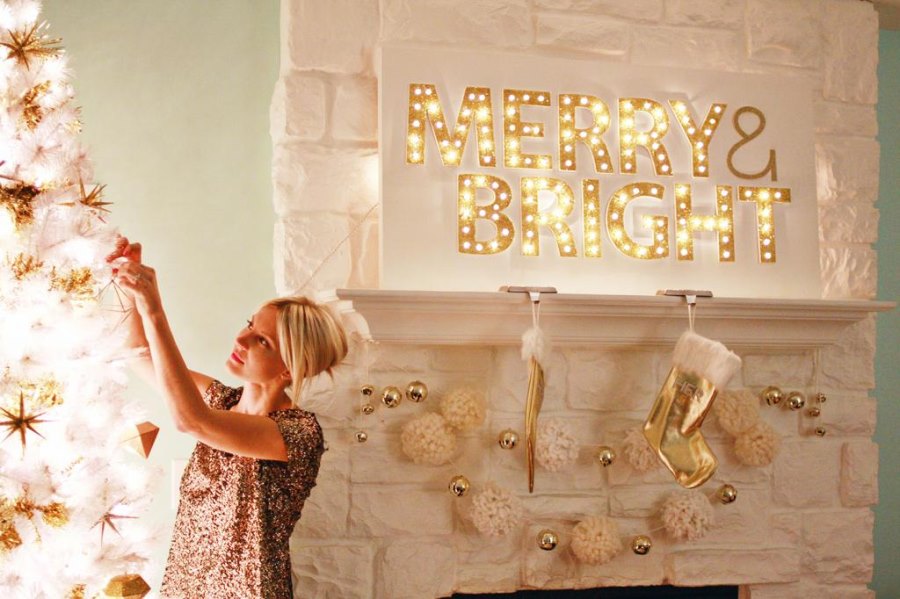 Now is a great time to start planning your holiday gifting strategy. Will you be doing the majority of your shopping online? Will you be shopping at your favorite local stores? Will you be making your gifts this year? Below we see a photo from a tutorial on how to marble paper. Learn more at Proper.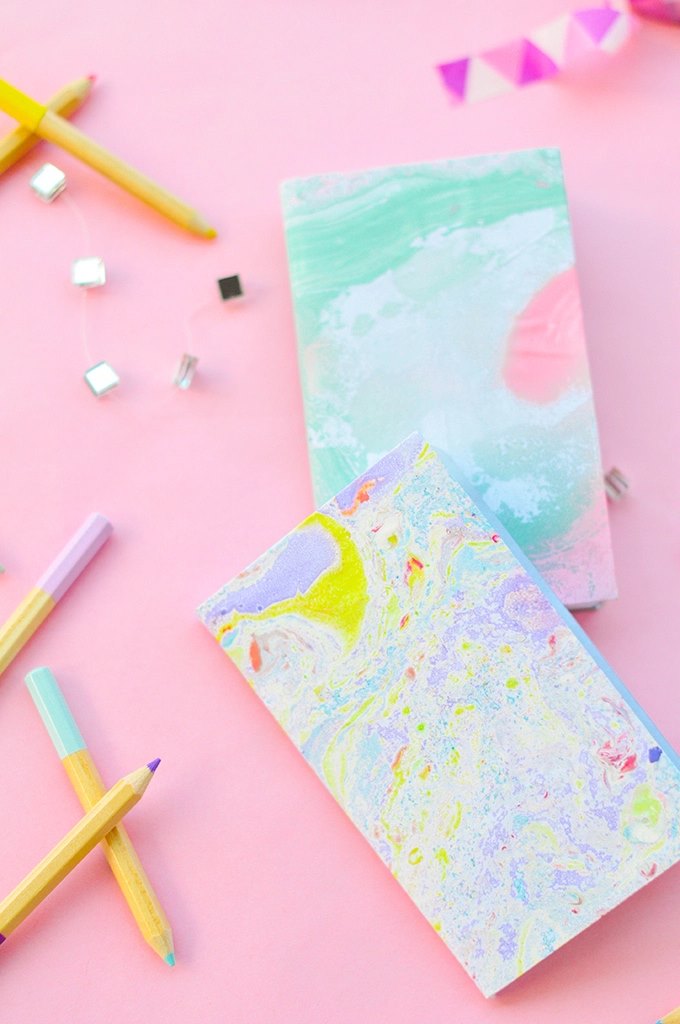 Start collecting DIY project ideas if you're the type of person who likes to craft your own holiday gifts. These DIY Prismatic Magnets from Francois et Moi would make fun modern stocking stuffers, as well as ideal fall hostess gifts. Check out the full tutorial at Homedit, complete with printable templates.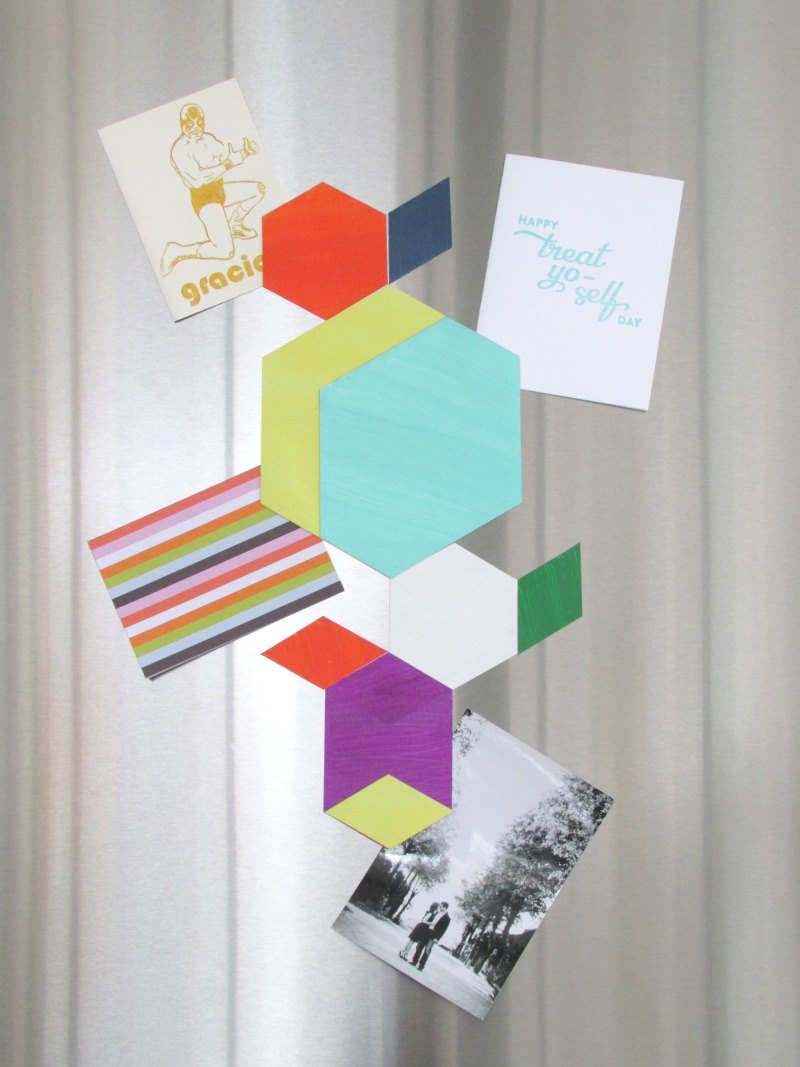 What does your fall holiday checklist look like? Share your ideas by leaving a comment below…
You're reading From Halloween to Thanksgiving Dinner: Your Fall Holiday Checklist, originally posted on Decoist. If you enjoyed this post, be sure to follow Decoist on Twitter, Facebook and Pinterest.