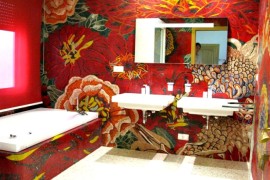 Bringing art into the bathroom can be tricky considering the steam from the shower or tub and the often-limited space. But it can be done!
Think creatively (and install a good exhaust fan so your art won't suffer from the moisture) and break some rules—which is easier to do in smaller spaces anyway—and you'll have an interesting and unique restroom instead of the usual boring powder room.
Crowd the Walls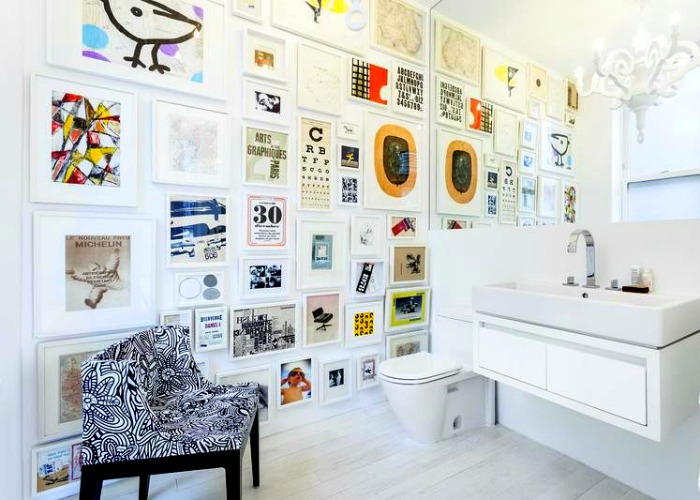 Color was taken into consideration in the arrangement of the art in this room
This Manhattan bathroom via White Cabana features a huge variety of art, but the white walls and matching white frames tie it all together so it's cohesive—and fabulous.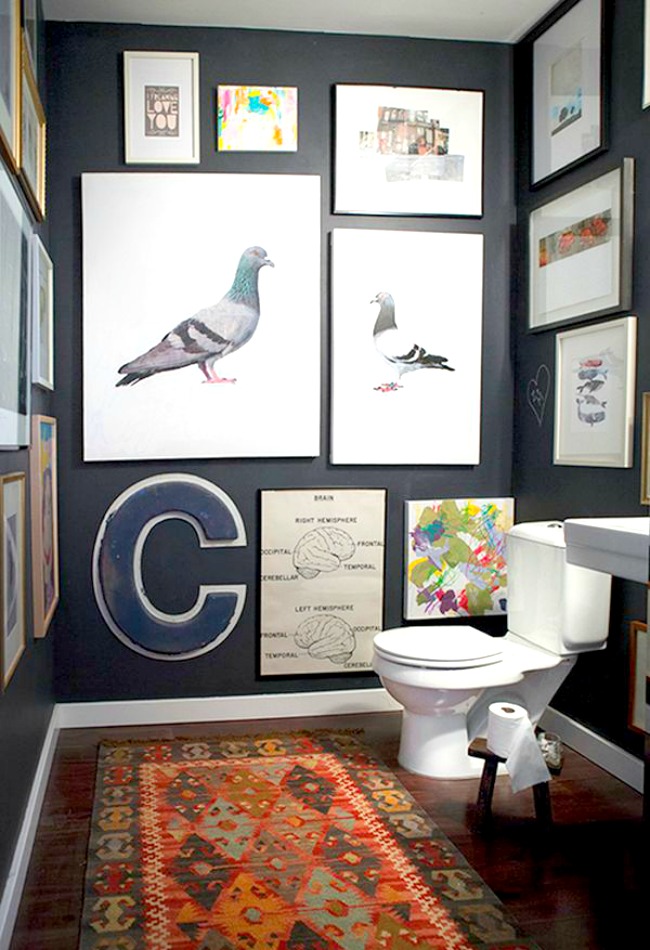 The variety of art on the walls makes a statement
This bathroom breaks all the rules for a small space, covering dark walls with a plethora of art. Does it make the space feel a bit smaller than all-white walls would? Sure. But it also transforms a totally blah powder room into a statement-making space that doesn't feel super-bathroomy, a modern trend that's fun to play with.
Murals!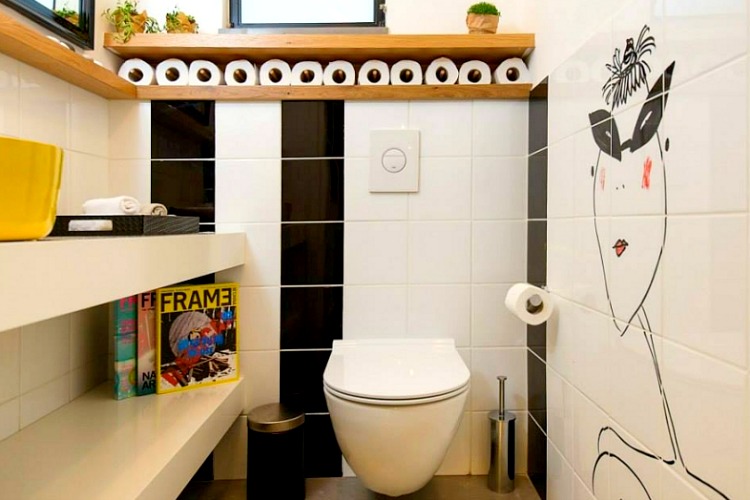 The mural makes this bathroom modern in an instant
Murals are often thought of as "for kid's rooms only" but this one proves that they can work in other spaces—a simple line drawing over existing tile is incredibly cool.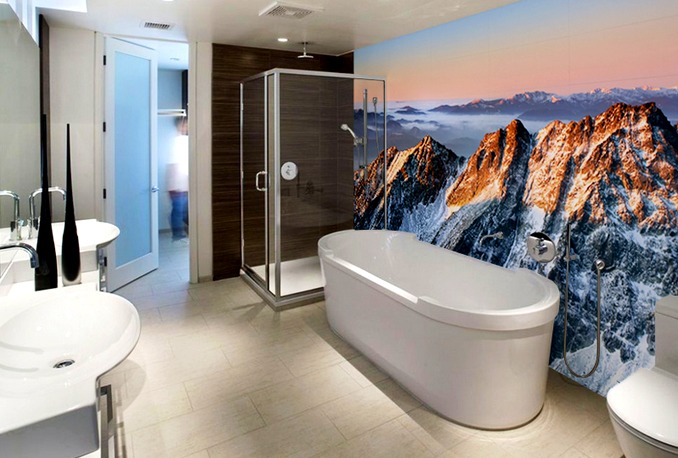 Mountains in the bathroom bring contrast and fun
A mural doesn't have to be hand-drawn or painted—photo murals have become widely available through a number of companies. Large photographs are a great way to bring art (as well as color and fun) into a small room, especially one without a window, which many bathrooms are.
Sculpture? Yes!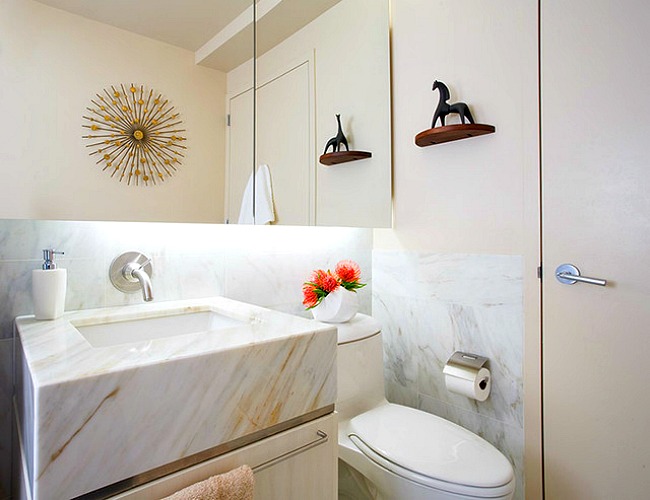 Keeping sculptures neutral can help relax their impact
Sculpture is not such a crazy addition to a bathroom, even a small one, if you do it carefully. This high-rise bathroom in NYC is an interior room and is quite petite, so the two pieces here add to the room without taking it over.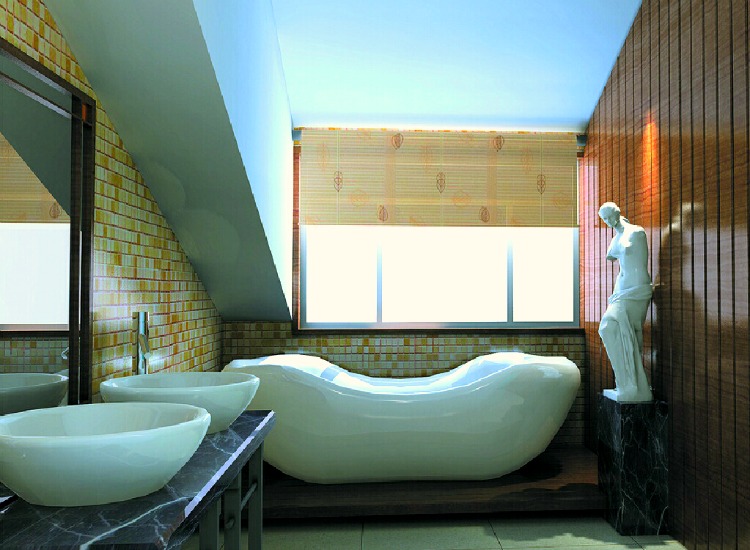 Yes, this is a large sculpture, but it still works in this space
Think about not only your sculpture's size and how much space it takes up, but also placement— Raising a large statement piece up off the ground helps it work in a area with limited floorspace.
Mosaic Magic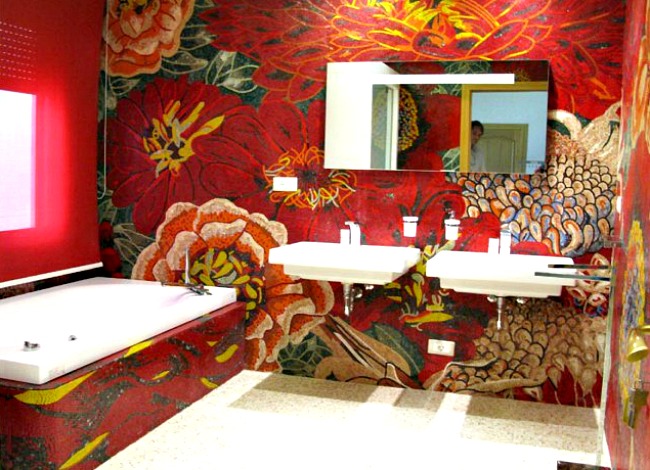 A mosaic is a big commitment, but you could always change fixtures out over time
This isn't a big bathroom, but a custom mosaic wall that flows into the tub by Alicia Tapp Designs, makes a huge impact.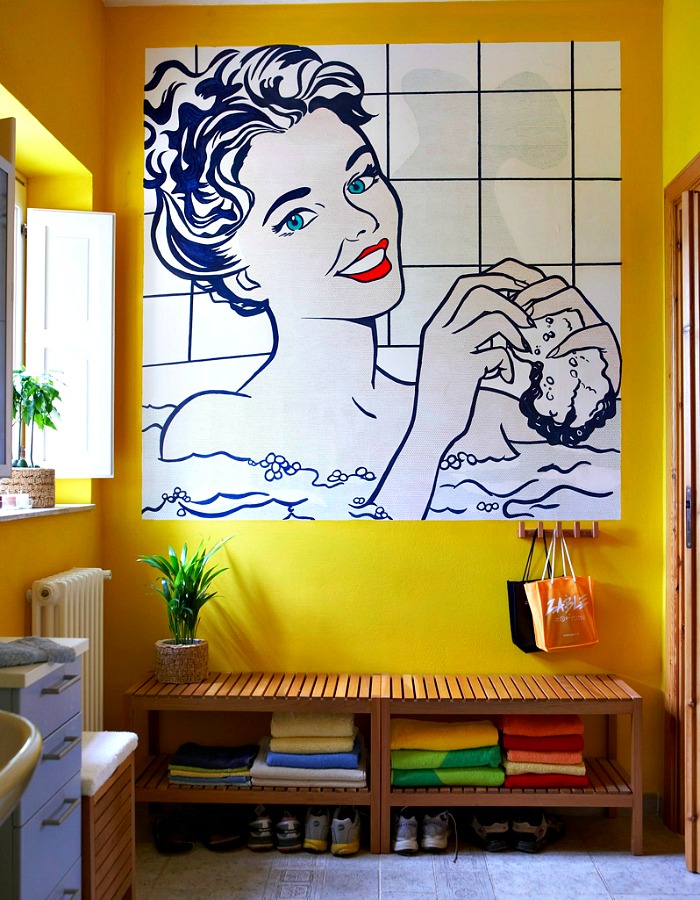 An atypical mosaic that's all about color and attitude
A cut glass mosaic is a less-common take on the art form, which is ideal for bathrooms as it is easily cleaned.
You're reading How to Use Art in a Small Bathroom, originally posted on Decoist. If you enjoyed this post, be sure to follow Decoist on Twitter, Facebook and Pinterest.
Source:: http://www.decoist.com/2015-05-20/small-bathroom-wall-art/