By Kate Simmons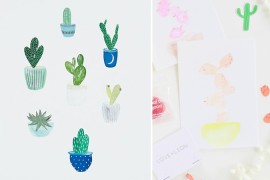 Are you entertaining this summer? Perhaps you're planning a party for a group of friends. If you read last summer's post on party themes for the warmest season of the year, consider today's post a "Part 2." We're zoning in on three of the most popular design blog motifs and translating them into creative summer party ideas, complete with decor, recipes, favor ideas and more! Read on for all of the festive details…
A Cactus Party
First up: a cactus party! Set the stage with a backdrop of abstract art and/or watercolor motifs.
Below we see Dip Dye Succulent Pots from I Spy DIY, which would make perfect centerpieces for the event. We're loving the blue abstract backdrop, which is a refreshing summery statement:
Succulents in dip-dyed pots
You can also paint images of cacti and succulents and tack the paintings to the wall for a unique twist. For inspiration, in the next image we see Green Cacti Wall Art from The Land of Nod (left), as well as watercolor images painted by Lexy Ward of Proper (right), created as favors for a Mother's Day workshop she hosted at Anthropologie: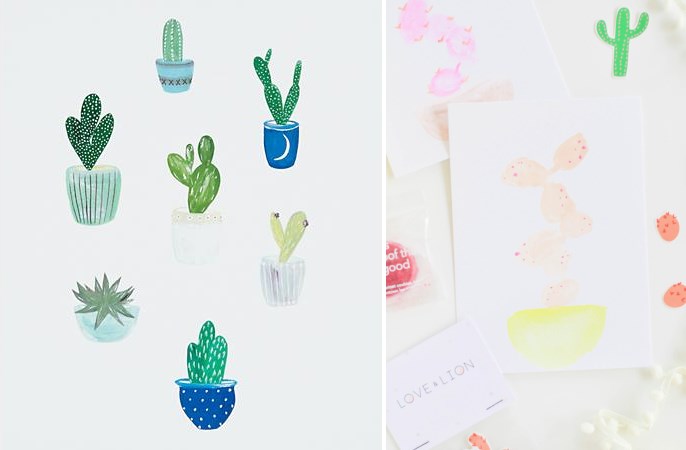 Cactus art makes the perfect party backdrop
Serve cactus-themed sweets, like this Colorful Cactus Cake from Proper, created by Lizzy of Sugar + Butter: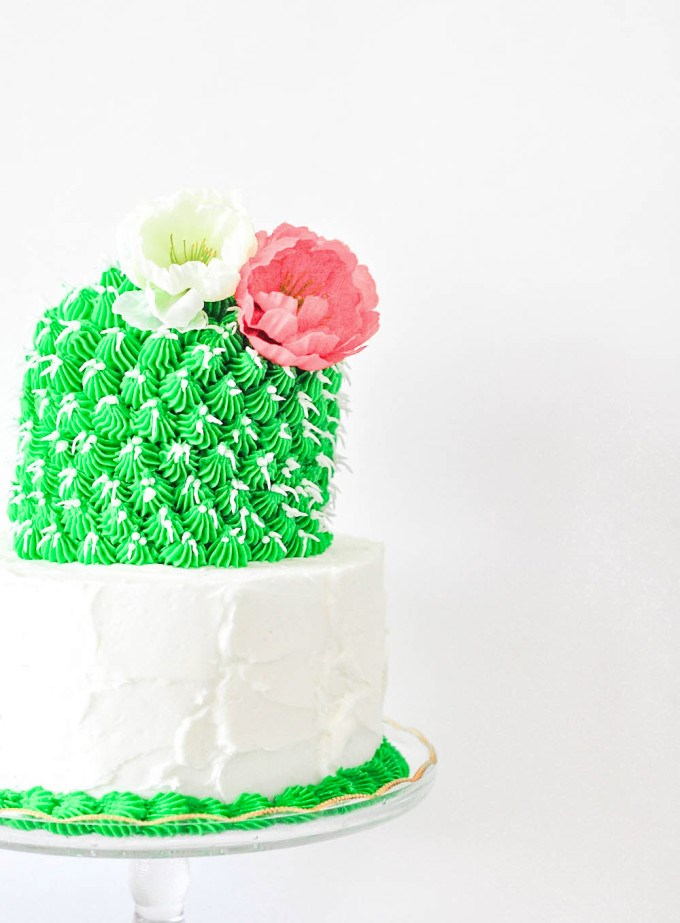 Cactus cake from Proper
These DIY Potted Cactus Macarons from Sugar & Cloth will also put a sweet twist on the party. Look a bit closer and you'll see that brown sugar fills each pot rather than sand, and you can even add an edible flower that will double as a cactus bloom! These macarons also make great centerpieces and party favors.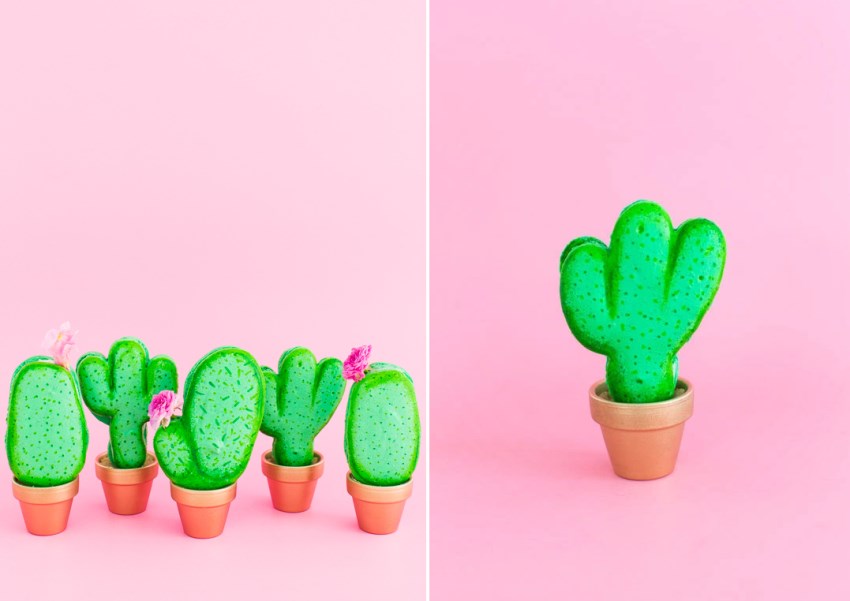 Cactus macarons from Sugar & Cloth
Send guests home with their own potted cactus. What better way to celebrate one of today's most popular houseplants (and design statements) than by gifting each guest with a cactus planted in a PVC end cap. What an affordable way to say "thanks for coming to my party," and we have Studio DIY to thank, especially since these favors were highlights of their Cactus-Inspired Brunch, hosted with Sugar & Cloth: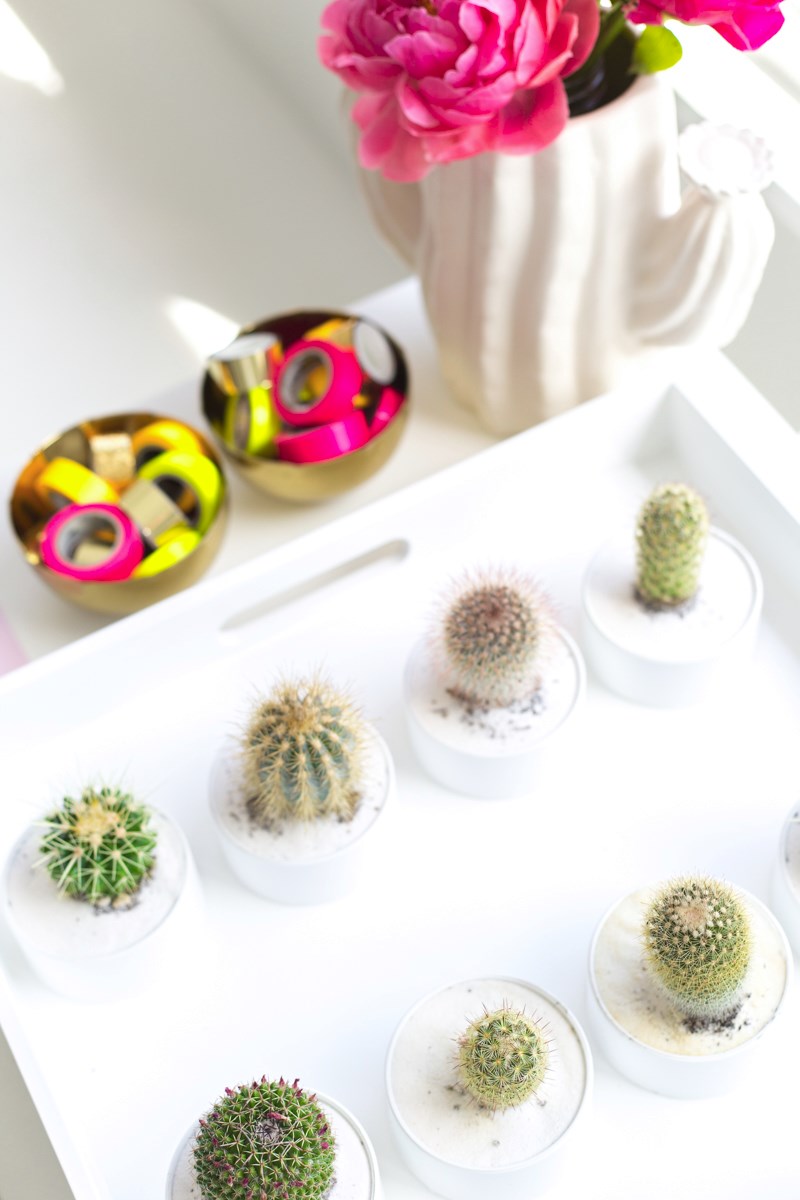 Cactus party favors from Studio DIY
A Pineapple Party
Back by popular demand: a pineapple party! This year we bring all new ideas to the table, including a DIY Pineapple Party Theme from Krista Perez of Sugar Love Chic, featured at Best Friends for Frosting. As you can see, a backdrop of white is perfect for this breezy summer theme.
Use real pineapples as party decor. Below we see a hollowed out pineapple that doubles as a vase, as well as pineapple cupcakes and a festive mocktail made from pineapple juice and sparkling water: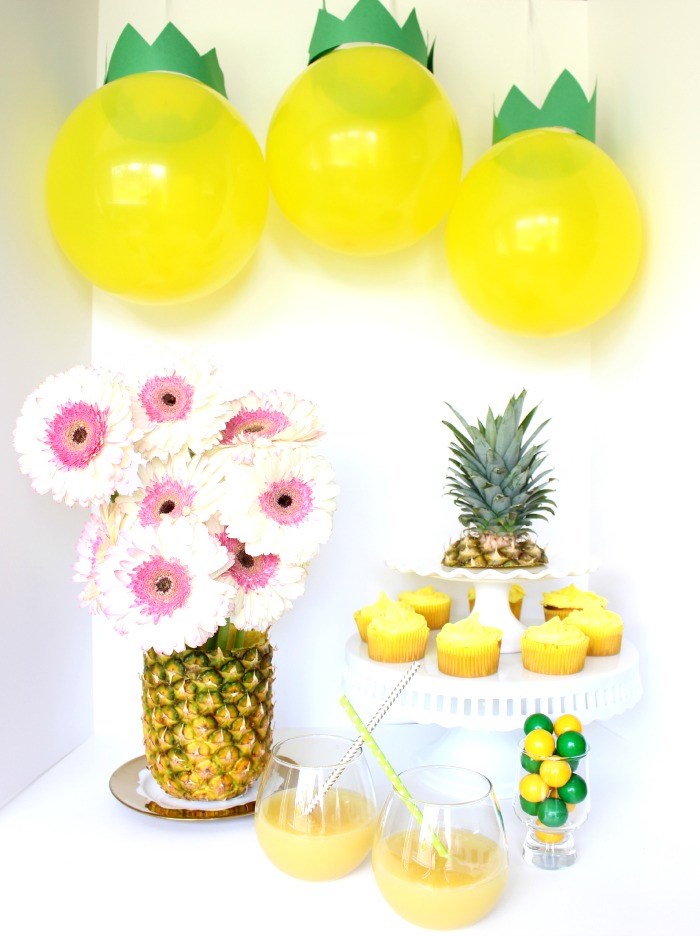 Pineapple party idea from Best Friends for Frosting
Add a yellow glow to your fete. These Pineapple Night Lights from A Beautiful Mess will enhance the party atmosphere, especially as night falls. Mason jars, yellow tissue paper and felt are a few of the supplies you'll need to have on hand, as well as battery-operated tea lights: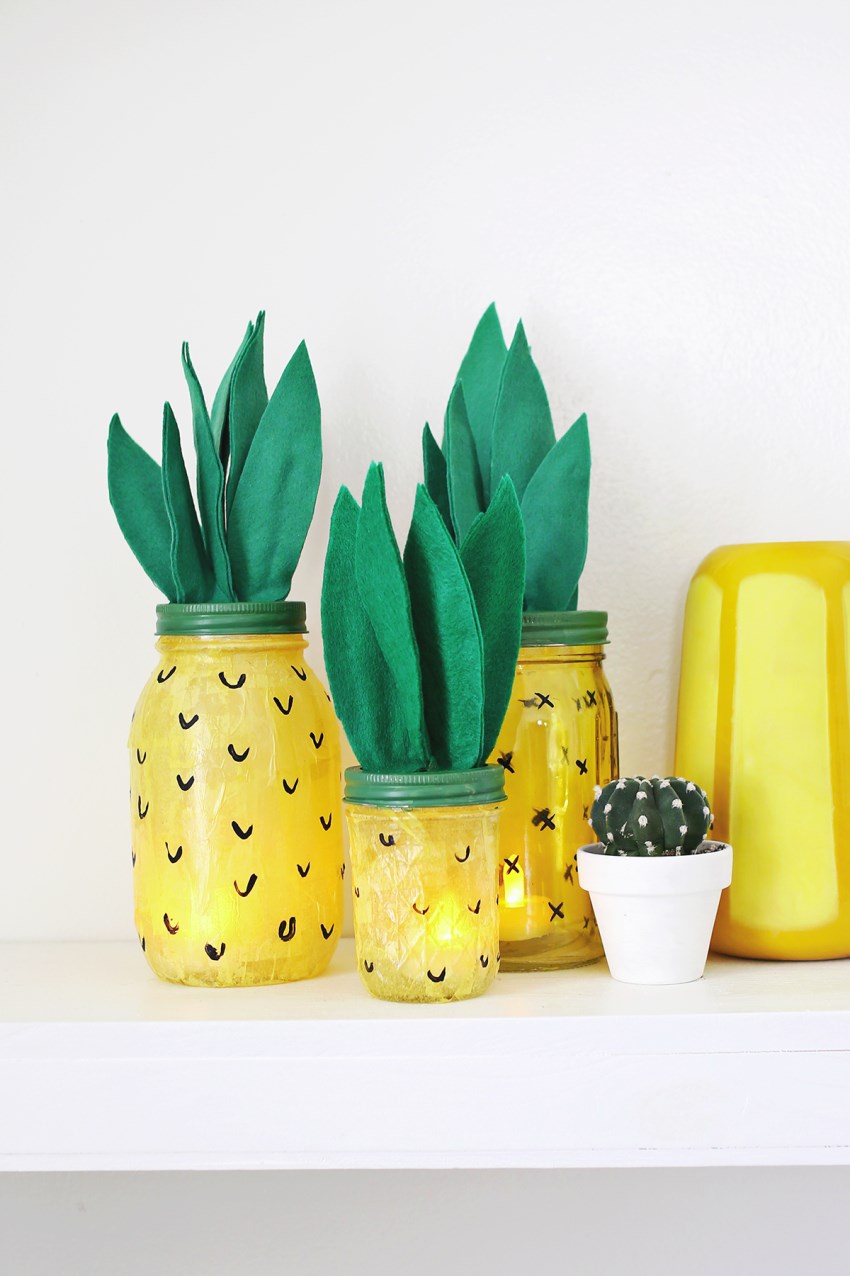 Pineapple lights from A Beautiful Mess
Serve refreshing pineapple-themed treats, such as the fruity wine popsicles in the next image, created by I Spy DIY. These pineapple lemon apricot pops are made from Italian soda, wine and fruit: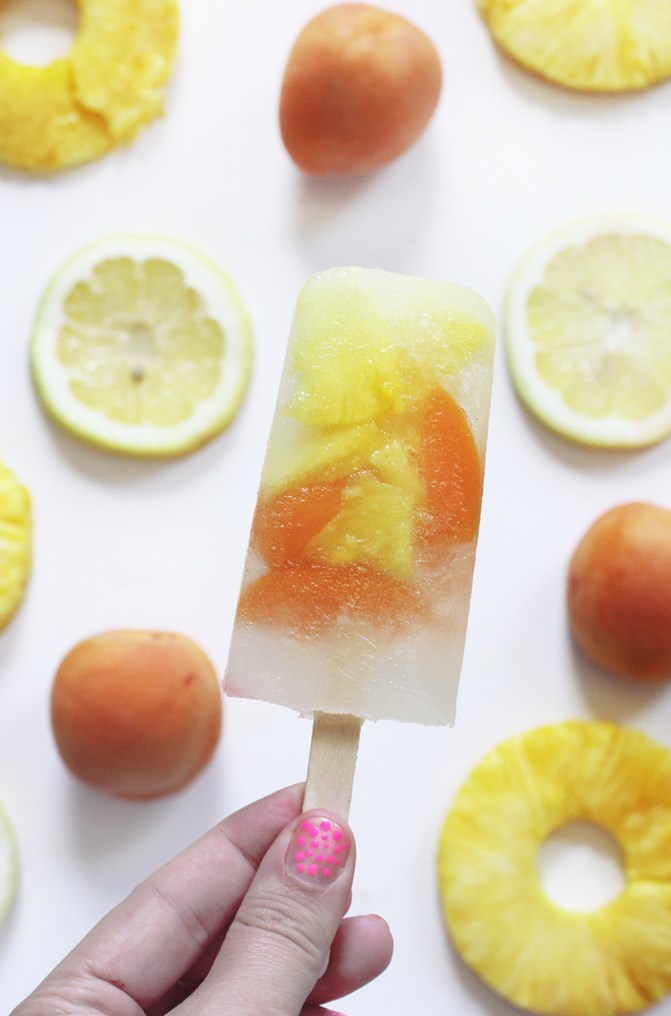 Fruity wine popsicle from I Spy DIY
Gift guests with pineapple planters filled with tall succulents. Below we see a DIY Pineapple Planter from Lines Across, crafted from a terracotta pot embellished with air dry clay, painted yellow, and adorned with crossing lines made with a white paint marker. Try creating smaller versions by simply painting terracotta pots yellow and filling them with small aloe plants or other succulents.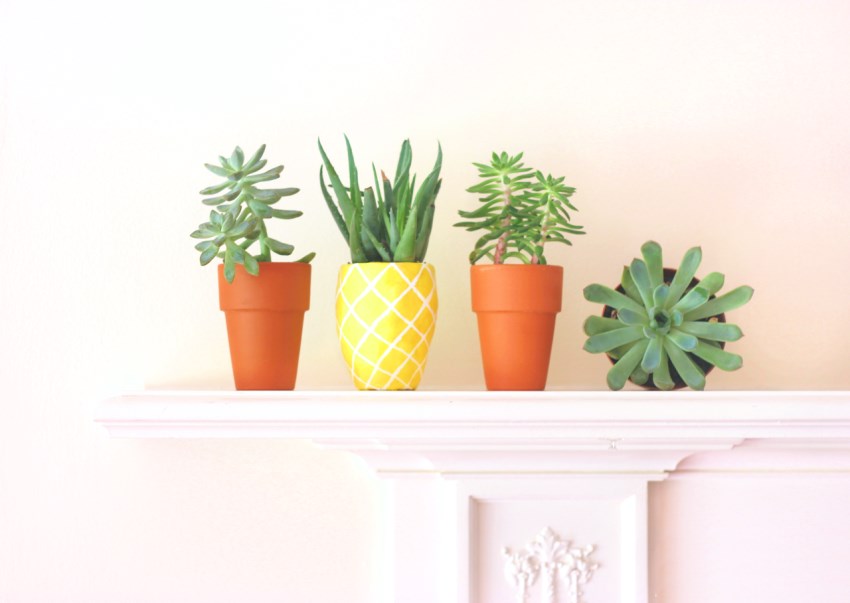 Pineapple planter from Lines Across
A Donut Party
Last but not least, we have a donut party! With colorful donuts taking center stage, create a clean, stylish backdrop of white marble.
Marble tiles can be inexpensively purchased at flooring stores, but remember not to put food directly on the tiles. Instead, use them as trays or backdrops that will stay put on your party table and host plated goodies. Below we see Glazed Donuts with Macaron Sprinkles from Paper & Stitch: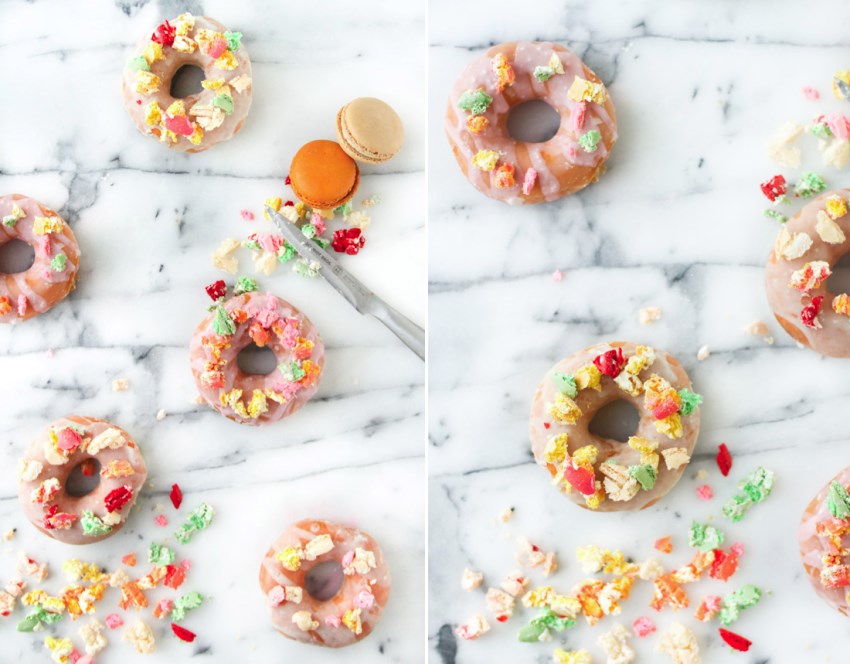 Donuts with macaron sprinkles from Paper & Stitch
Add playful decor, including colorful garlands. Sprinkle motifs work well for this party too! Below we see Doughnut Party Napkins by Meri Meri and a range of party decorations, all from The Land of Nod: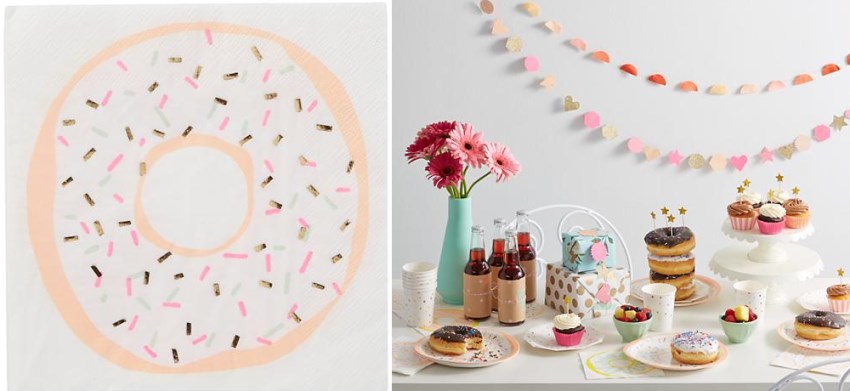 Donut party decorations from The Land of Nod
Serve milk in cups garnished with party straws and donut hole skewers. These beauties are from a Donut-Themed Wedding Shower created by A Beautiful Mess: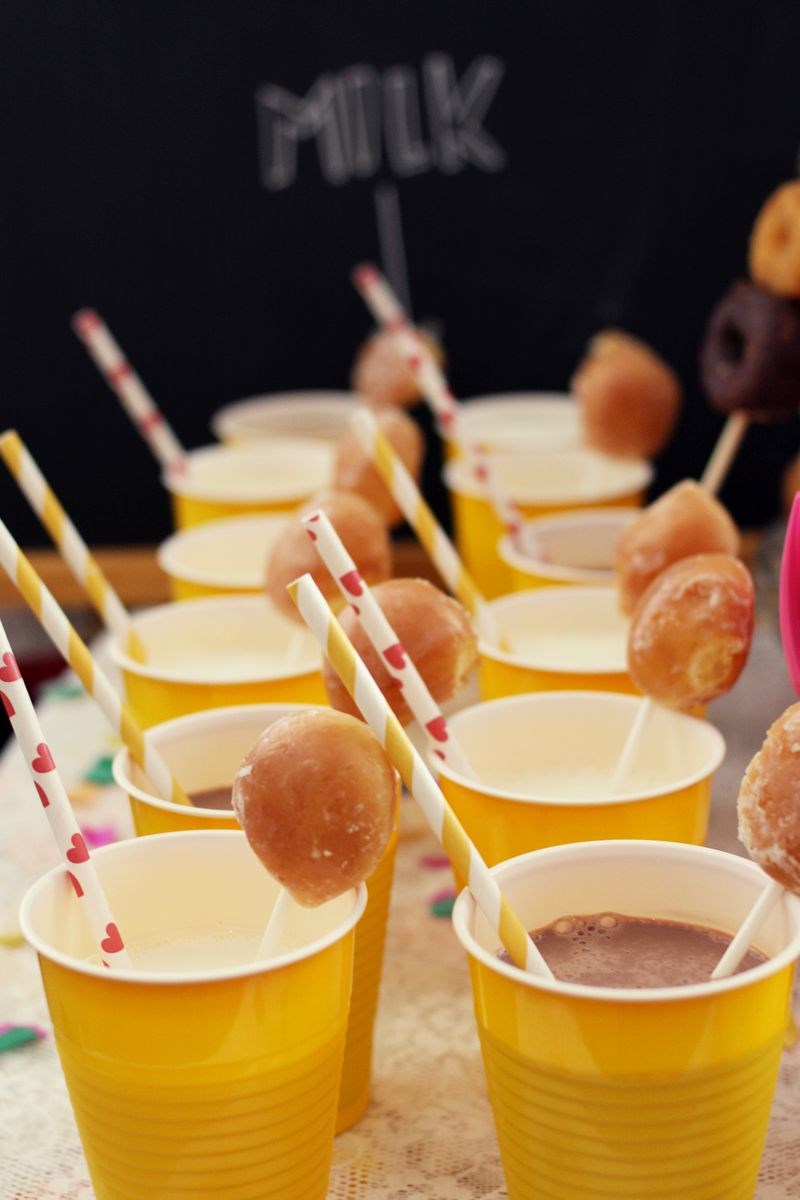 Milk with donut stirrers from A Beautiful Mess
Wow your guests with donut trivia or a fun donut-themed game. This DIY Donut Twister from Studio DIY cleverly repurposes a Twister game, embellishing it with free donut printables to put a foodie spin on a classic pastime: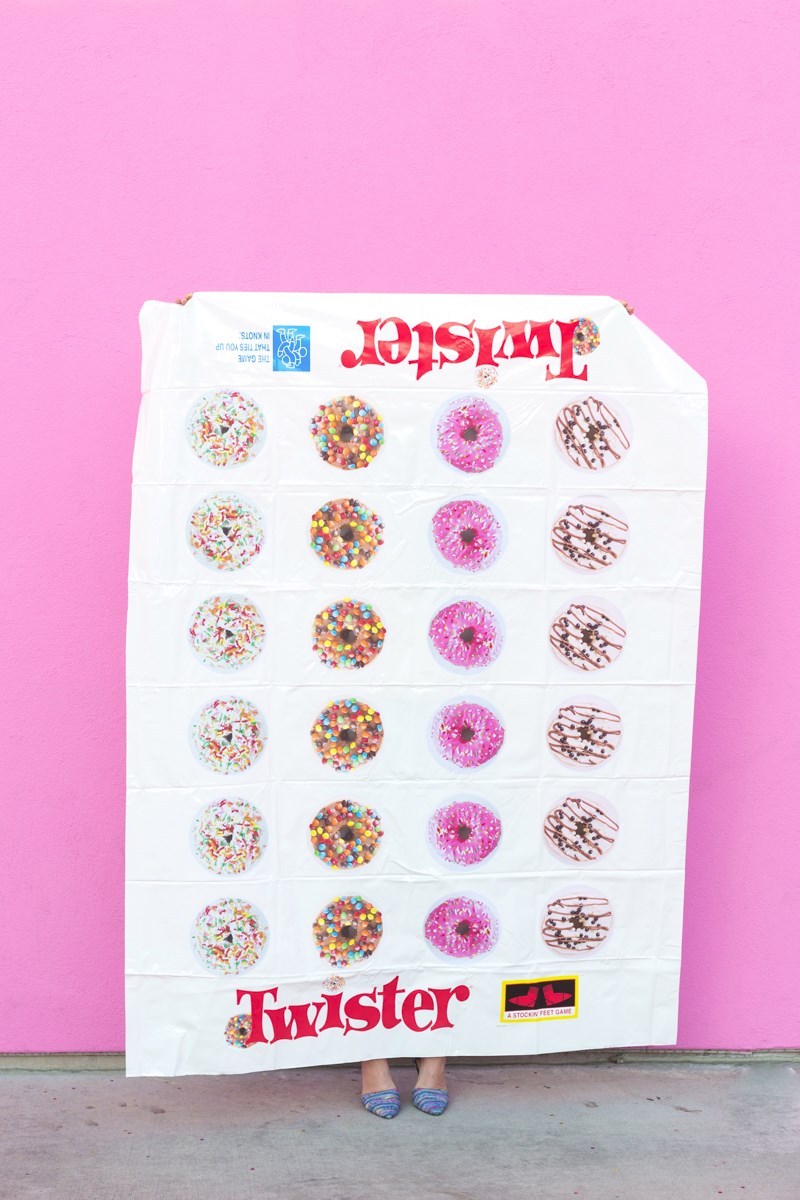 Donut twister from Studio DIY
Send guests home with donut-shaped candy made from white chocolate chips, as well as peanut butter or butterscotch chips. The details of this Candy Mini Donuts DIY can be found at Paper & Stitch: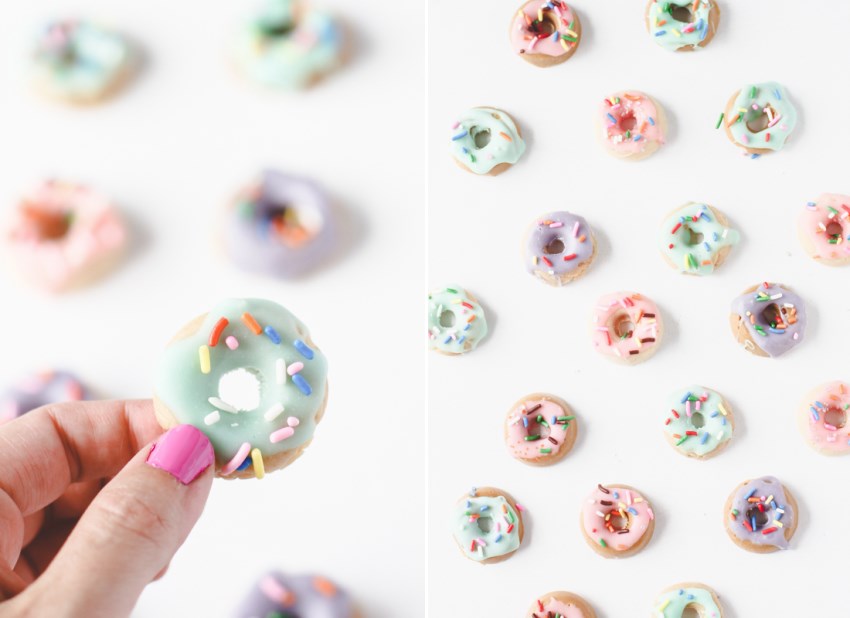 Small candy donuts from Paper & Stitch
Are you ready to plan a fun summer party? By sticking to themes that feature on-trend motifs, you will have access to a wide range of online tutorials, as well as fun party decor options. Pineapple napkins, anyone?! Have a festive summer…
You're reading Summer Party Ideas for a Festive Season, originally posted on Decoist. If you enjoyed this post, be sure to follow Decoist on Twitter, Facebook and Pinterest.
Source:: http://www.decoist.com/2015-06-12/festive-summer-party-ideas/