By Kate Simmons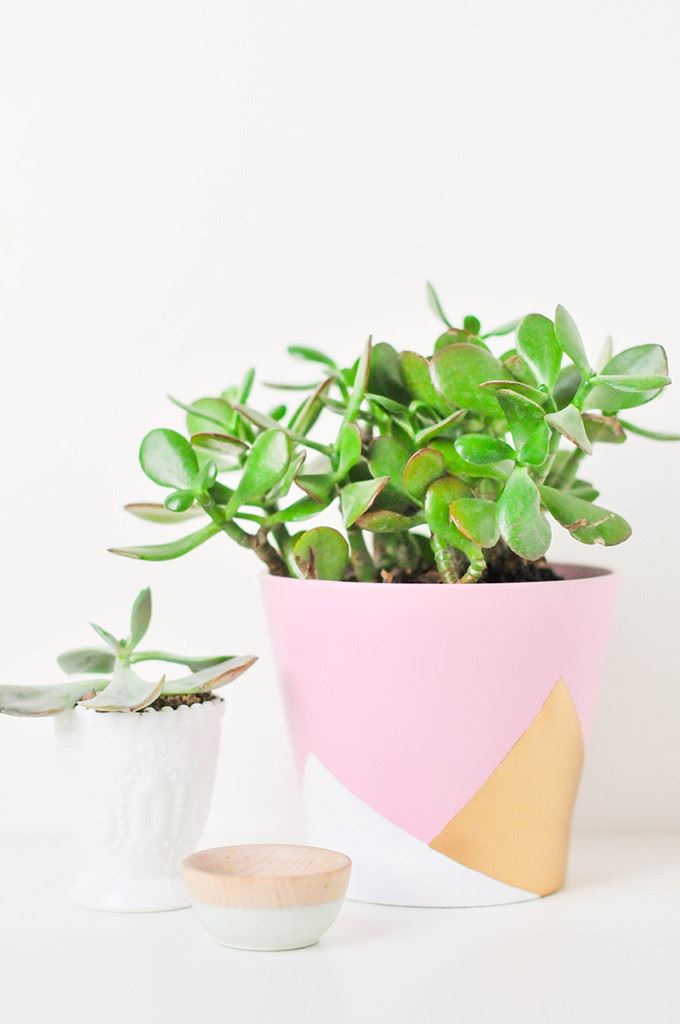 This roundup has been in the works for awhile, as we at Decoist love getting inspired by the creativity of other design bloggers as much as we enjoy creating our own DIY projects. With a warm breeze in the air, now is the time to enjoy refreshing afternoons outdoors, and we can't think of a better way to pass the time than crafting. Here are some of our favorite new projects from this spring, complete with helpful links should you choose to take a closer look…
Planters and Other Containers
DIY projects involving planters, baskets, trays and other containers are often the perfect combination of fun and creativity. They can be completed in a short amount of time, and the payoff is big! This DIY Colorblocked Geometric Vase from Proper showcases top trends such as gold leafing and geo style. Painter's tape is your friend here:
Another sticky supply that's your friend when it comes to crafting: contact paper! In fact, contact paper is the ingredient of choice in this DIY Faux Marble Plant Pot from A Bubbly Life: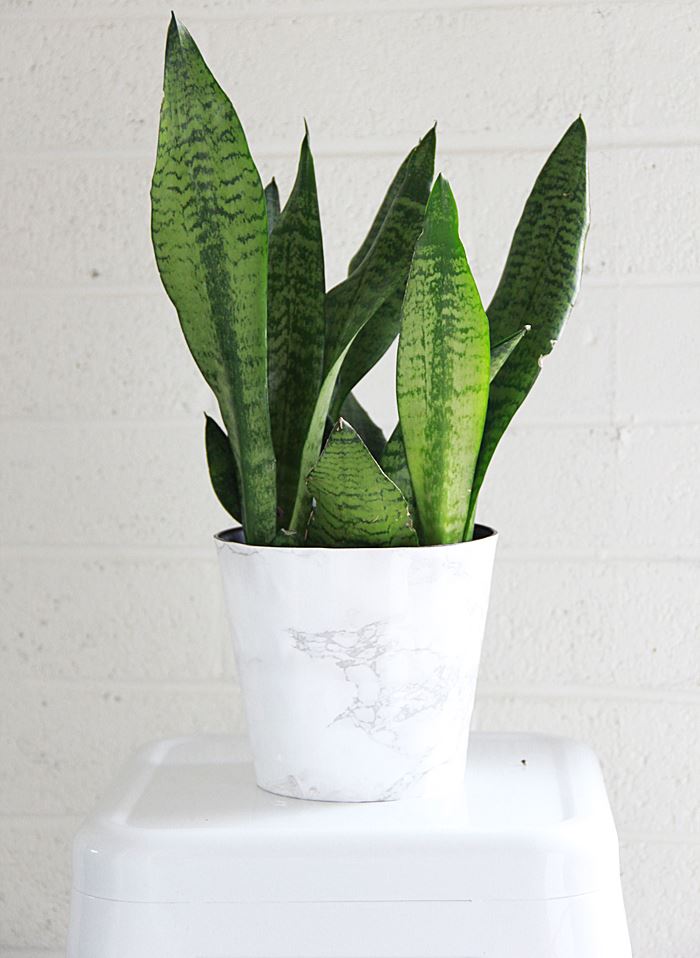 Keep the planter fun going with these DIY Brushstroke Leather Planters, also from A Bubbly Life! By covering tin cans with faux leather and embellishing them with craft paint, you can create a textured plant receptacle (or three!) that's perfectly on trend: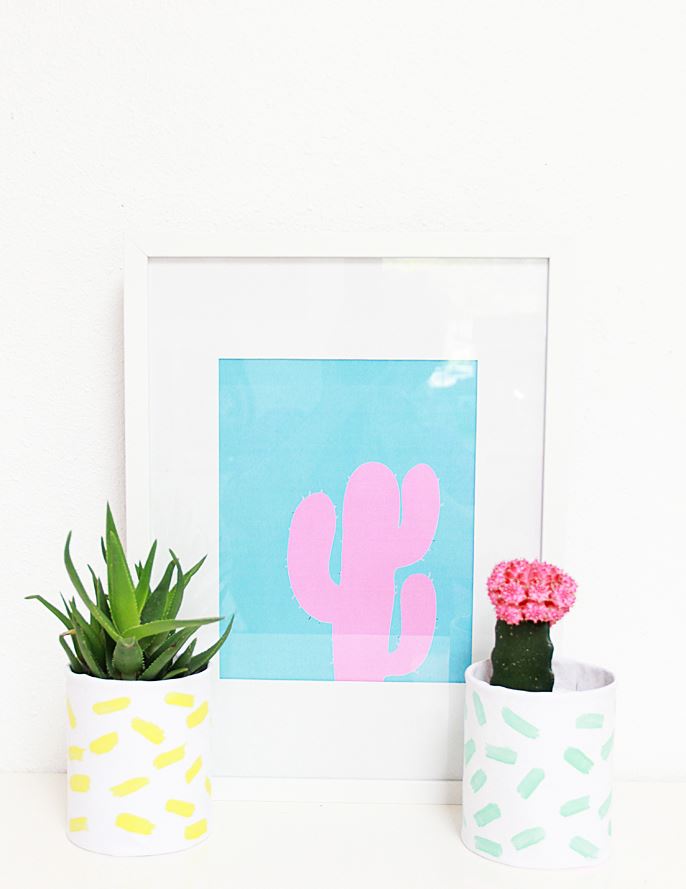 For a fast and easy way to embellish baskets, check out this tutorial for Dip Dyed Woven Baskets from Paper and Stitch. With some Rit dye and about 10 minutes of your time, you can create a colorful yet subtle storage container with earthy style: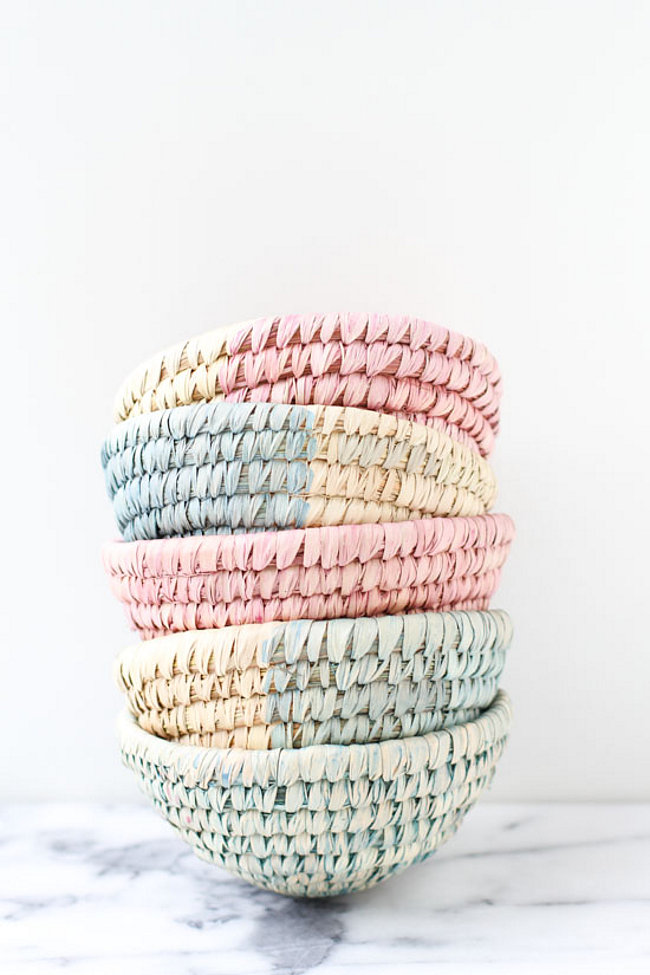 Oven-bake clay makes a big impact in these Easy Clay Votive DIYs from A Beautiful Mess. Plus, the holes (created with straws) really help achieve a flickering effect. Fill the votives with LED tea lights for a pet- and child-friendly home decor accent!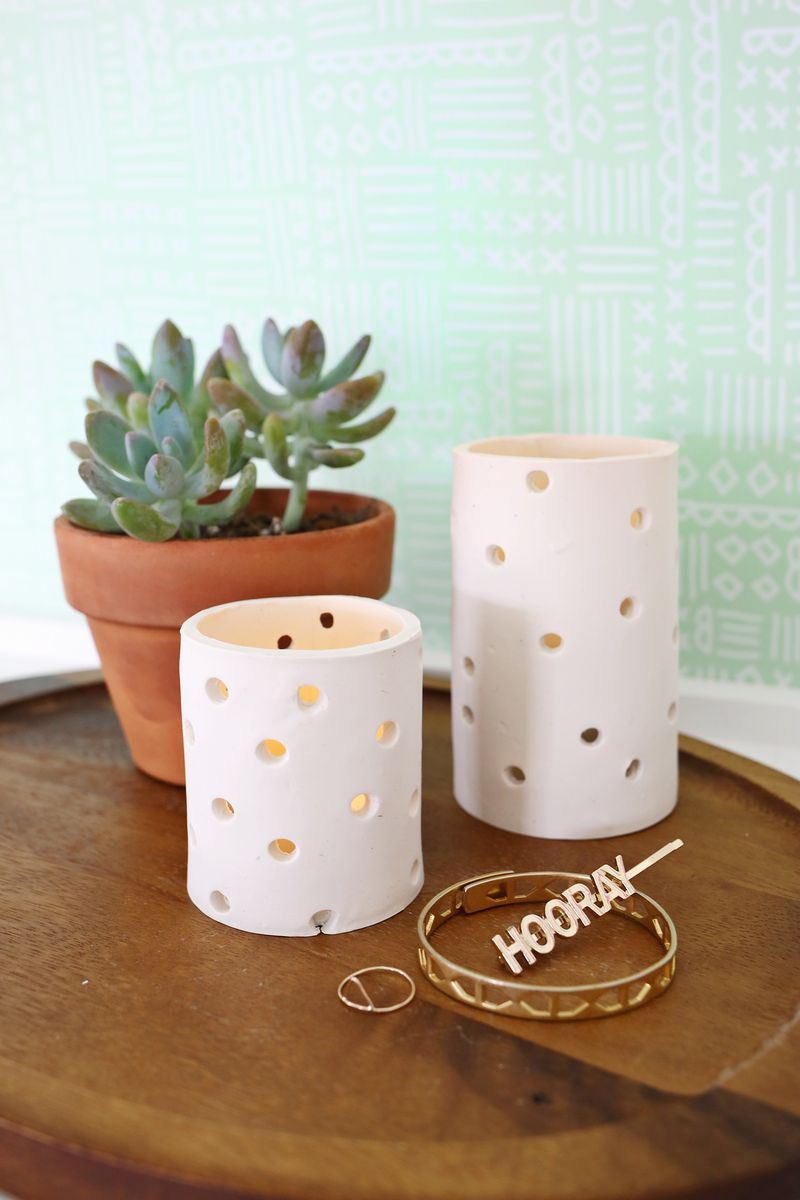 We can't stop admiring this DIY Matches Vanity Tray, created by Sugar and Cloth blogger Ashley Rose for Design Love Fest. 3 Dimensional Magic seals the matches in place, achieving the ultimate pattern with a dose of the unexpected. [photos by Jared Smith]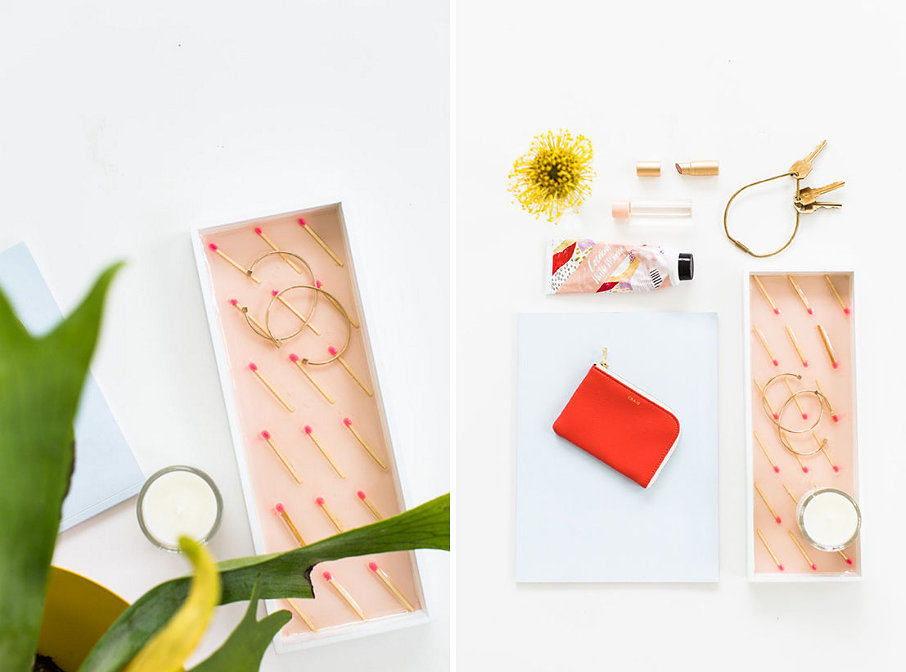 Who knew that box lids could serve as the perfect jewelry dishes? With the help of gloss enamel paint, of course! Curious about the process? Check out the full mini jewelry dish DIY at Paper & Stitch: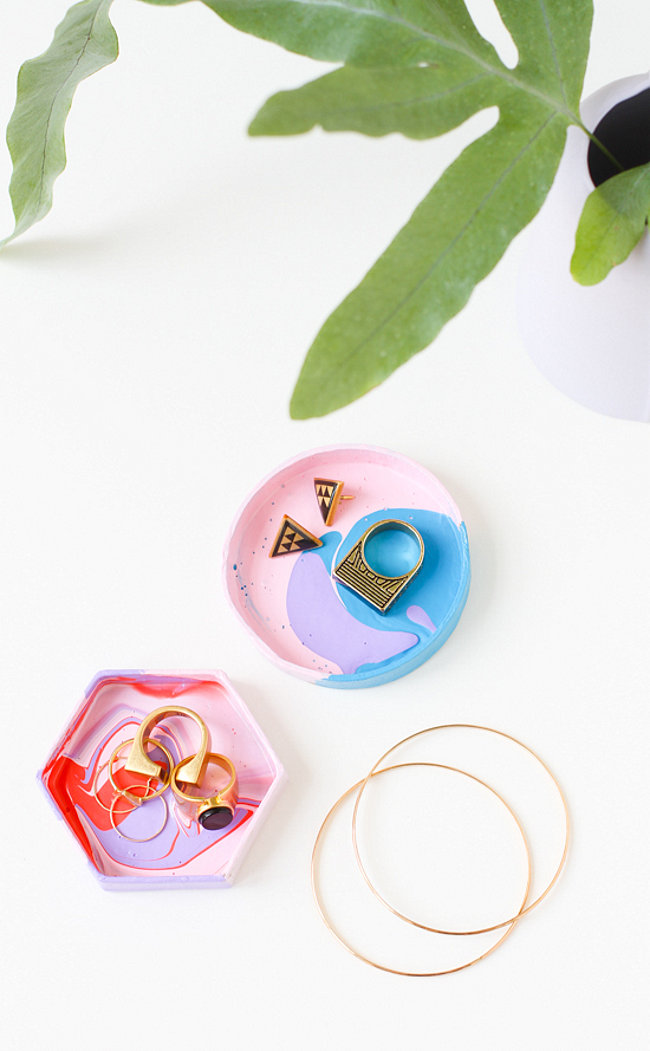 Patterns with a watercolor/brushstroke look have never been so popular. That's why we're loving these DIY Easter Tins from Oh Joy! And of course, you can enjoy them well beyond Easter! Tea tins, Mod Podge, tissue paper and a flat paintbrush are the key ingredients here, and the process is every bit as fun and fabulous as the finished product: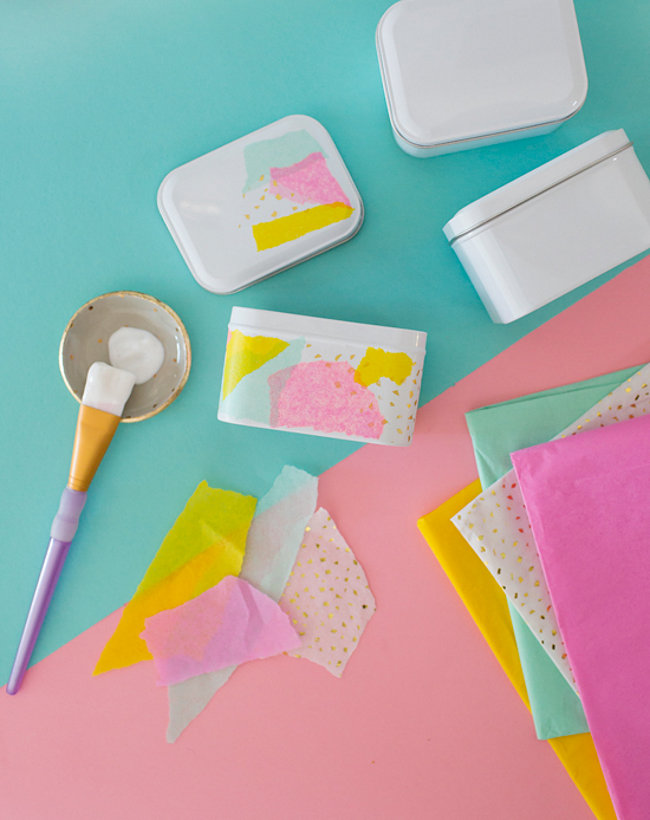 Practical Embellishments
Next up: creative ways to embellish those practical items we use on a daily basis. Like chairs! This DIY Painted Chair Makeover from Sugar & Cloth has us dreaming of the many surfaces we could cover with a half circle and dot pattern. And every bit as delightful as the chair is the vignette below, complete with a large cactus and a succulent in an ombre pot. [photo by Jared Smith]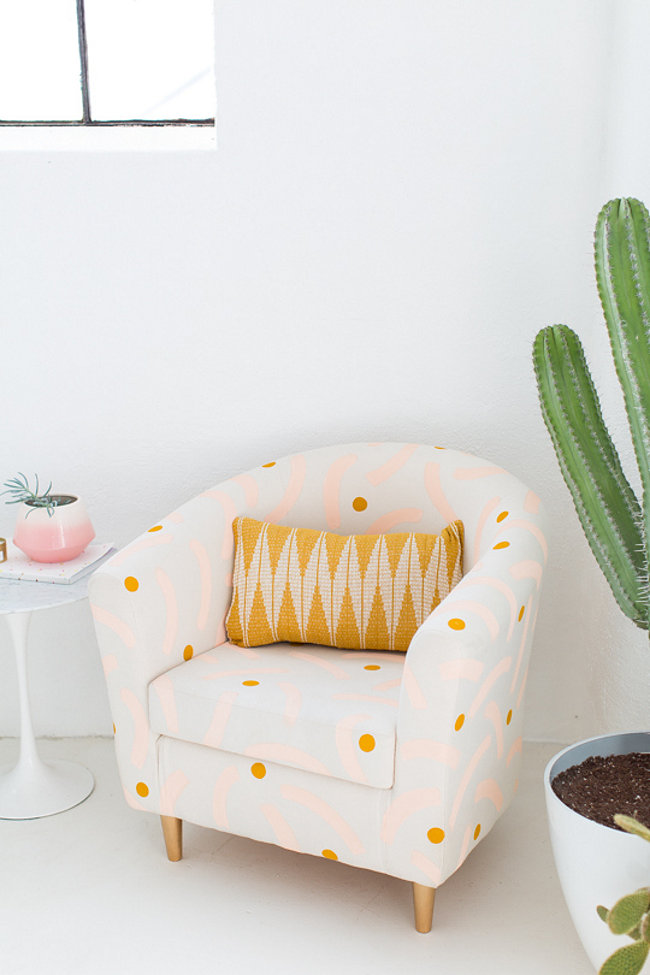 Tables…we all have them! What better way to embellish yours than with a table runner?! And in about an hour, you too can make your own macrame table runner. I should know—this is my DIY project, published right here at Decoist! Try styling your runner with some air plants for a look that's retro-modern.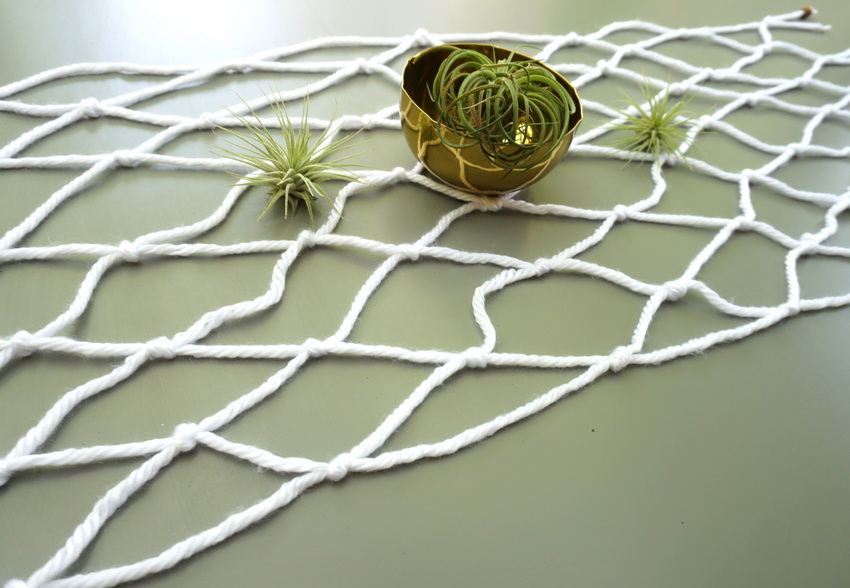 We're flipping over this DIY Toilet Paper Holder from Design Love Fest. The pastels, the geometry, that acrylic tube in the center. There are no words, only a strong desire to try this at home!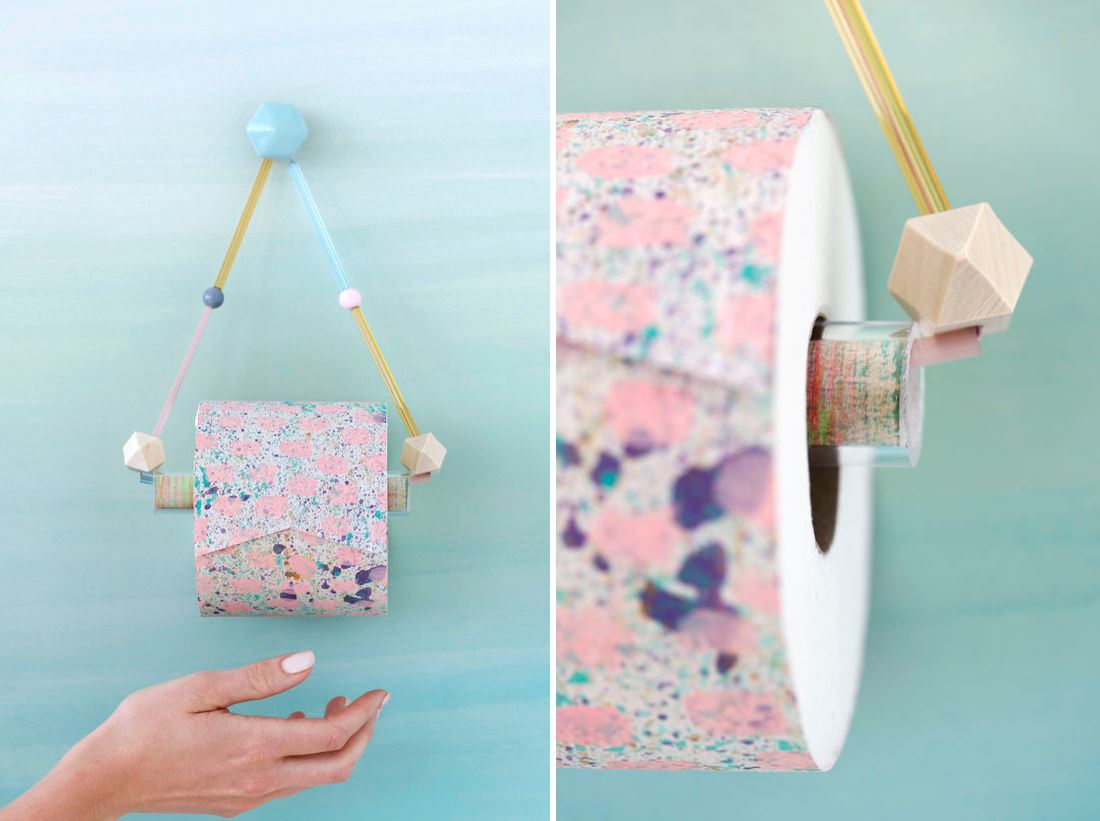 How do you keep your guests' mason jars from getting mixed up at a party? By marking them with bold doses of color. These Balloon-Dipped Mason Jars were created and styled by our very own Yuka Yoneda. Yes, those are balloons adding color to the bottoms of the jars!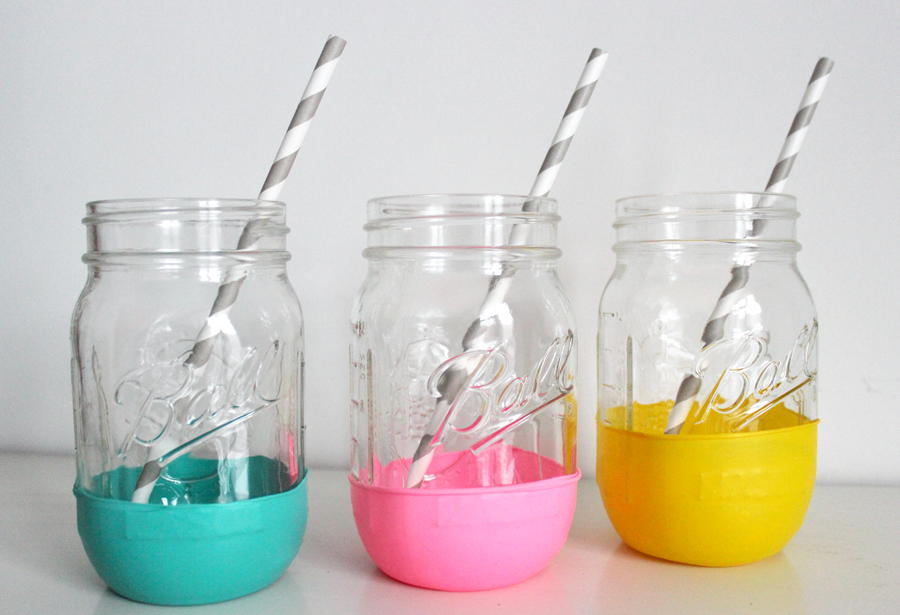 Quintessentially Spring!
Our last group of featured DIY projects are so spring-fabulous, they needed their own section of the post! This DIY floral sign from Skunkboy truly captures spring's essence with the help of photography (a photo of mums, to be exact), foam board and a few other supplies.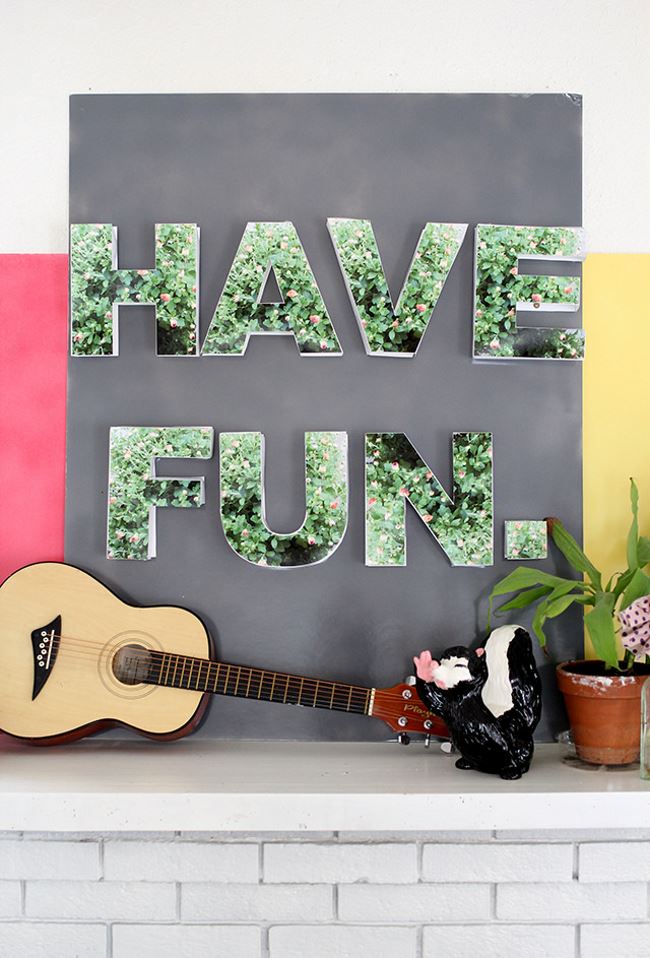 Why don't people send cards anymore? Perhaps these DIY Patterned Postcard Messages from Studio DIY will inspire you to renew your love of snail mail correspondence. Cardstock, wrapping paper and letter stickers get the job done.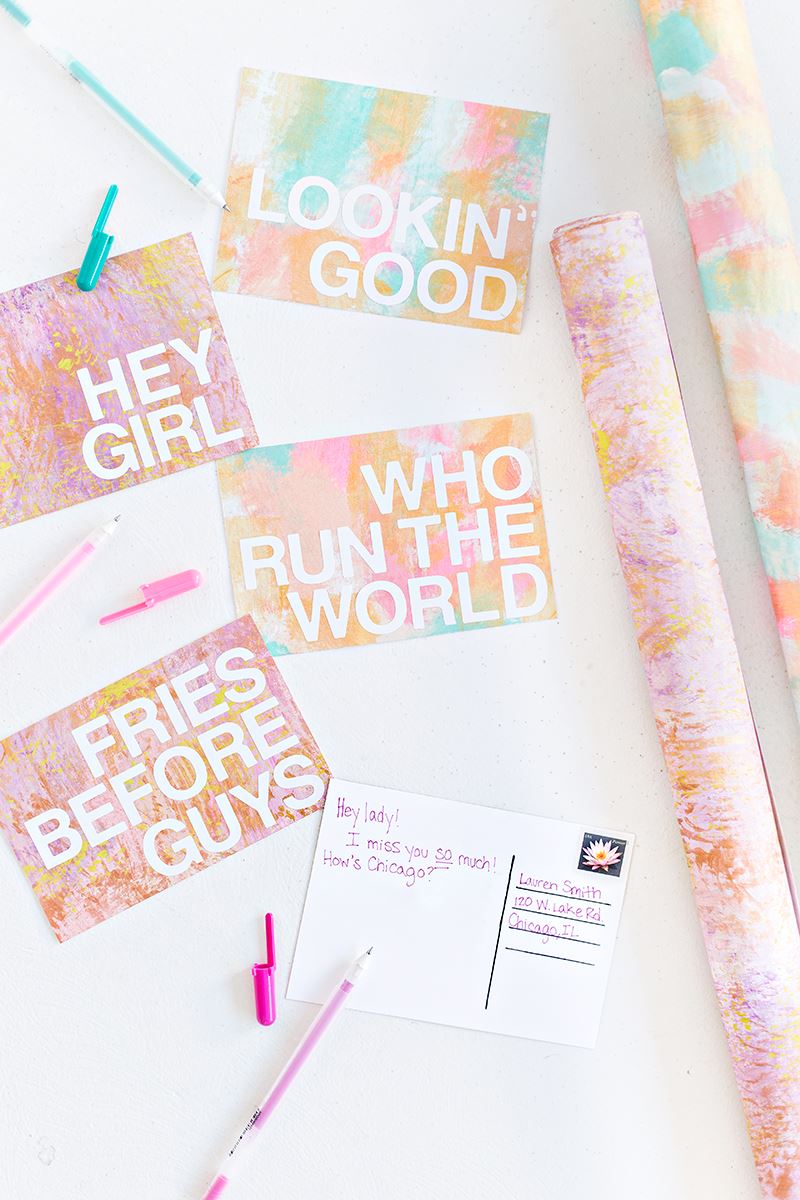 For a bouquet that will last forever, check out Oh Happy Day's baking cup lily of the valley DIY, shown below. Yes, those are small white baking cups. Don't they make a lovely floral statement?!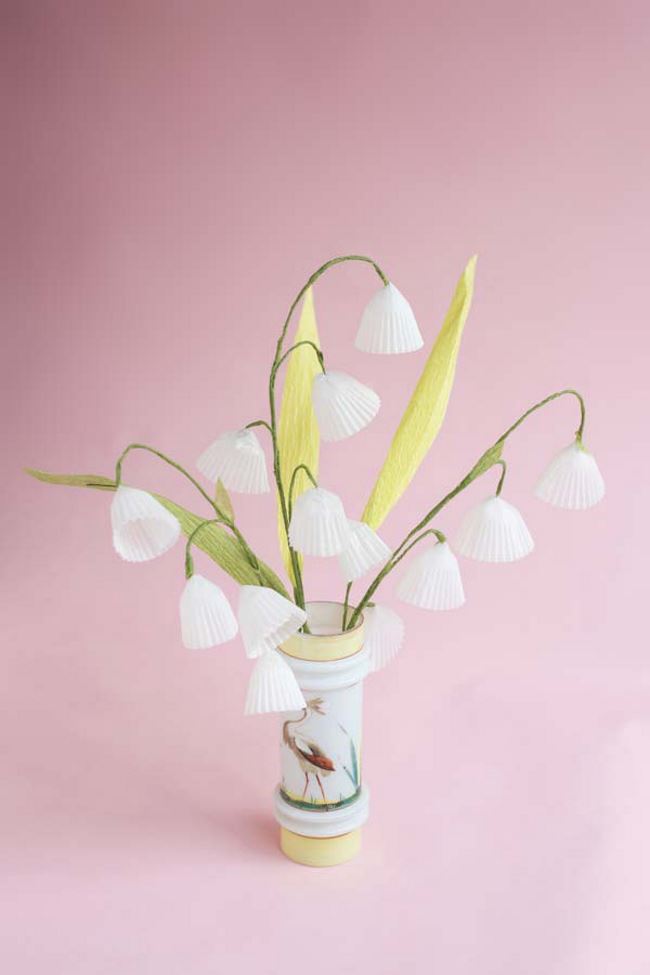 Our very own Thalita Murray created this enchanting spring centerpiece using faux flowers, dried moss and a 3-tiered cake/cupcake stand. The result is delicate yet decadent: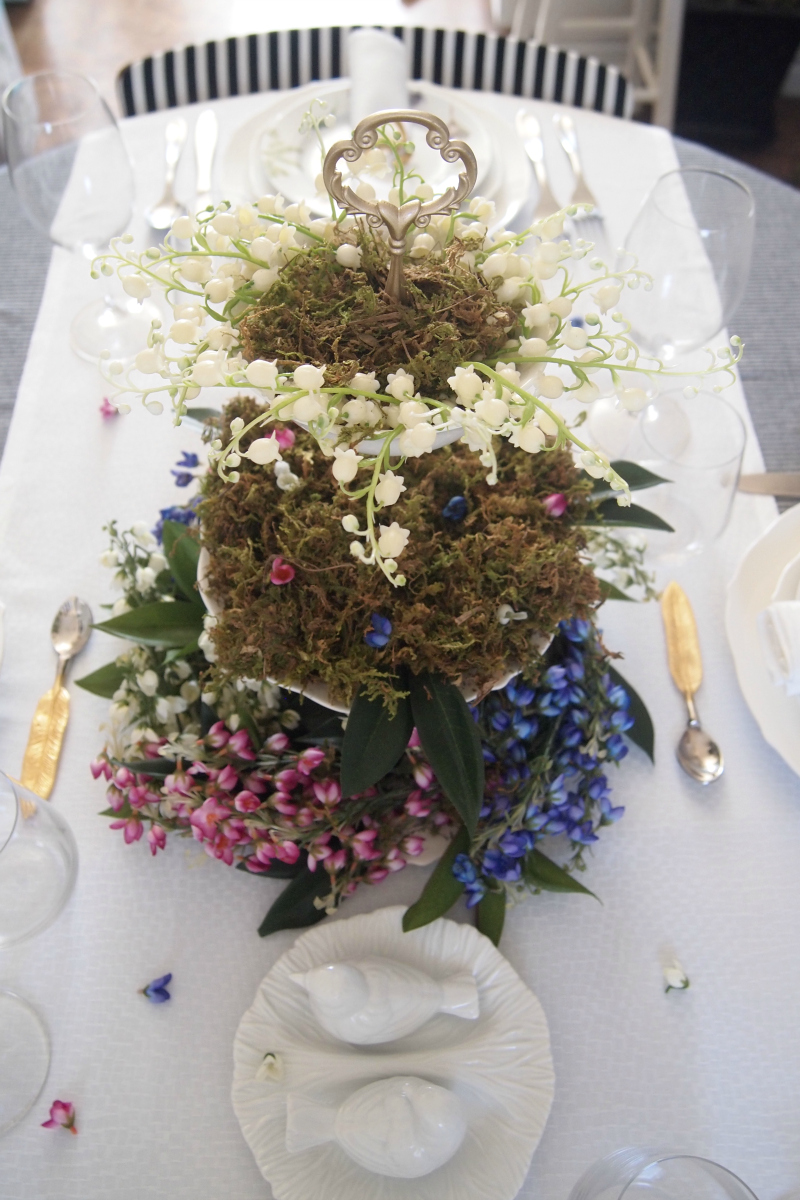 Finally, what could be more perfect for spring than this Balcony Succulent and Cacti Garden from Melodrama?! IKEA planters and a picture-perfect flamingo make this garden a true standout: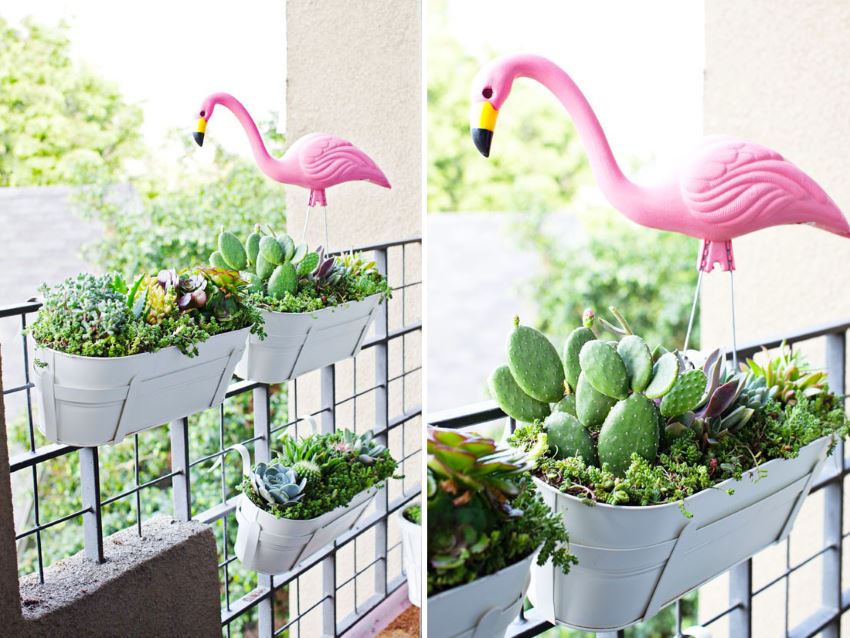 Which of today's featured DIY projects will you be trying this spring?!
You're reading The Best DIY Projects for Spring, originally posted on Decoist. If you enjoyed this post, be sure to follow Decoist on Twitter, Facebook and Pinterest.
Source:: http://www.decoist.com/2015-04-24/best-spring-diy-projects/