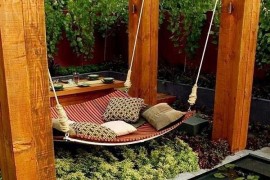 It is time to pull out all the stops and turn your patio, backyard or even the small courtyard into a relaxing retreat that will allow you to bask in the glory of spring and summer. The fun should carry on till late fall when the chill of winter will take over once again. But that is a really long time away right now and we are all too busy in getting our homes geared up for some fun summer evenings. Yesterday, we took a look at hot trends that will define interiors in the months to come and today we take a look at a feature that promises to transform the outdoors forever – the swinging and soothing hammock!
Fabulous beach style patio with a hammock [Design: The Landmark Group / McNeill Photography]
While hammocks are no longer relegated to just the outdoors and there are some awesome ways in which you can invite them indoors as well, today we keep the focus firmly on open-air delights. From a simple deck to a stunning poolside nook, hammocks take up very little space and offer a whole lot of comfort. If you are still undecided on what works for you, then the 25 inspirations on display today should make your choices a lot easier.
Restful Waterside Retreats
Dense Amazon forests most likely played the backdrop for the first hammocks in the world and they sure were not designed for comfort and tranquil holiday time! It was to catch some shuteye while making sure that you do not fall prey to some dangerous forest creature. Of course, a hammock on your pool deck or ones overlooking the distant lake or ocean come with lot less danger and are far more luxurious. The waterfront is indeed the perfect spot for a hammock and it plays into our noting of a dreamy tropical getaway with swinging palm trees, sand, waves and the restful hammock.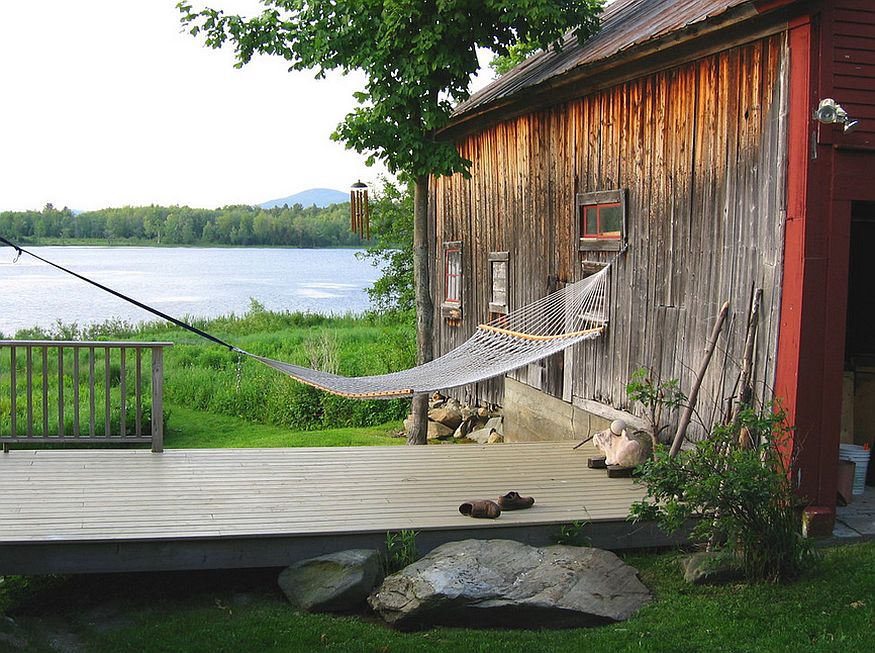 Rustic getaway perfect for a lazy summer afternoon [Design: Tobias Gabranski / Architecture & Design]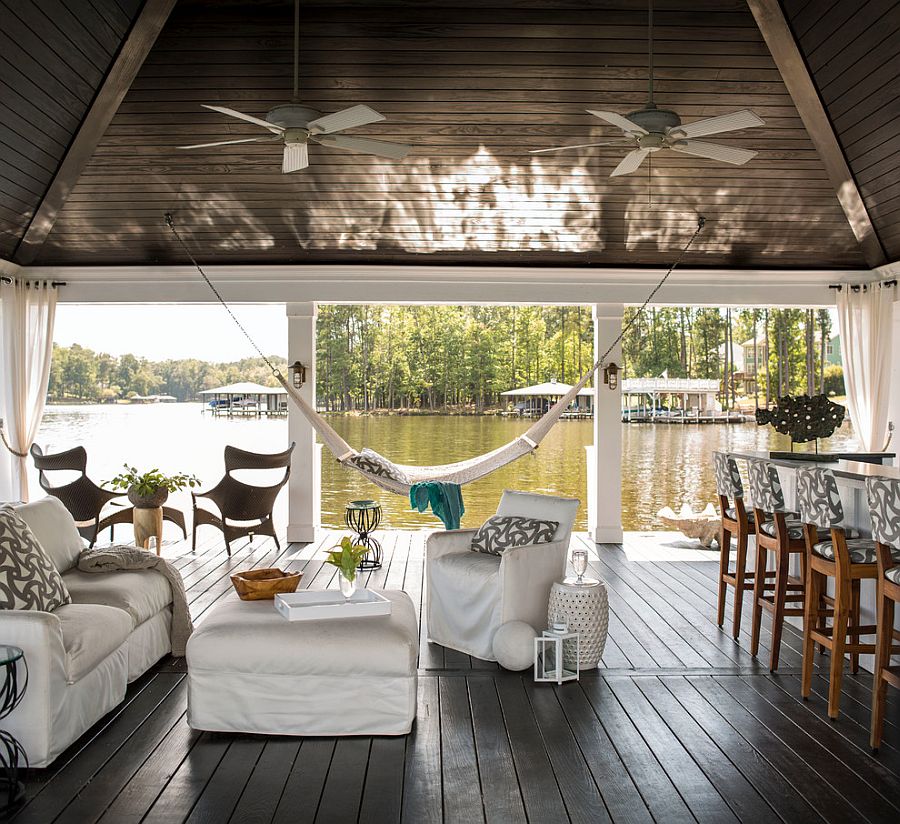 Dream waterfront retreat offers a soothing hangout [Design: Heather Garrett Design]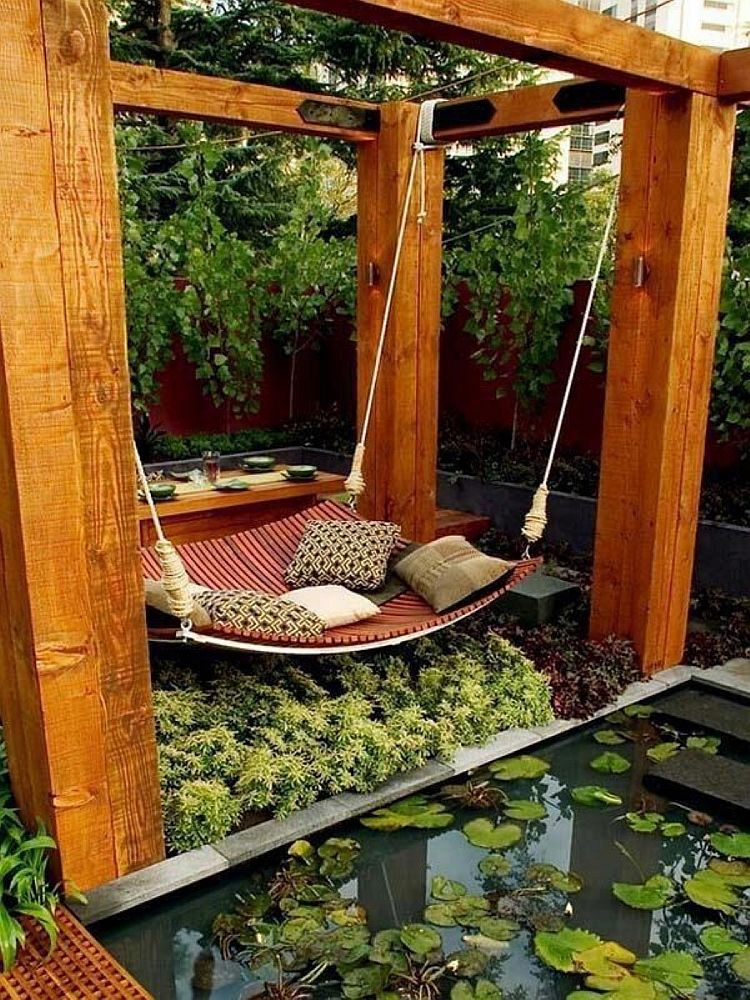 Lovely patio with a hammock that also doubles as a daybed!
If you do not own a home on the beach or next to a lovely lake or even a natural pond, then the swimming pool is the obvious next best choice. Two simple posts can help you in putting up that classic hammock and there are also plenty of standalone models that really do not need any additional support. So, do not fret over not having any trees in the garden while planning to put up a hammock!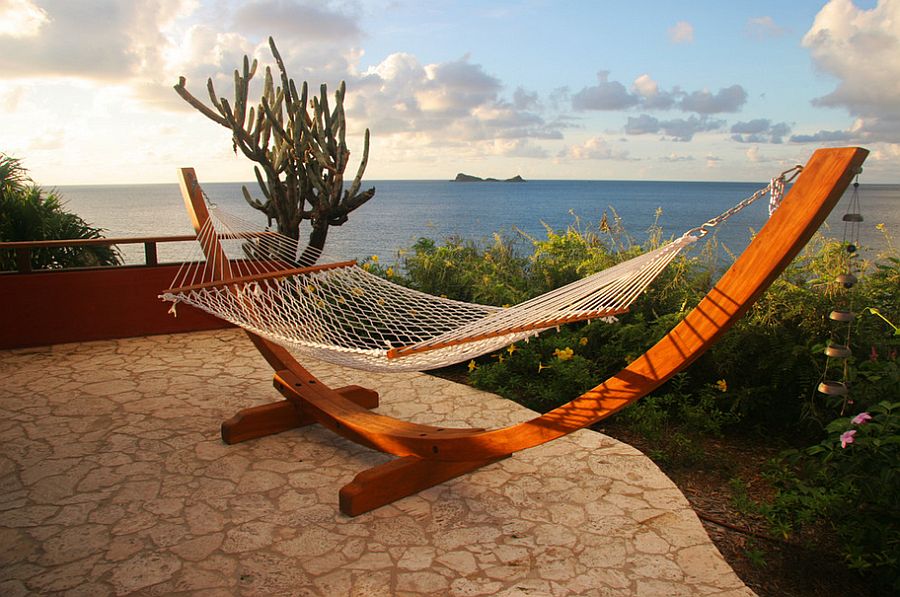 Don't have trees, not a problem! [Design: OBM International]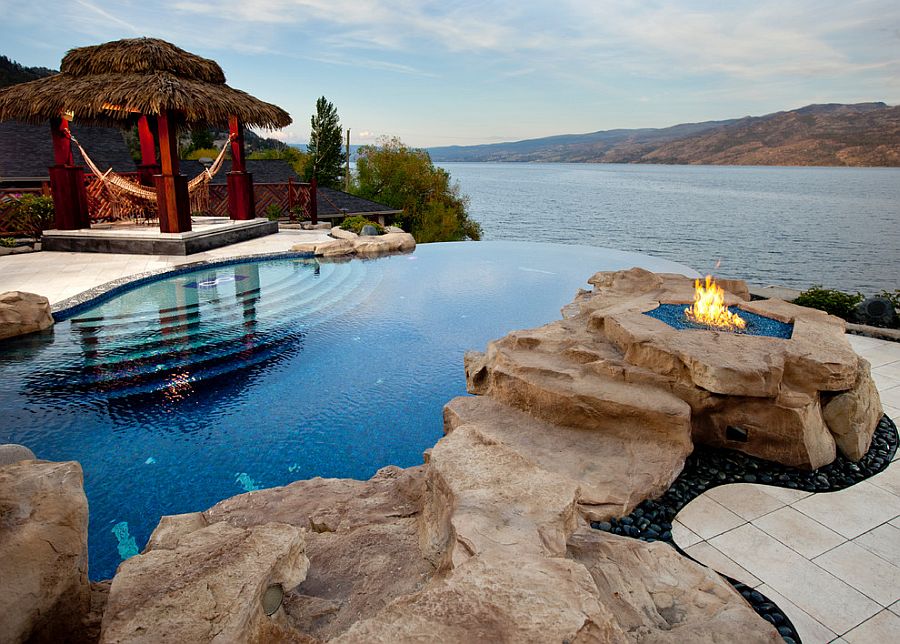 Go tropical in sensational style this summer! [Design: Hampton Pools]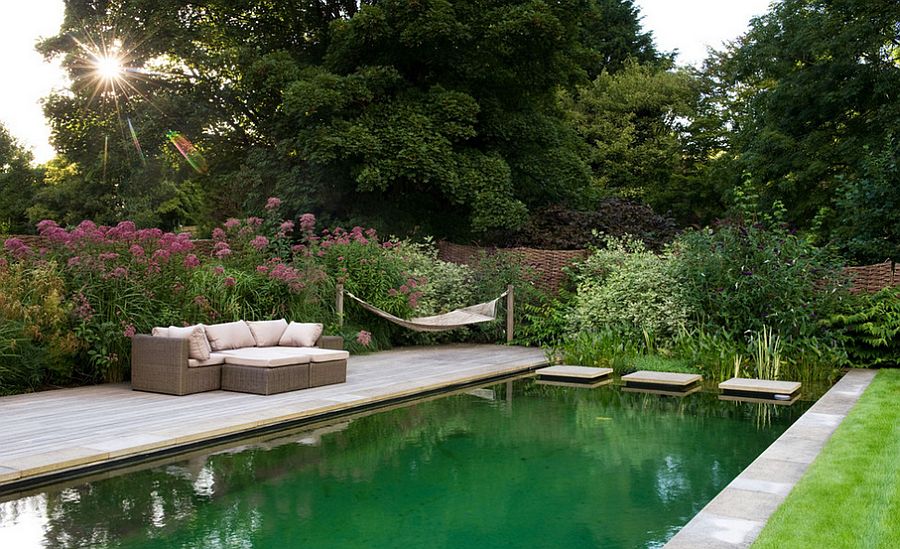 Time to give your pool deck a cozy hammock corner [Design: Amanda Patton Garden Design & Planting]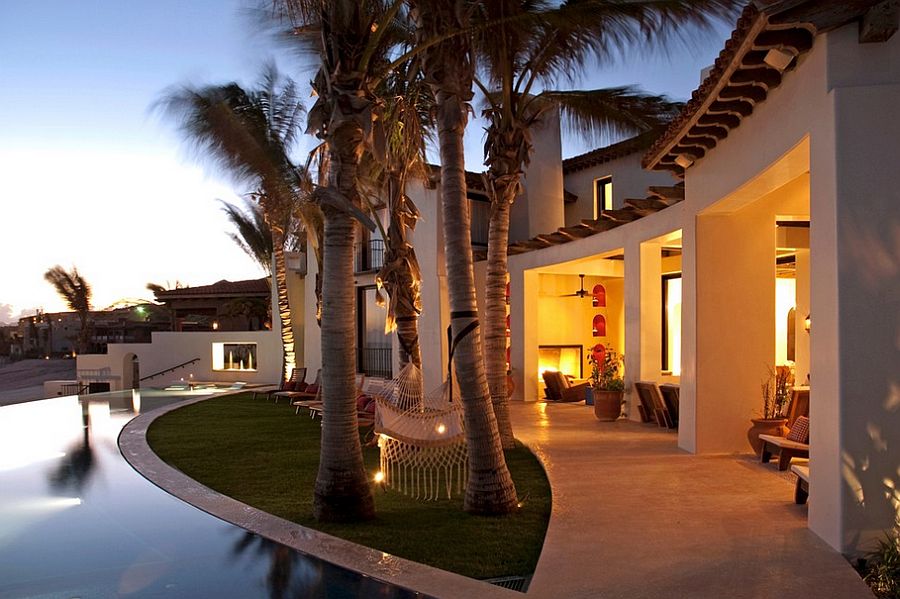 Mediterranean style patio drapes you in luxury [Design: Constructora Malver]
Perfect way to relax by the pool this summer [Design: Gib-San Pools]
A Cloak of Green
Not all of us have same taste when it comes to a dream getaway and while some love a cool waterfront, others prefer the lap of nature with plenty of greenery. One of the advantages of hanging a hammock in garden filled with shrubs, bushes and tall plants is the natural cover that you get. Privacy is never an issue here and you also can put up the hammock in many different spots without worrying about adequate support. Contemporary hammocks design ensure that even the tiniest backyards can easily accommodate the hammock and remember that you will still have plenty of space to spare around thanks to this hanging recliner!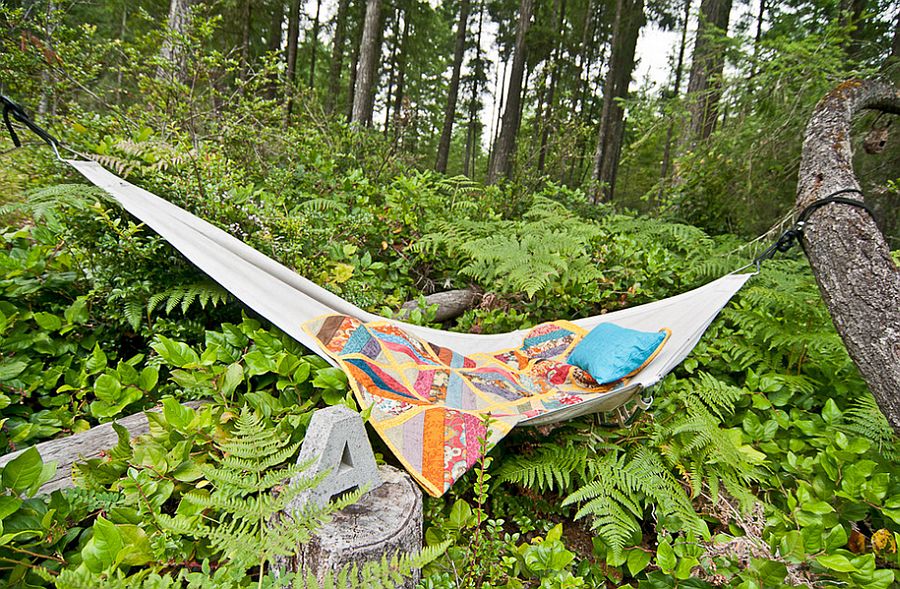 Add some color to your chic hammock hangout [From: Louise Lakier Photography]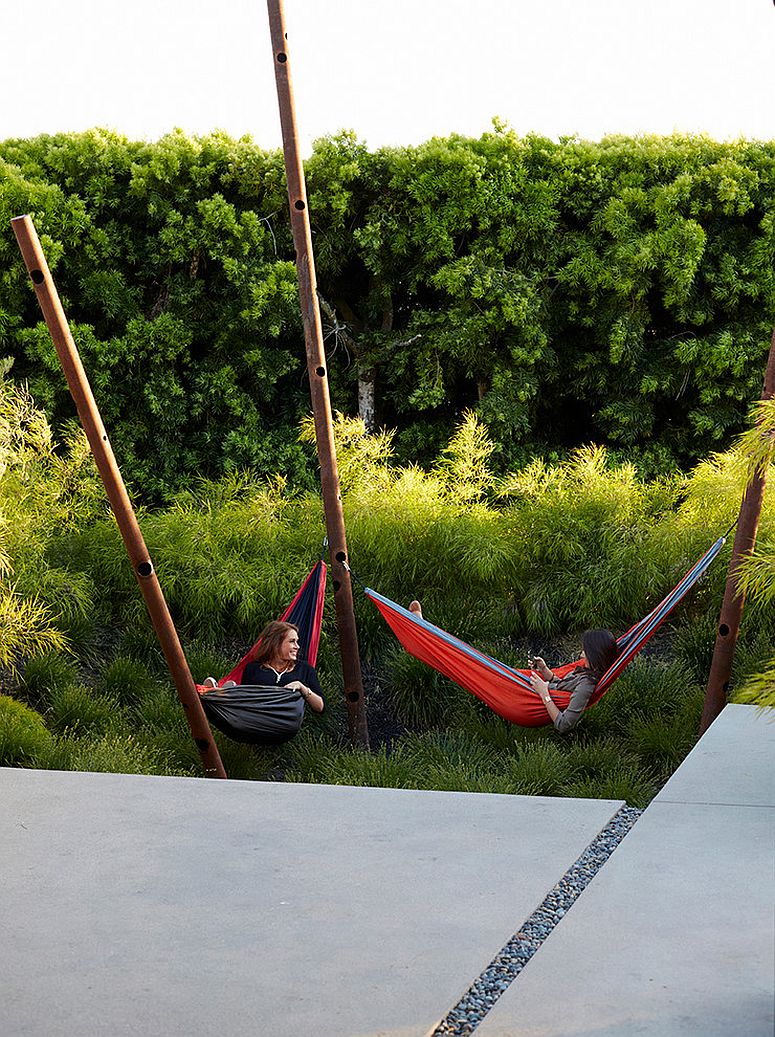 Contemporary take on the classic hammock [Design: Jeffrey Gordon Smith Landscape Architecture]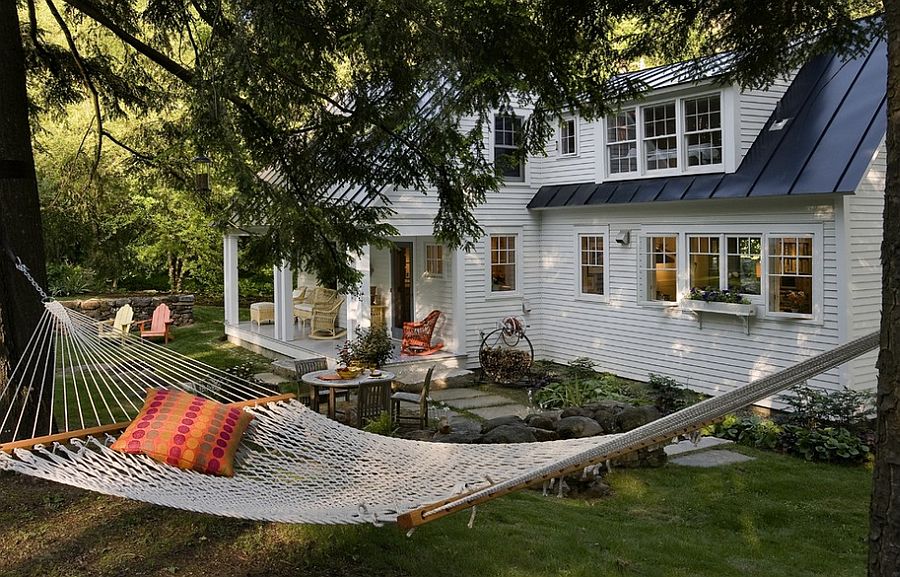 Hammock in the trees can serve you all year long! [Design: Smith & Vansant Architects]
Each hammock has its own unique requirements depending on size and material but experts suggest that the classic hammock requires a length of at least 12 feet and must be hung at 6 to 8 feet above the ground for optimum comfort. Again, this will vary depending on your choice of hammock and where you hand it, but always double check those support points and tree trunks and make sure that they can handle all that weight for sure.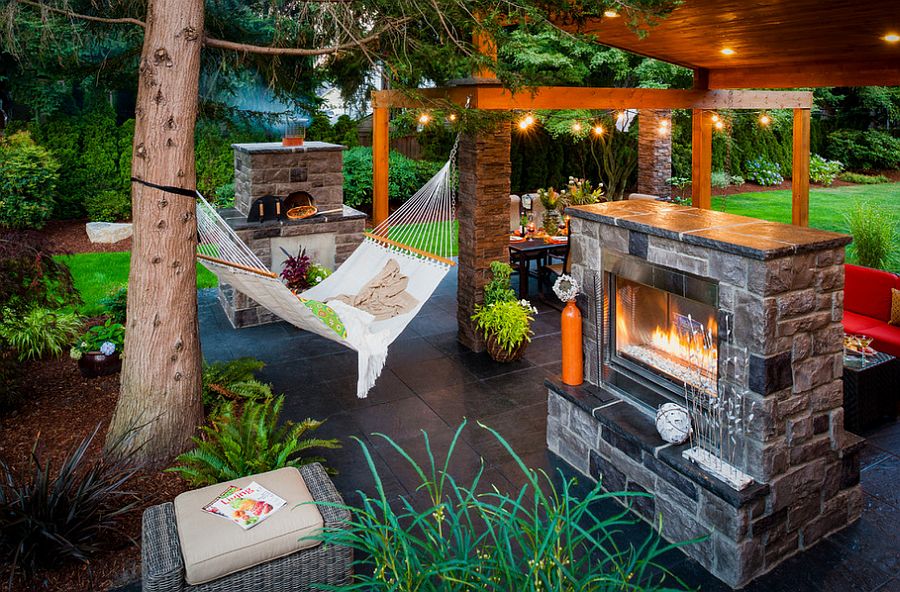 Gorgeous outdoor living area complete with fireplace and hammock [Design: Paradise Restored Landscaping & Exterior Design]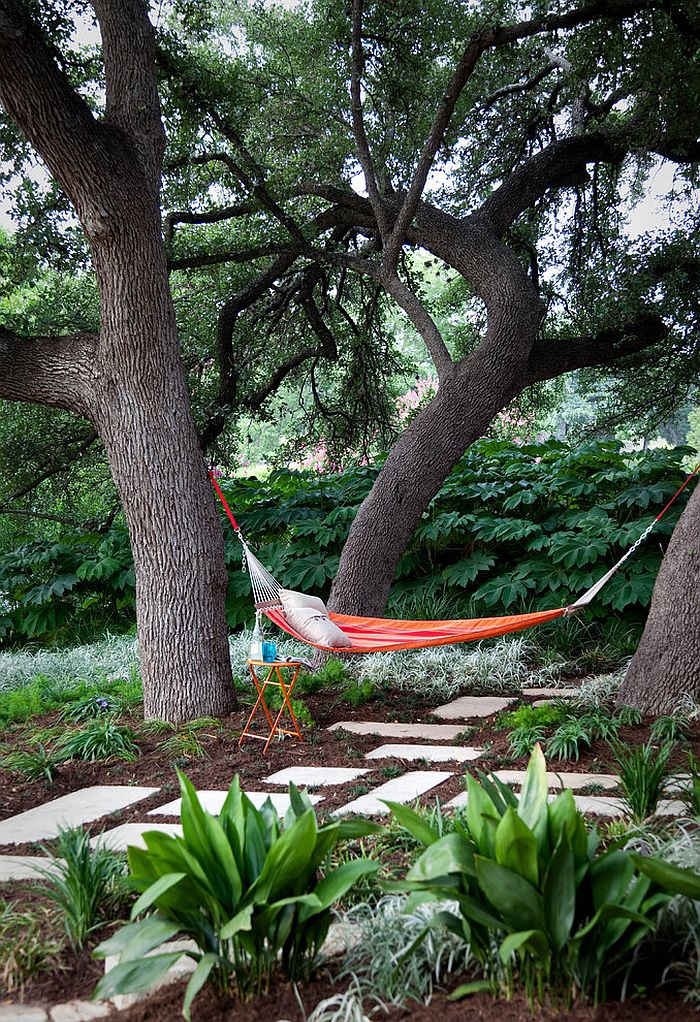 Natural greenery offers ample privacy in this Austin backyard [Design: B. Jane Gardens]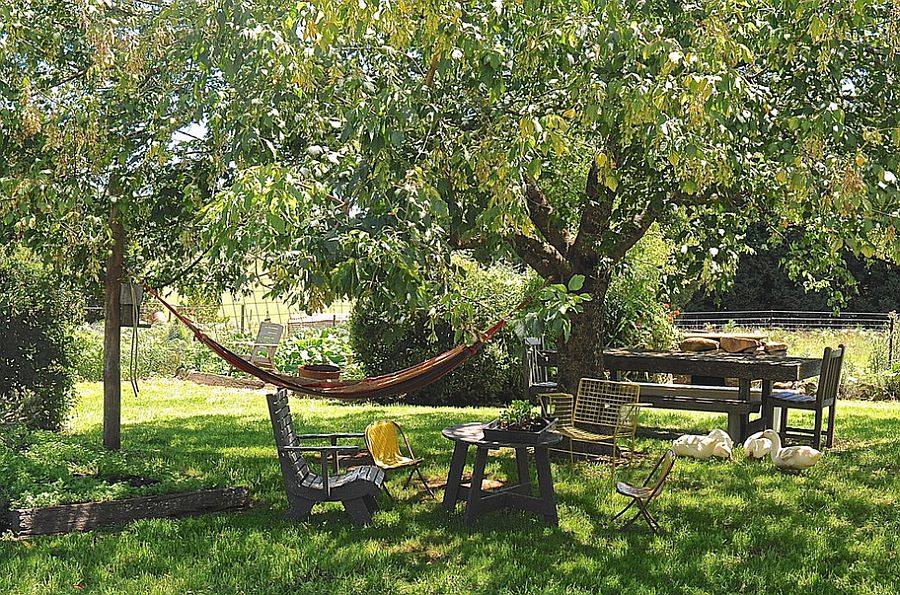 Perfect outdoor escape with dining area and a cool hammock hangout [Design: Luci.D Interiors]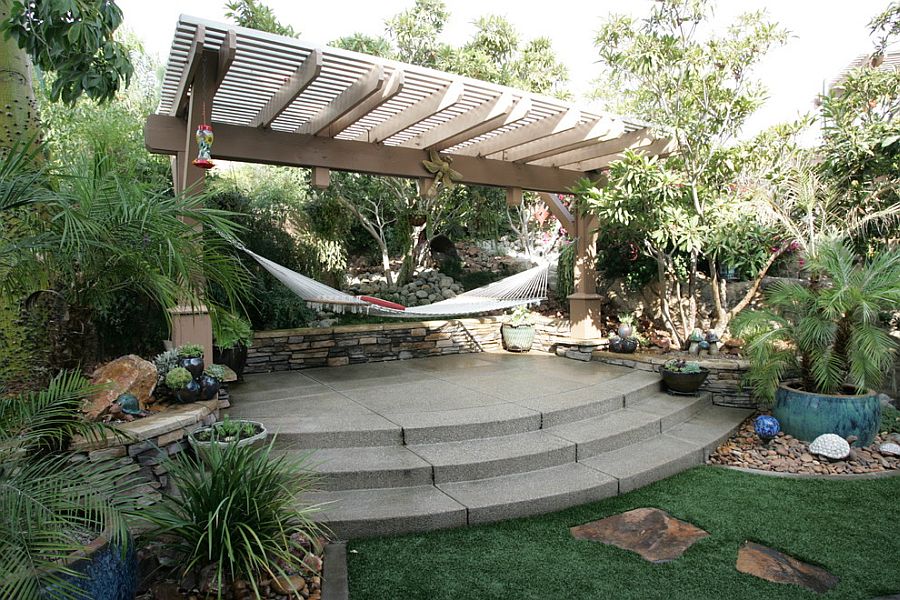 Tropical style landscape with pergola and hammock [Design: STB Landscape Architects]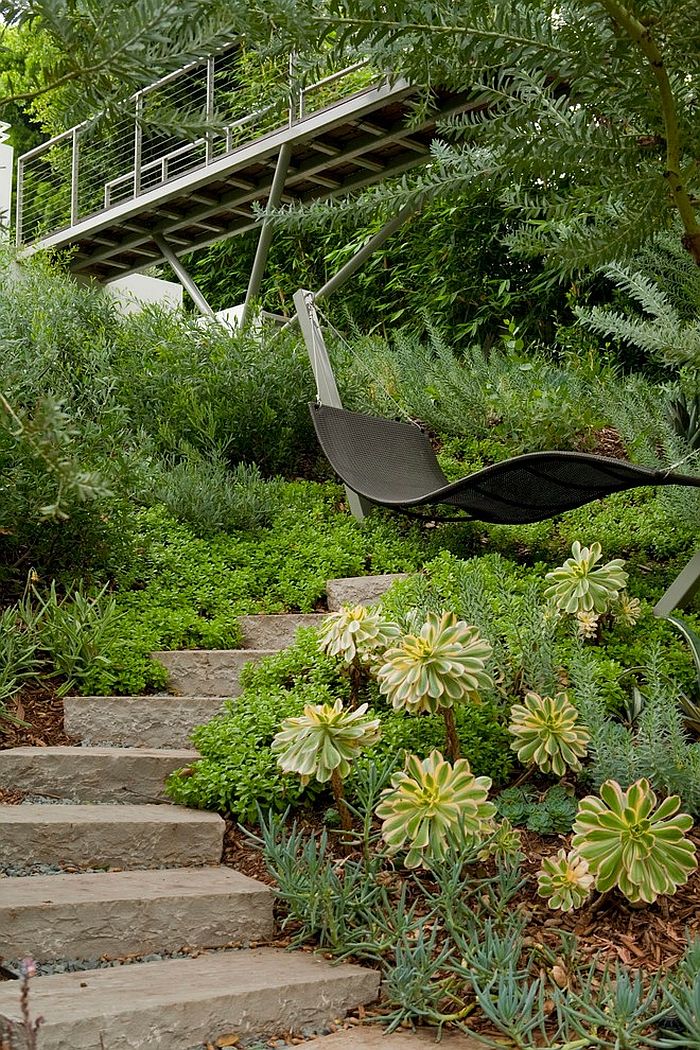 A relaxing retreat in the lush green backyard [Design: EPT Design]
Deck it Out in Style!
A hammock on the covered deck or patio brings with it a whole array of unique advantages as well. Sure, the magic of the open night sky might be missing, but you can enjoy this addition even on a rainy day without any trouble. If you live in a region that has really hot summers, then a lovely pergola is another wonderful option and you can even turn the area into an outdoor living and dining zone when you are not swinging away in your new hammock.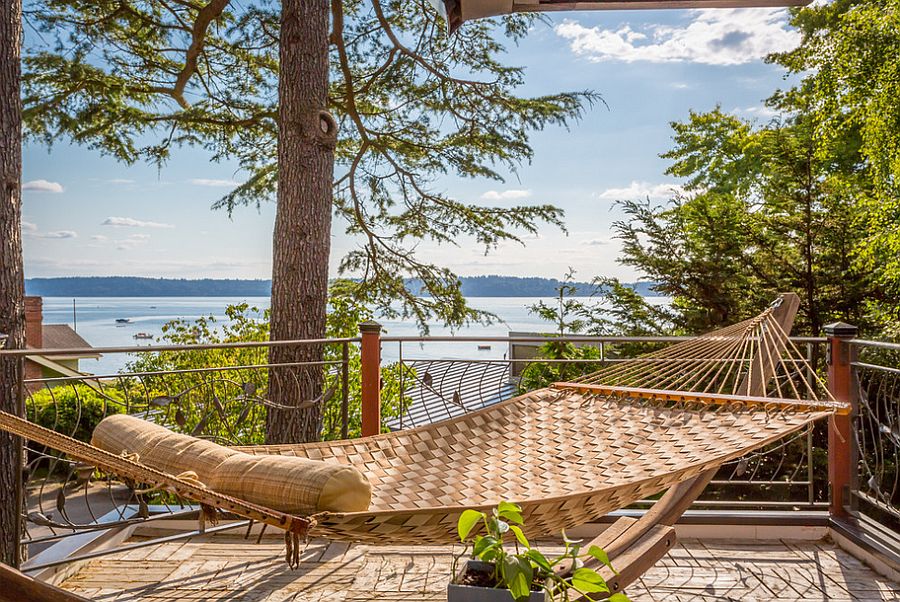 Braided hammock brings tropical flavor to the beach style deck [From: Cassie Daughtrey Realogics Sotheby's Realty]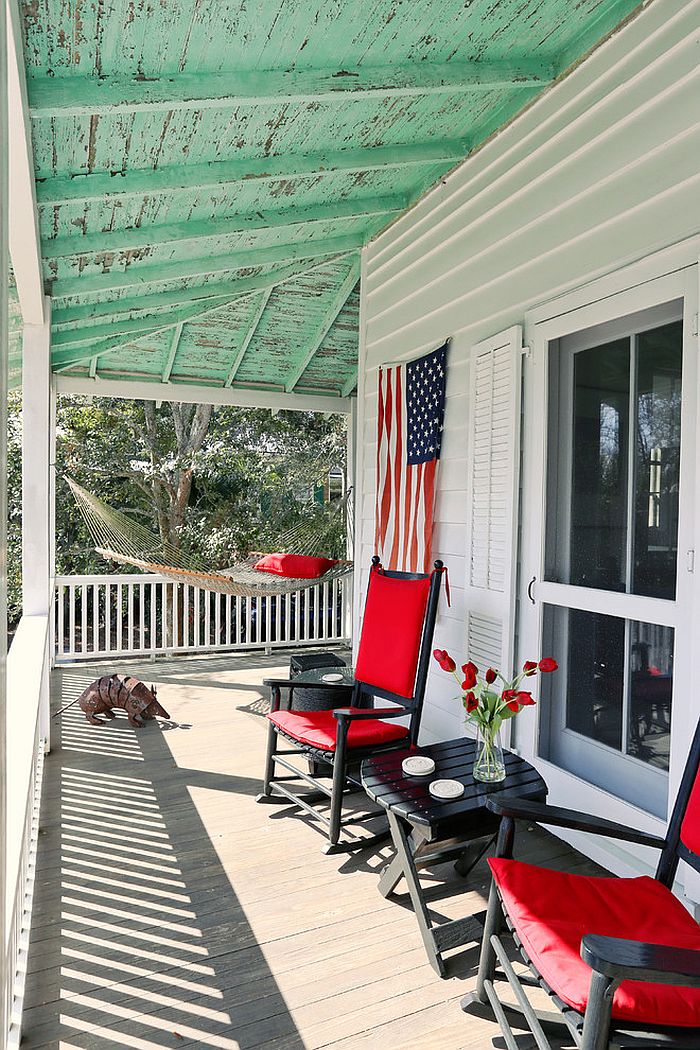 A hint of Americana for the porch [Design: Amy Trowman]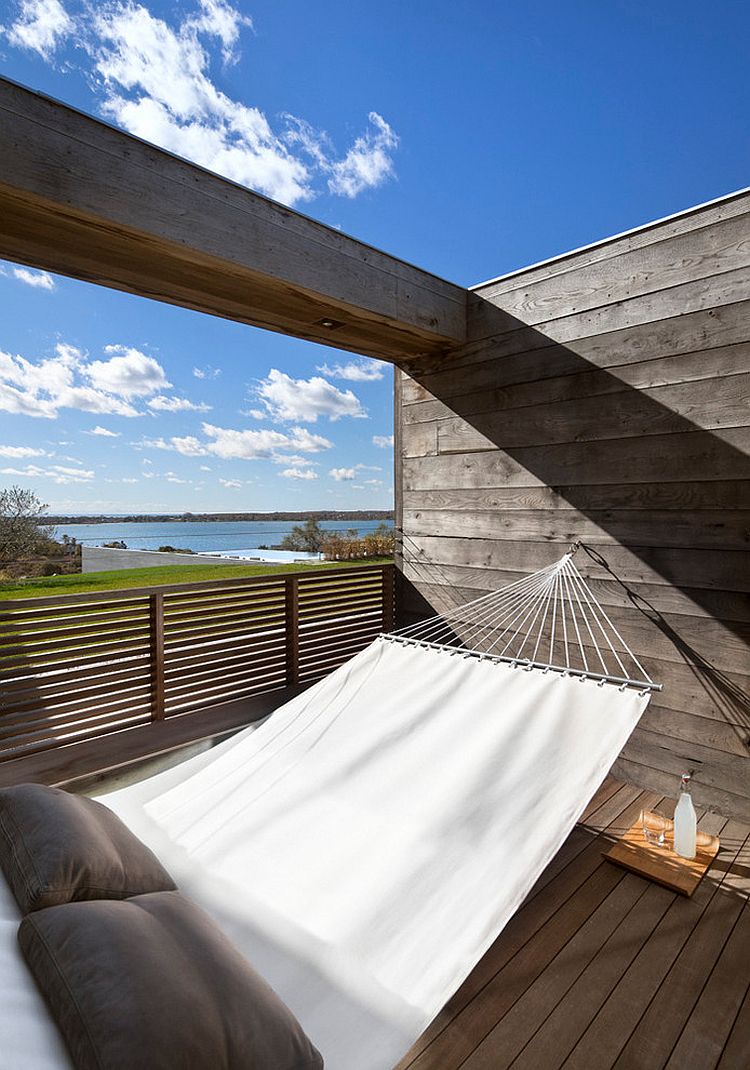 Relaxing retreat with hammock takes up little space [Design: Bates Masi Architects]
Courtyards are also great places for the hammock as they let you use the structure of the home as support points, eliminating the hassle of installing new pillars for the hammock. The possibilities are indeed endless and you will definitely notice the slight bump up in your weekend downtime once you install that hammock and spend lazy evenings sipping away a martini or two!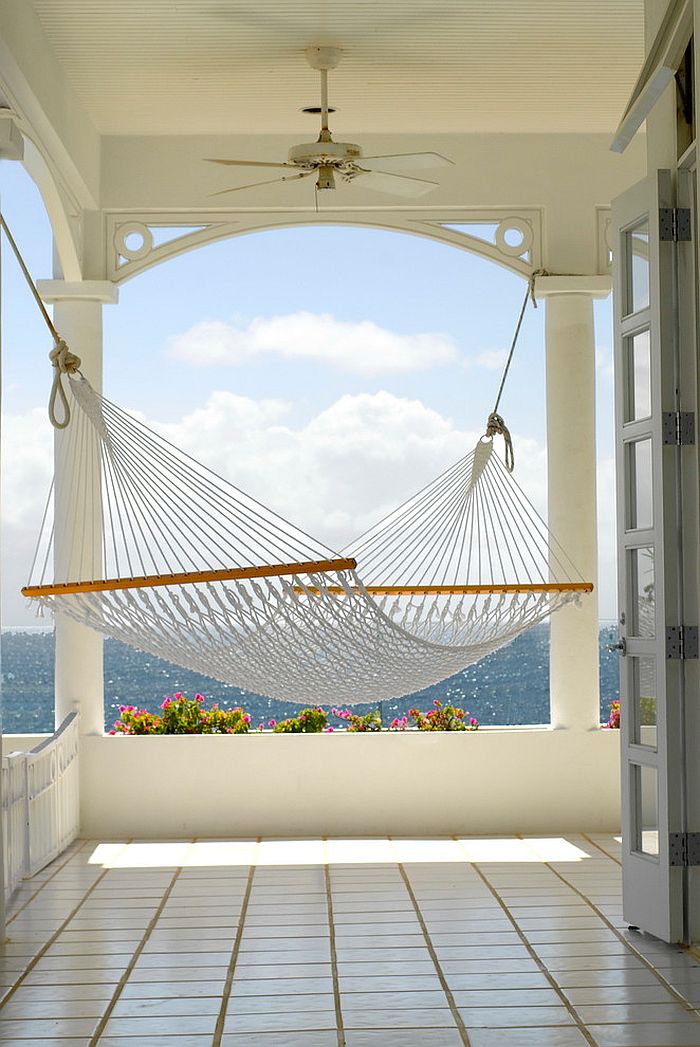 Beach style porch with hammock overlooking the ocean [Design: Springline Architects]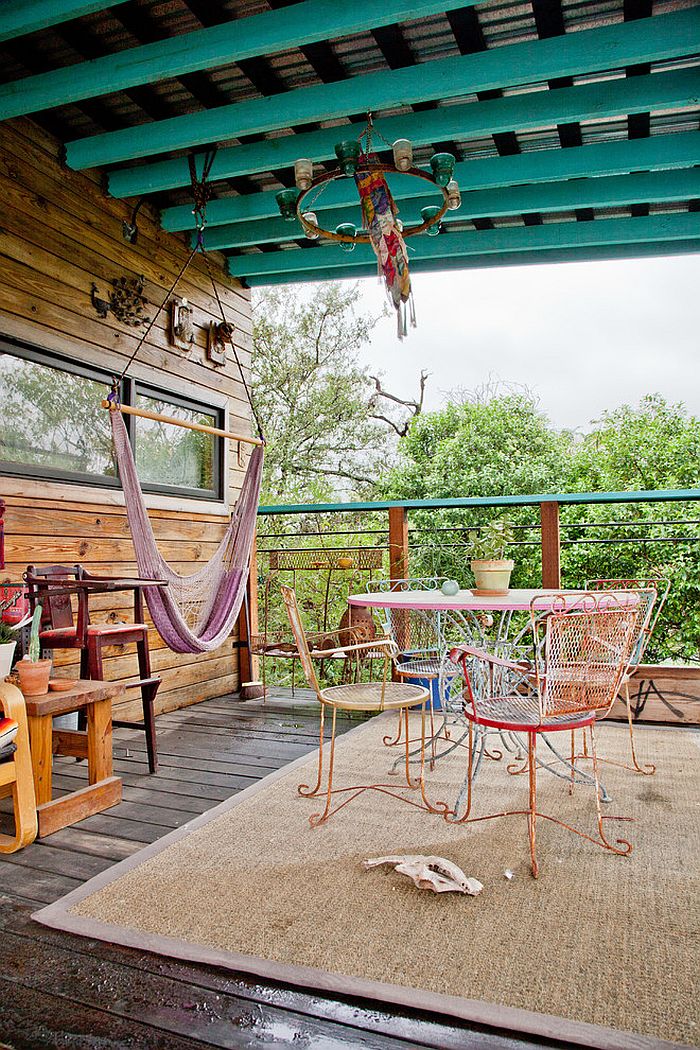 Beautiful modern deck with plenty of color and comfort [Photography: Sarah Natsumi Moore]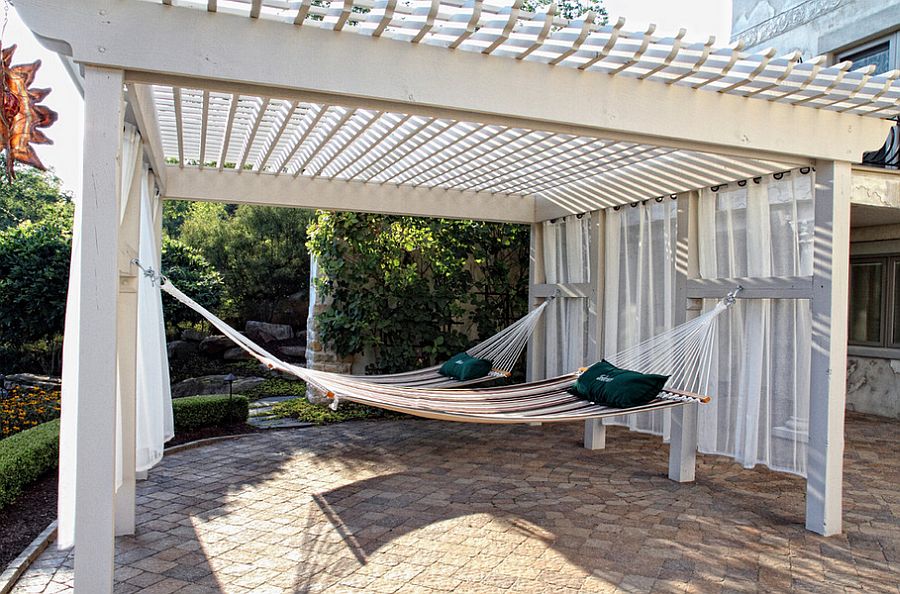 Pergola offers ample shade for hammock hangout [Design: Beall's Nursery & Landscaping]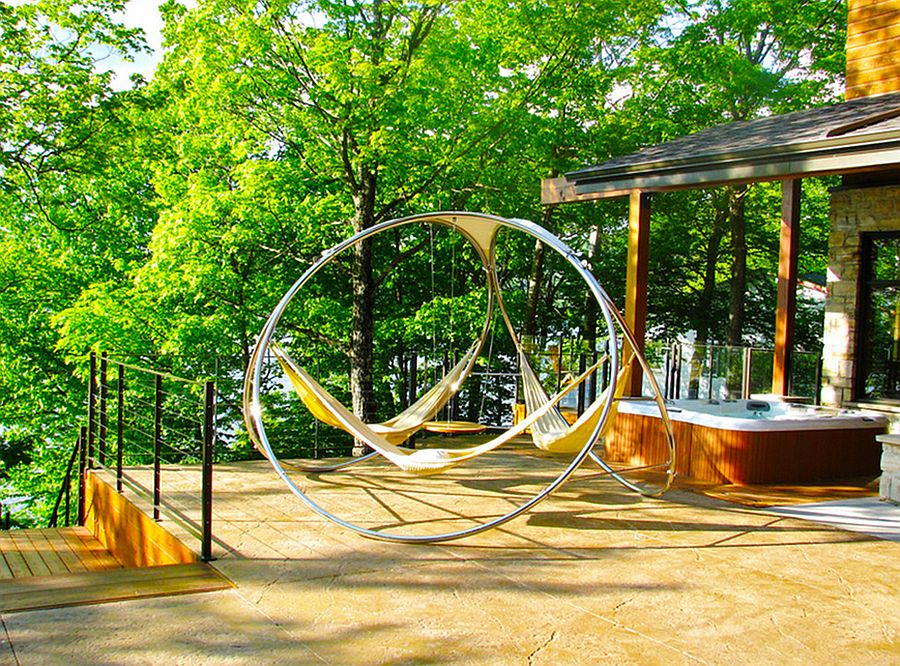 Sensational hammock, a Jacuzzi and a view to match – What more could you ask for! [Design: Trinity Hammocks]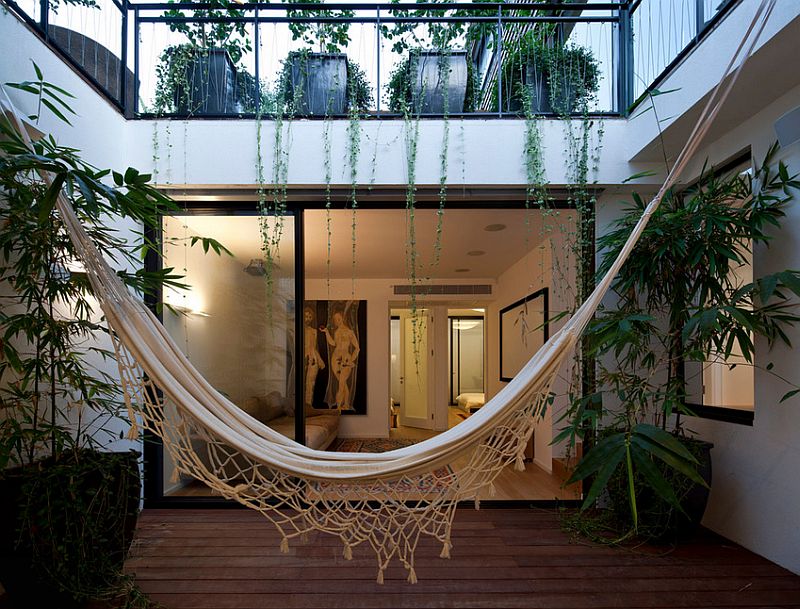 Courtyard in Tel Aviv home transformed into a cool family zone [Design: Itamar Landscape Design]
You're reading Summer Spirit: 25 Cool Outdoor Hangouts with a Hammock!, originally posted on Decoist. If you enjoyed this post, be sure to follow Decoist on Twitter, Facebook and Pinterest.
Source:: http://www.decoist.com/2015-04-29/outdoor-hammock-retreats/