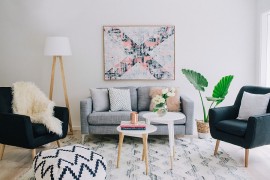 We will readily admit that we are consumed by the simplicity and the understated beauty of Scandinavian style. It is arguably one the easiest styles to pull off if you have the discipline to do away with clutter and an eye for practicality. Quality precedes quantity here and frugality is interlaced with sophistication and minimalism! While we already featured 50 fascinating home offices drenched in Nordic goodness, today it is the Scandinavian style living room that takes its rightful place under the spotlight.
It its testament to the brilliance of the style and those who took it from its humble roots, refined it to suit the aesthetics and ergonomics of a wider audience that the style still holds sway decades after first making a mark on the international stage. The captivating collection of 50 Scandinavian living rooms on display today will ensure that you will fall in love with beautiful and efficient design – All over again!
1. Small Scandinavian Living Rooms
Born out of tough Scandinavian winters that demand efficiency and a sense of airiness to drive away any notion of gloom, this is a style that is perfect for the small living room. Color is kept to a bare minimum when it comes to crafting a lovely backdrop in the Scandinavian living room and it is generally clad in pristine white. This reduces visual fragmentation and visually enhances the available space. The use of limited and curated decor with sleek, straight lines also aids in creating a tidy living area that seems both inviting and cheerful.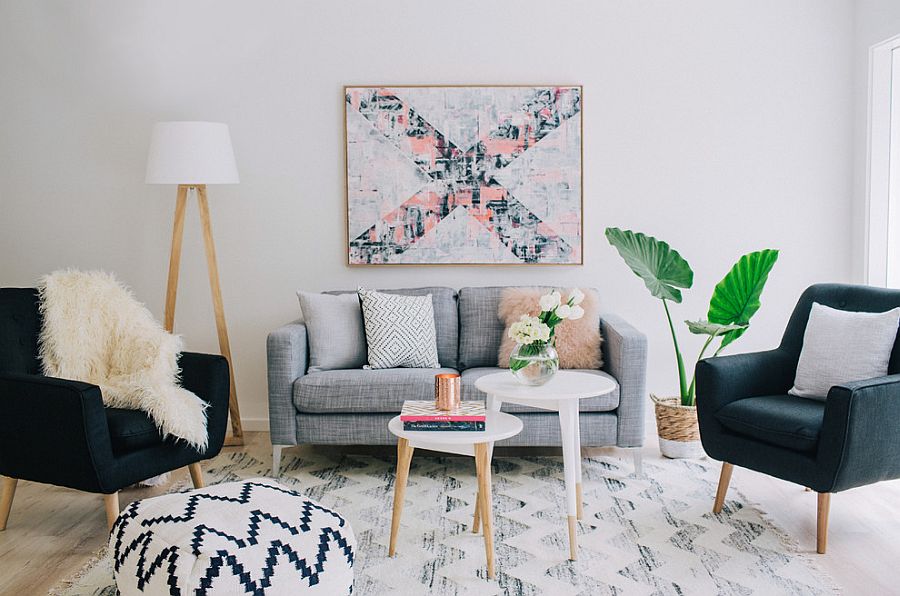 A touch of greenery for your chic Scandinavian living room [Design: Claudia Stephenson Interiors]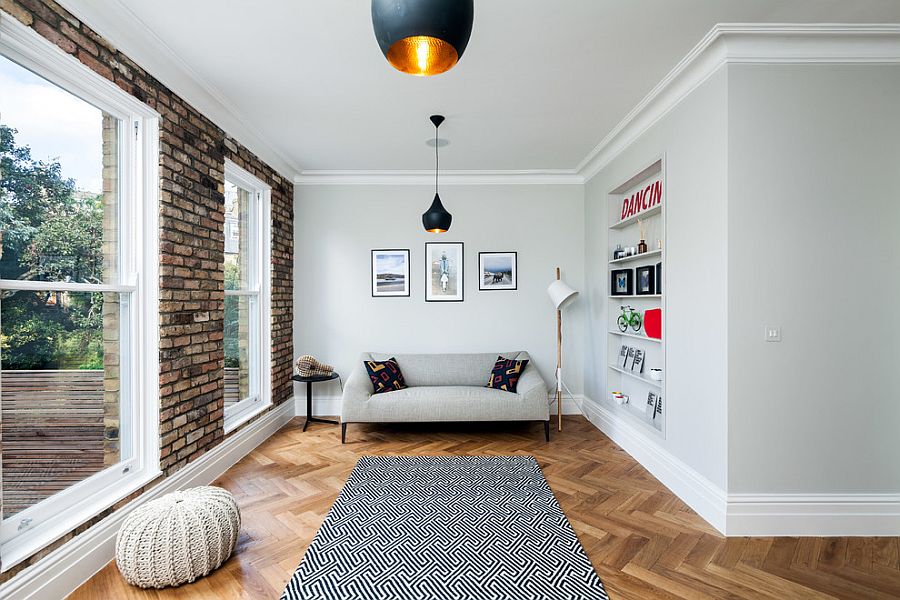 Small living room with brick wall and Tom Dixon pendants [From: David Butler Photography]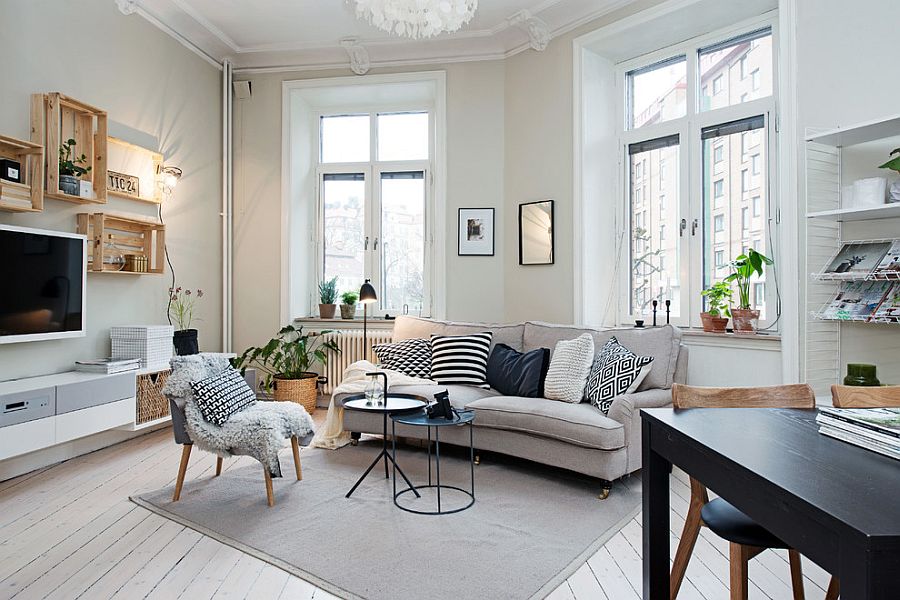 Small living room decorating idea in Scandinavian style [Design: Studio Cuvier]
When working with the small living room, do not completely shun away from color as it turns the interior into a generic and boring setting. Scandinavian style lets you add color in the form of simple accents and you can even add a mirror or two to further enhance the appeal of the tiny room. S plush rug, cool side table, stylish floor lamp and a cozy couch completes this elegant look.
2. White and Gray – Nordic Style!
As alluded to earlier, white has always been a dominant color in Scandinavian living rooms. But the last few years has seen a surge in another neutral that is quickly replacing white and has even found a way to coexist with it. Gray is definitely a hip neutral hue that is simply refusing to die down as a hot trend. Now is the time to give your living room with Nordic inspiration a touch of gray by adding a cozy couch in the color or even creating an accent wall in light, smoky gray. It is generally the lighter shades of gray that well work in Scandinavian spaces, but you can pick a darker hue if you want to create a greater visual contrast.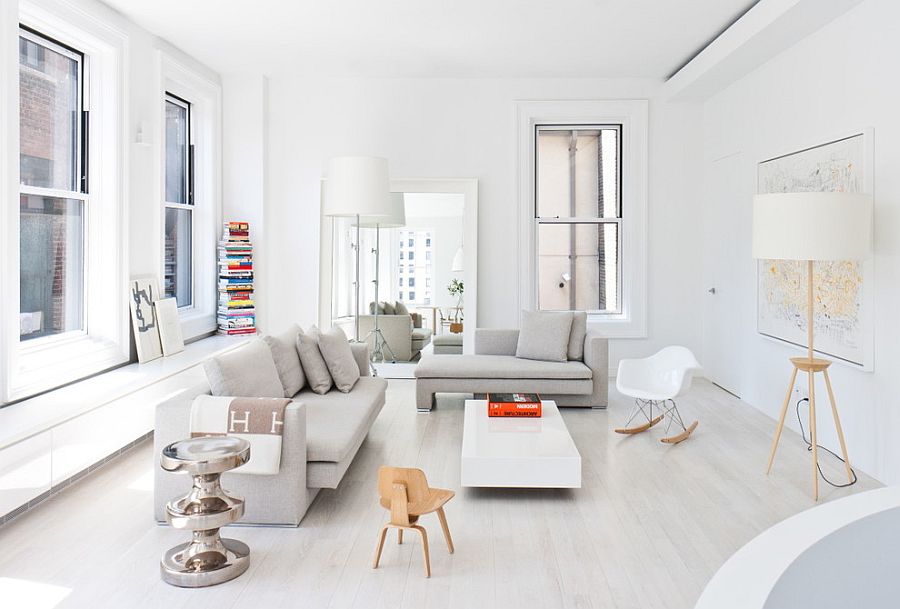 Stack of books add color to this living space [Design: Resolution: 4 Architecture]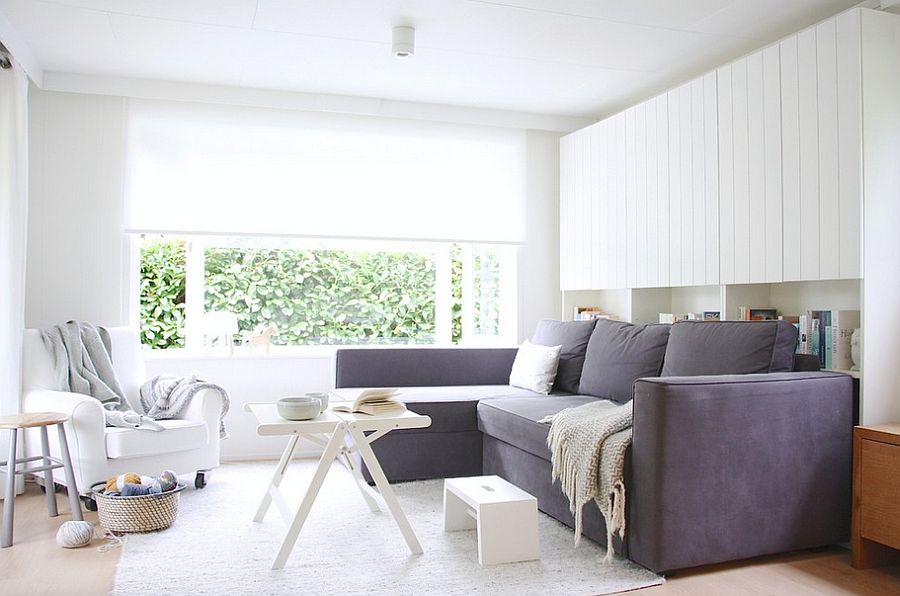 A living room that is all about white! [From: Holly Marder]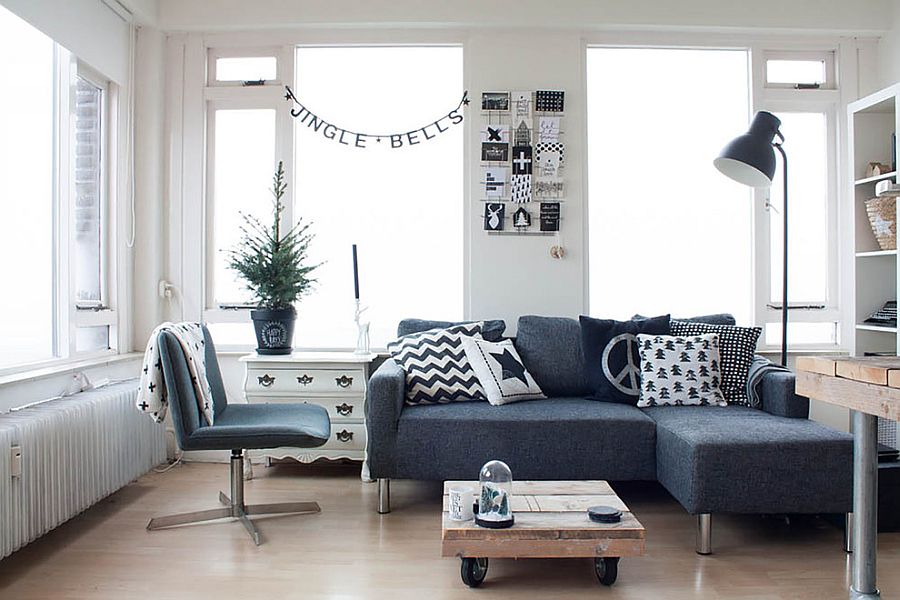 Decorating the small living room with elegance in Scandinavian style [From: Louise de Miranda]
Black and white backdrop with shades of gray works beautifully in a Scandinavian living room and it is a look that seems to combine modern minimalism with urban classiness. But makes sure that black is used sparingly to just anchor the living area and highlight certain architectural features as too much of black can quickly alter the mood and the appeal of the interior.
3. Living Spaces with Colorful Accents
Going down the Nordic path in the living room not only helps you in cutting out the excess decor, but it also opens the door to a world of exciting and exquisite accents laced in lovely hues. Geometric prints, stripes, chevron patterns and abstract designs provide a sense of playfulness, excitement and individuality to the Scandinavian living room. It is not just pattern that makes a difference as the small colorful accents you add to the living room steal the show instantly thanks to the understated canvas that is offered by this ingenious style.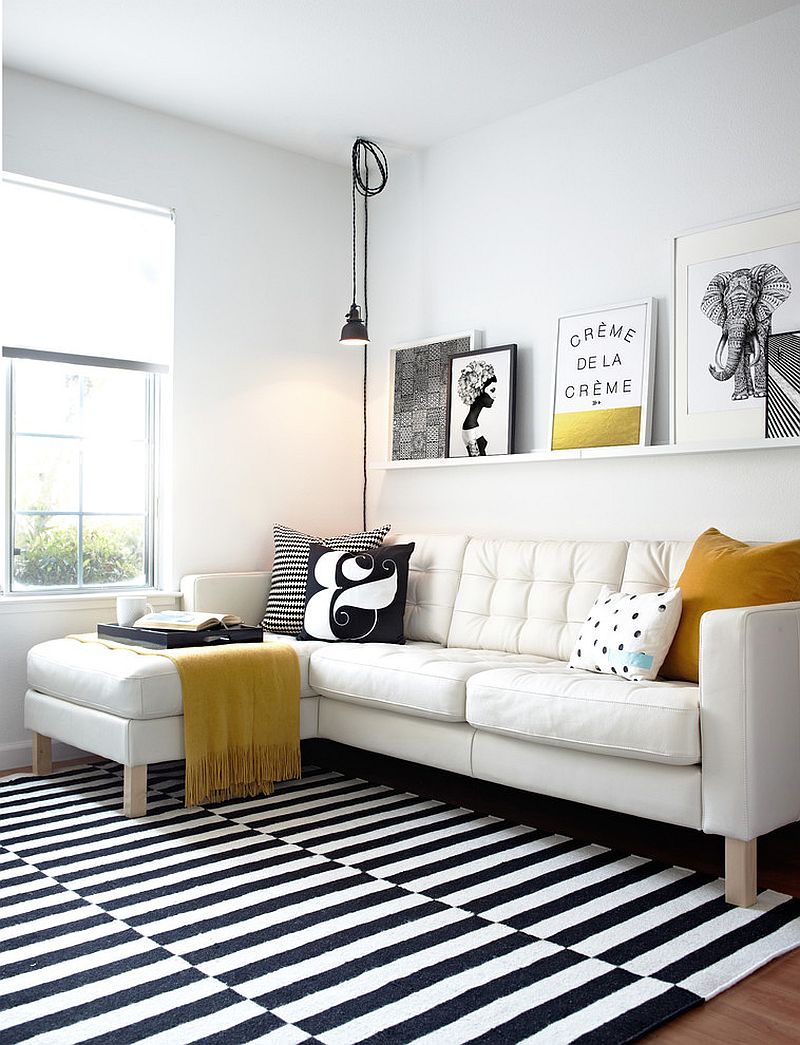 Black and white living room with elegant pops of yellow [Design: Studio Revolution]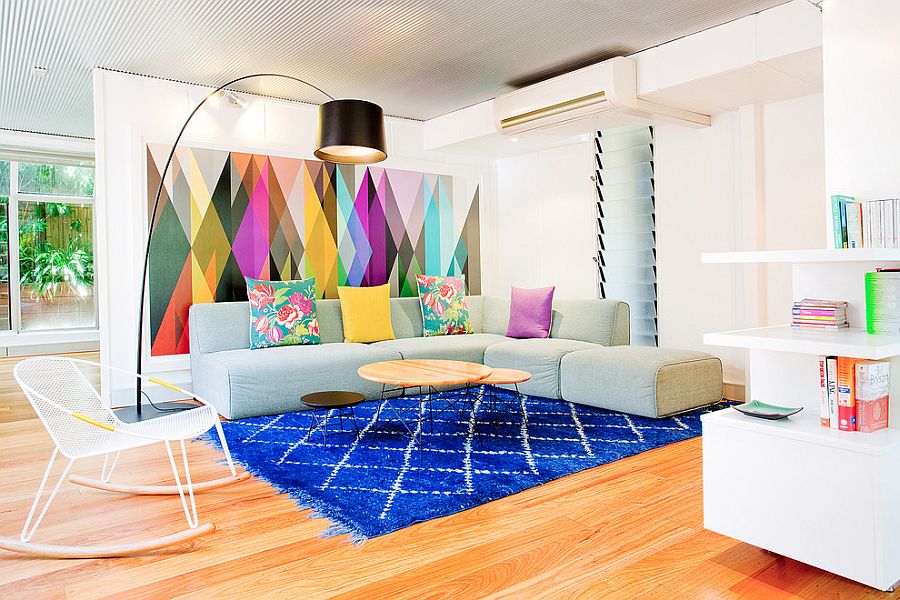 Brilliant living room with creative use of colorful wallpaper and rug [Design: Touch Interiors]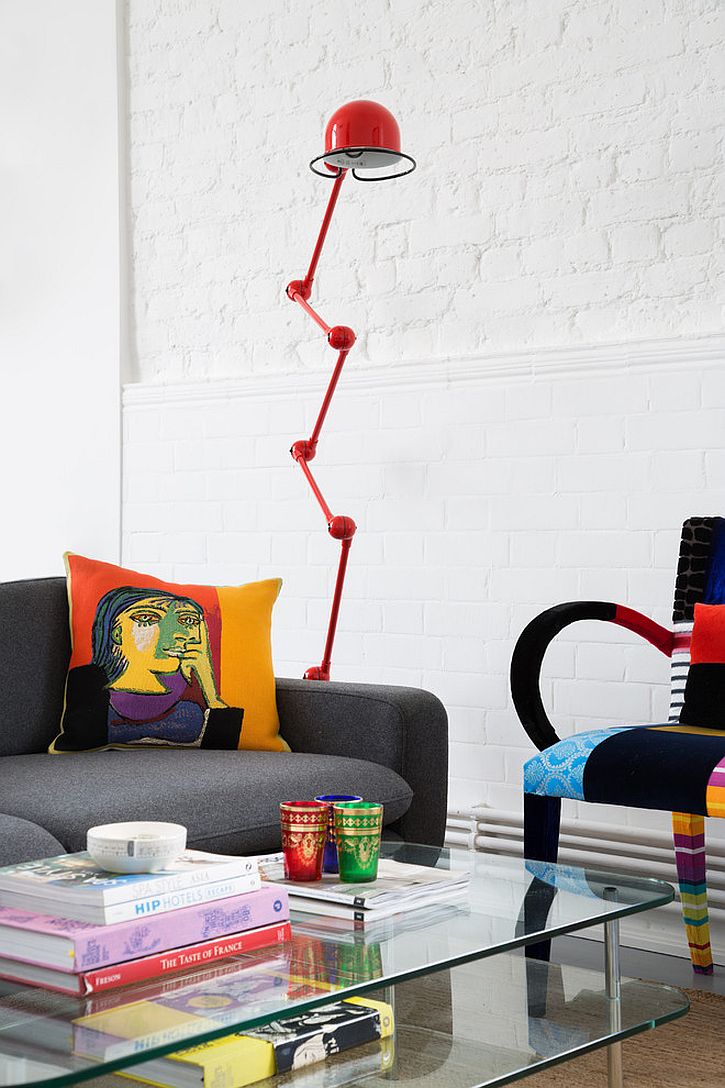 Throw pillows and decor bring color and playfulness to the living room [Design: Trunk Creative]
Throw pillows, rugs, vases and lighting fixtures are the usual suspects when it comes to furniture that brings color to the Scandinavian living room. For those ready to experiment with bolder trends, mesmerizing wallpaper that breathes freshness and vitality into the room is a great alternative indeed. Make sure though that your wallpaper choice fits with the stripped-down style of the room and does not seem ornate or out of place.
4. Iconic Scandinavian Decor
One of the biggest upsides of going Nordic in the living room is the array of timeless and iconic decor that you can pick from. Crafted by celebrated masters such as Charles Eames, Arne Jacobsen and Isamu Noguchi, you can invest in one of these awesome pieces that will serves as the focal point in your living room. Sure, bringing home an Eames lounger or a Platner Coffee Table can seem like an expensive commitment, but you will realize it is well worth the tug on your purse strings. Build the rest of the living room around these "special additions" and you can even bring home an IKEA find or two complete the look.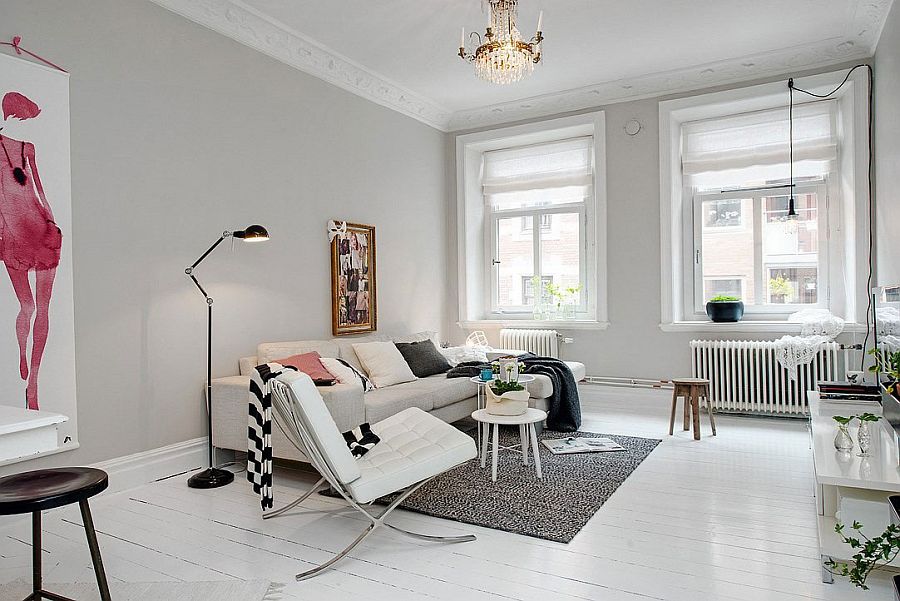 Charming Gothenburg apartment with a relaxing vibe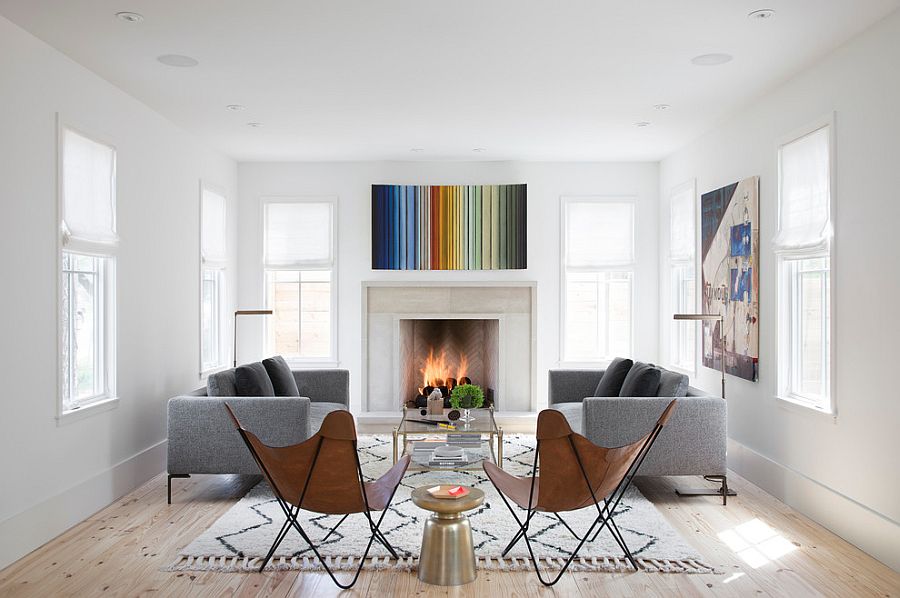 Midcentury modern design combined with cool Scandinavian flair [Design: Texas Construction Company]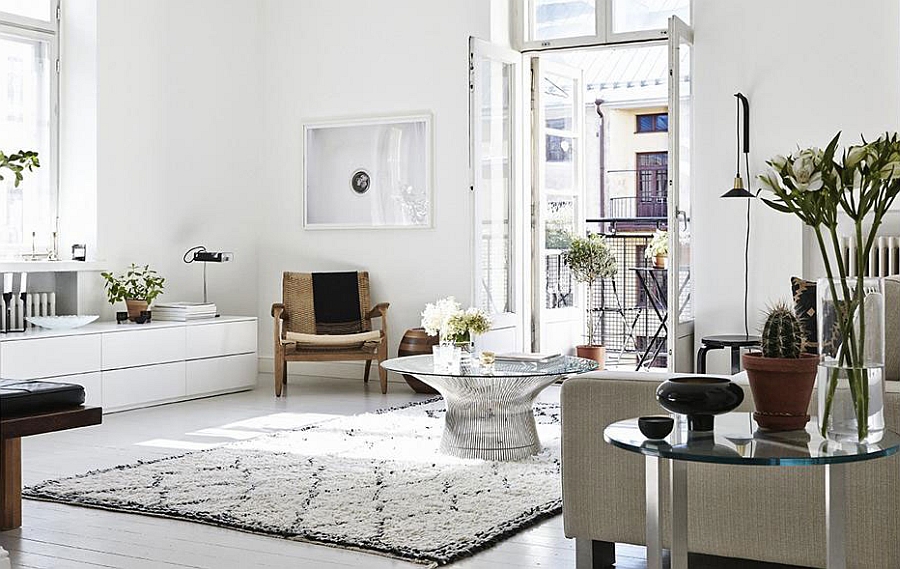 Smart Platner coffee table sits at the heart of this lovely living room [Design: Joanna Laajisto]
5. A Fusion of Styles
Finally, we have living rooms that combine the traditional Scandinavian look with other styles from across the globe to create a wonderfully unique living space. Midcentury modern and Scandinavian are two styles that seem to heavily borrow from one another and can be brought together effortlessly. Vintage, retro and rustic influences also add another layer of intrigue to the Scandinavian living area and give it a fun little twist. You can draw some inspiration from brilliant Isamu Noguchi designs and shape your own version of 'Far East meets Scandinavian' look!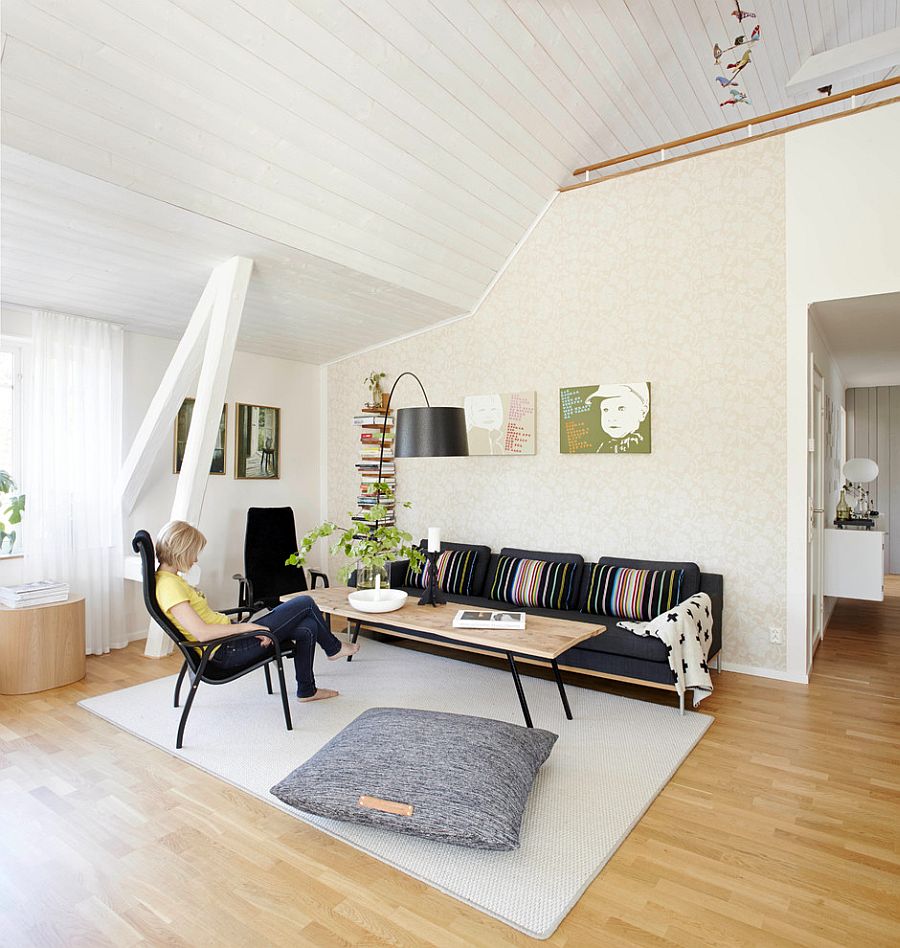 Throw in a floor pillow or two to create an informal setting [From: Burmester Photography]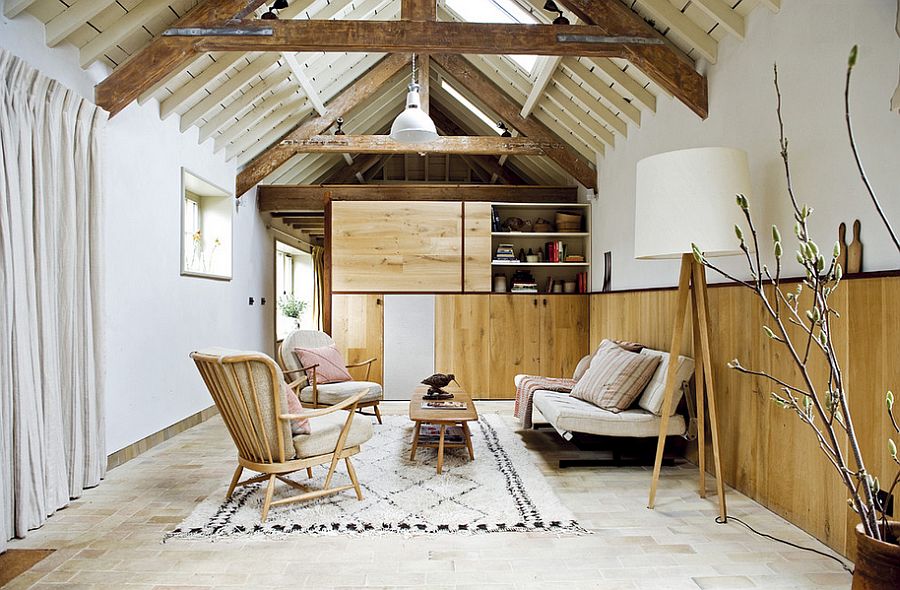 Tranquil living room with warm reclaimed wood wall [Design: Retrouvius Ryland Peters & Small]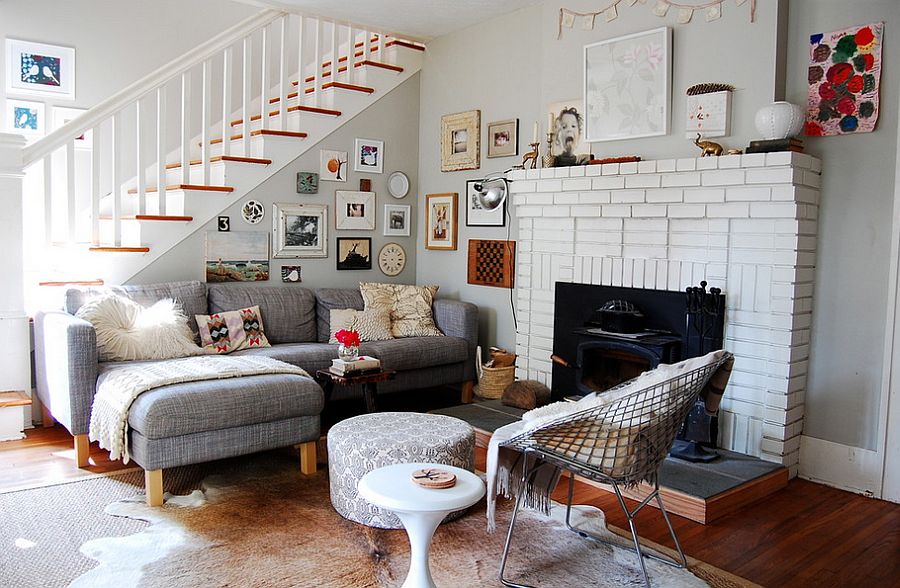 Turn towards modern Scandinavian style for ease and ergonomics! [From: Corynne Pless Photography]
There is something innately peaceful and reassuring about a Scandinavian living room that makes it perfect for an urban home that is surrounded by constant noise and chaos. Give it your own creative twist and you will soon be taking the style into your kitchen, bedroom and beyond!
You're reading 50 Chic Scandinavian Living Rooms that Steal the Show!, originally posted on Decoist. If you enjoyed this post, be sure to follow Decoist on Twitter, Facebook and Pinterest.
Source:: http://www.decoist.com/2015-06-12/scandinavian-living-rooms/